Imagine a world where your kitchen island isn't just a functional piece of furniture, but also a mesmerizing aquatic sanctuary. Aquarium kitchen islands are here to make a splash in your home, offering a unique blend of functionality and style. Let's dive into the basics of creating one of these awe-inspiring additions to your culinary space.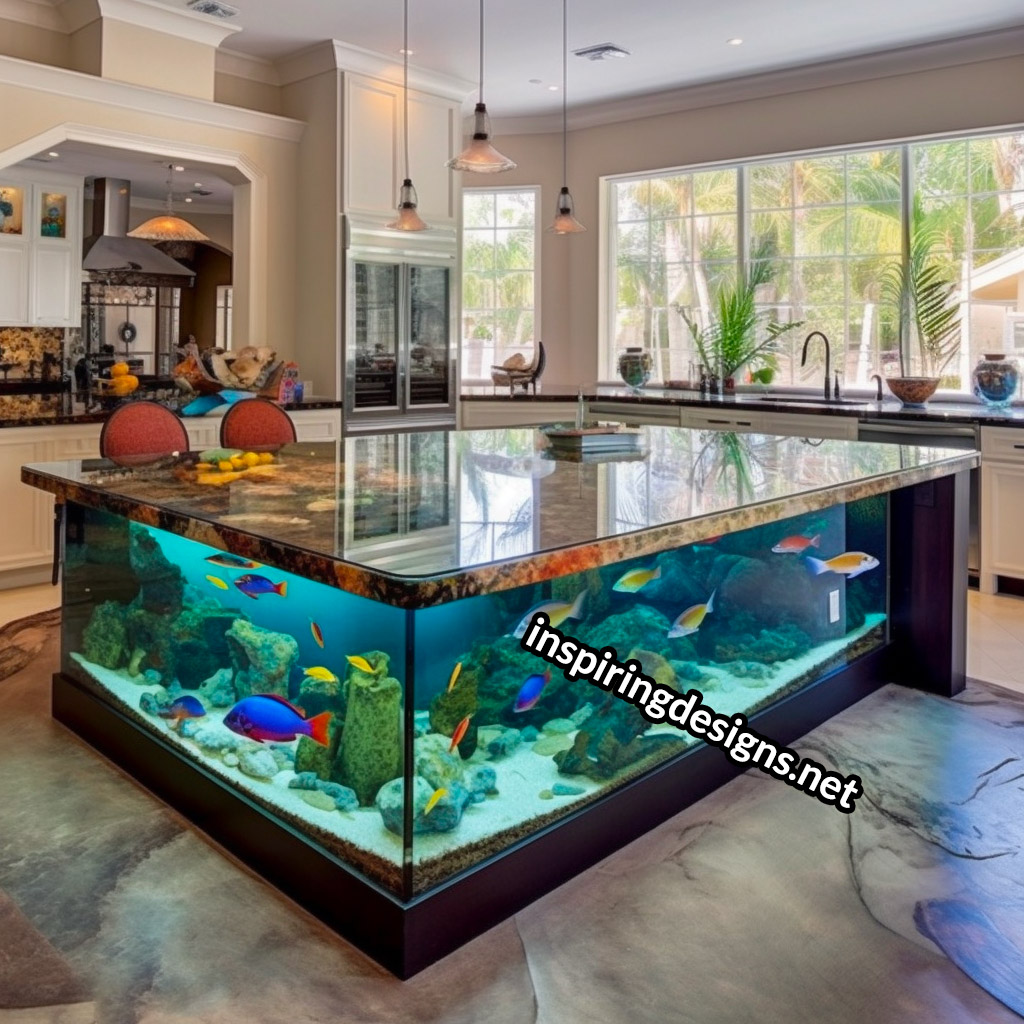 Building an aquarium kitchen island requires careful planning and skilled craftsmanship. Start by designing the structural frame, which should be sturdy enough to support the weight of the aquarium and the countertop. Typically, a combination of metal and wood is used to ensure maximum stability.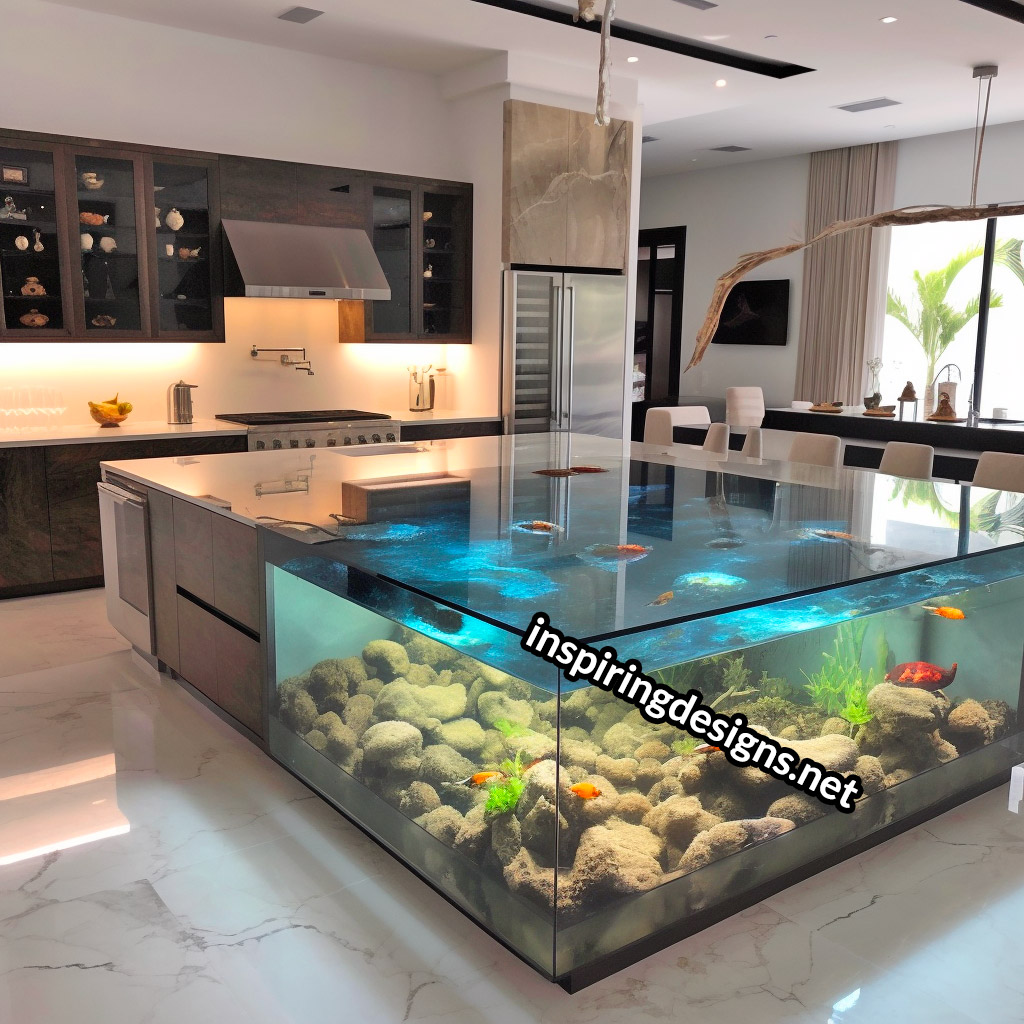 To maintain the seamless appearance of your aquatic centerpiece, hide the filtration system, heater, and lighting controls within the island's structure. Depending on the design, these components can be tucked away in a dedicated cabinet, behind a false panel, or beneath the countertop.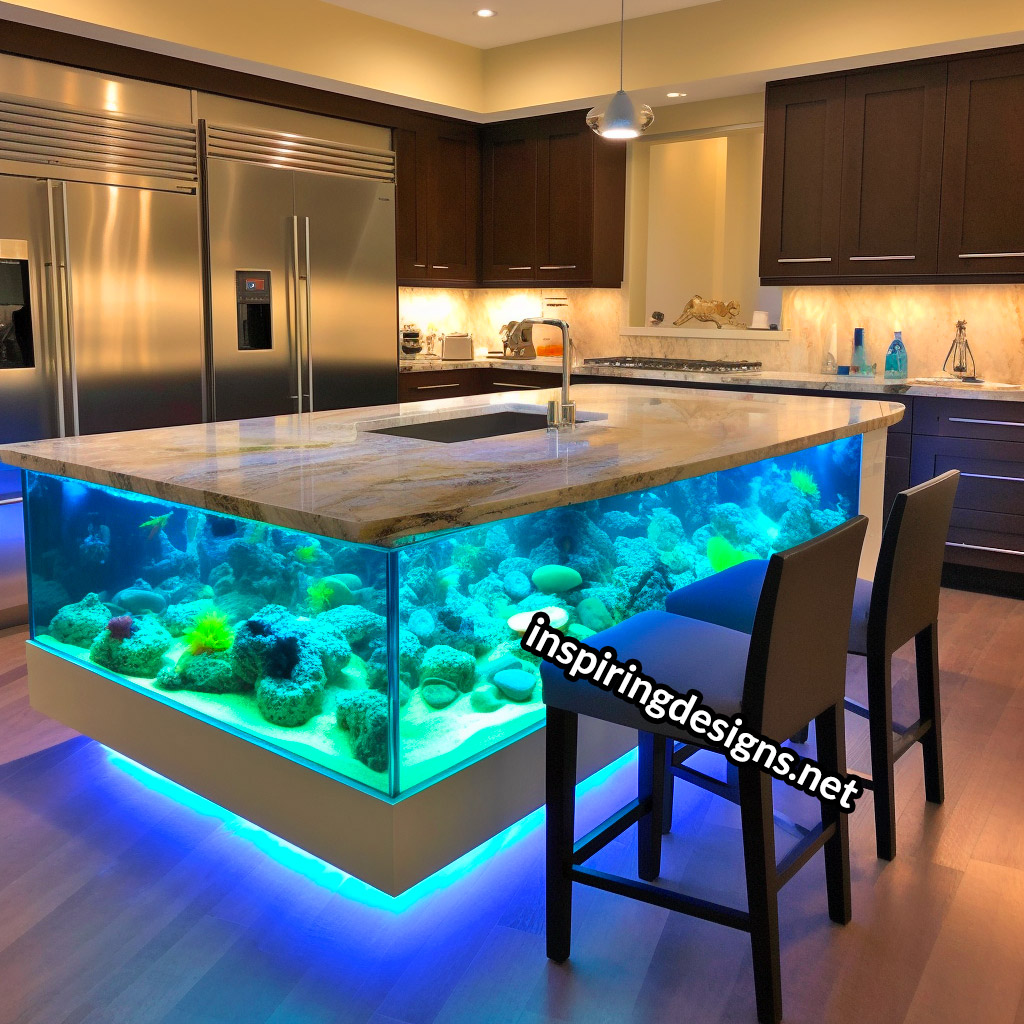 For those who truly want to immerse themselves in their underwater oasis, a glass countertop is a perfect choice. This option allows you to observe your fish from above while you prepare a meal or enjoy a cup of coffee.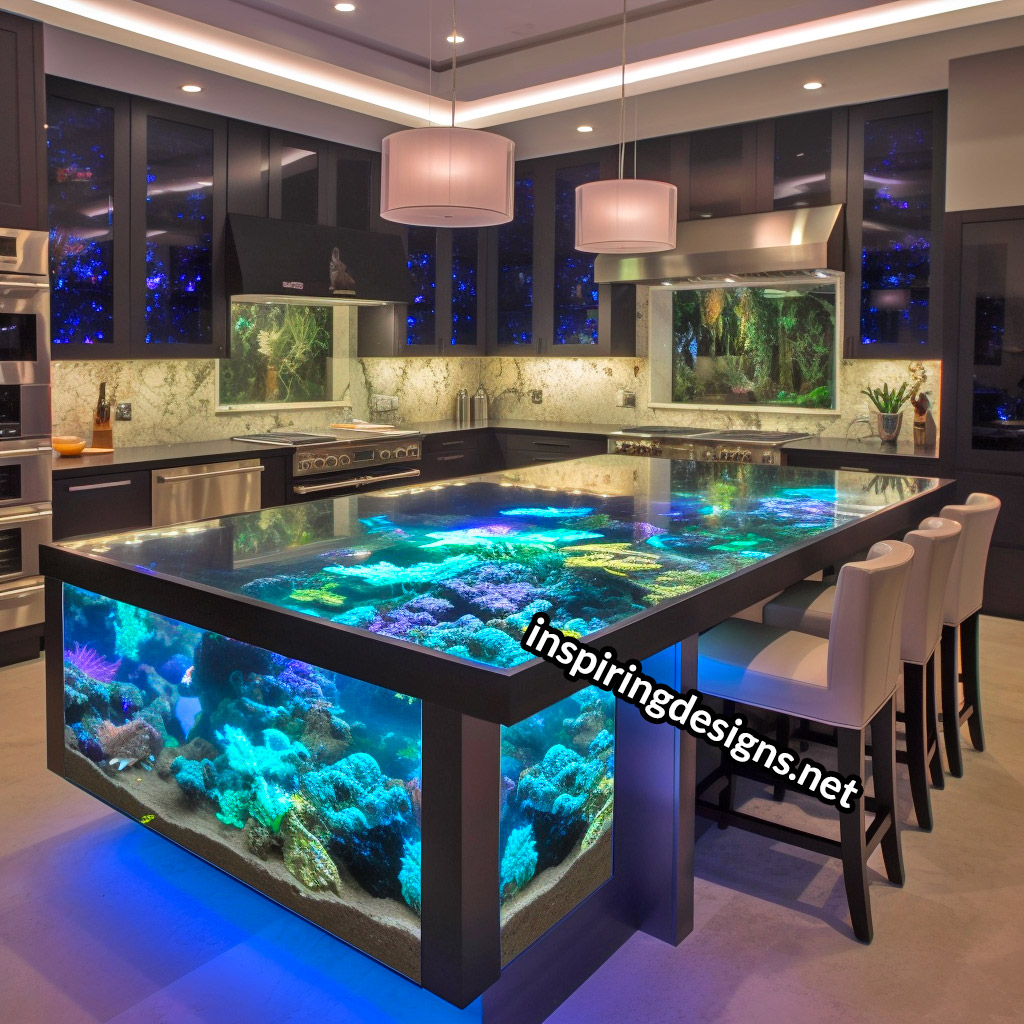 Alternatively, a solid granite countertop provides a more traditional, durable surface for everyday use.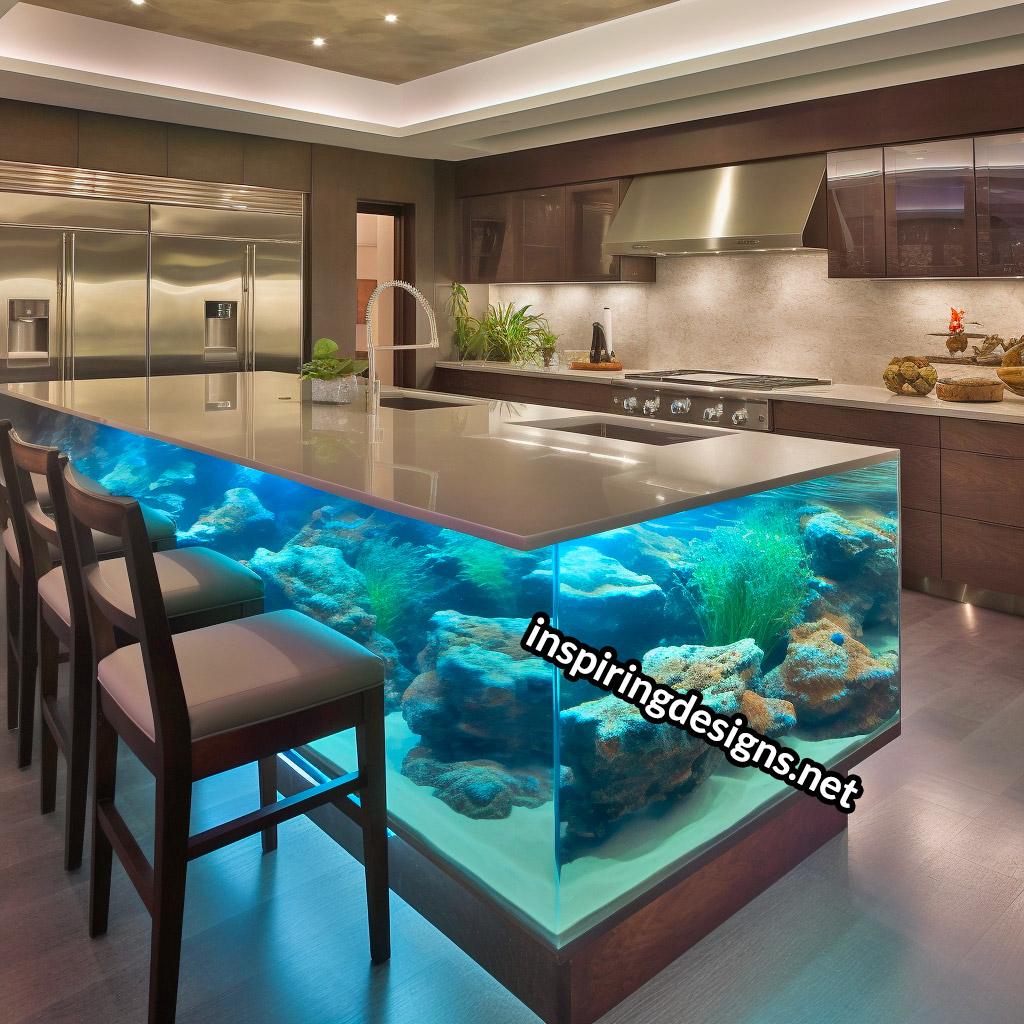 Integrating built-in cabinets can be a practical solution for storage, but bear in mind that it will reduce the overall size of the aquarium. To strike a balance, consider incorporating only essential cabinets, or opting for storage solutions elsewhere in the kitchen.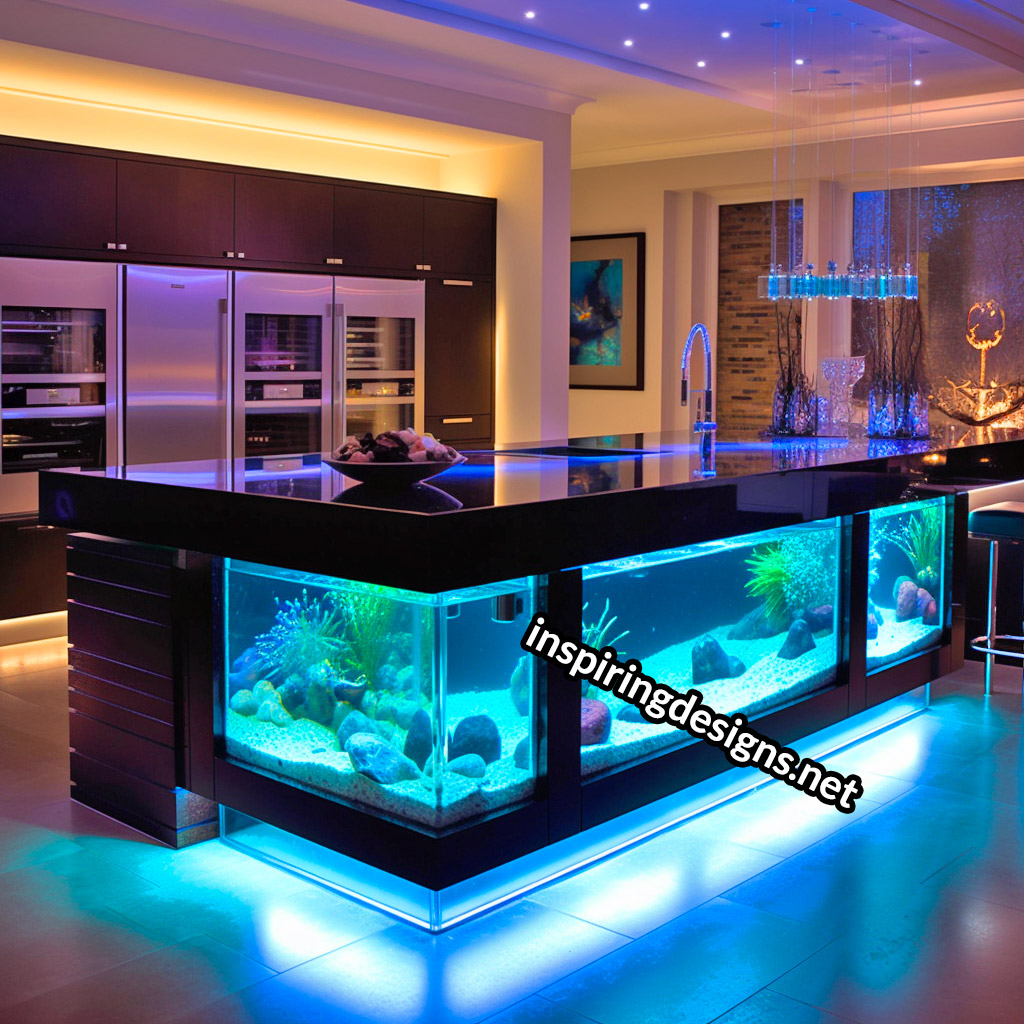 With a large aquarium, you have the opportunity to create a diverse aquatic ecosystem. Consider choosing a mix of community-friendly fish species such as angelfish, guppies, tetras, and mollies. For a more exotic touch, you could even include small sharks, rays, or lionfish, provided the aquarium's size and conditions are suitable.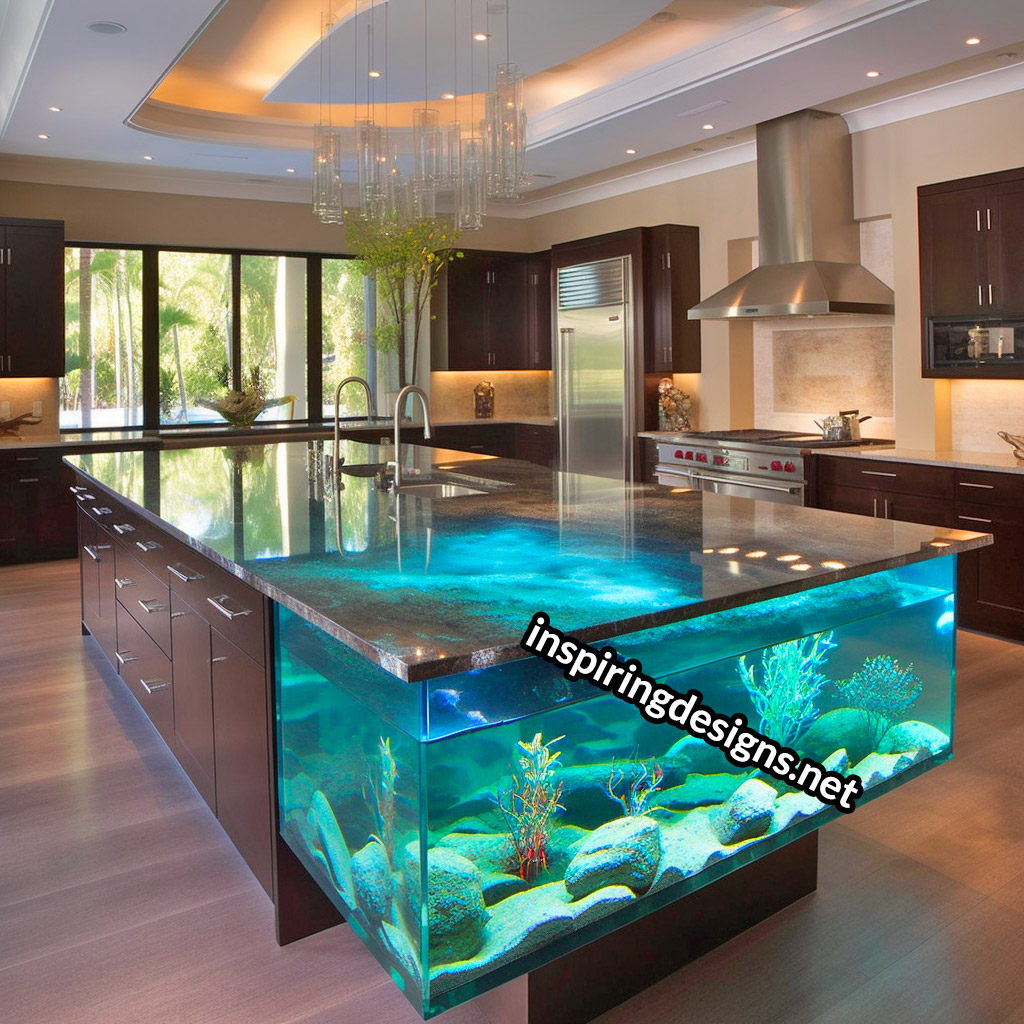 Caring for an aquarium kitchen island involves regular water testing, cleaning, and maintenance of the filtration system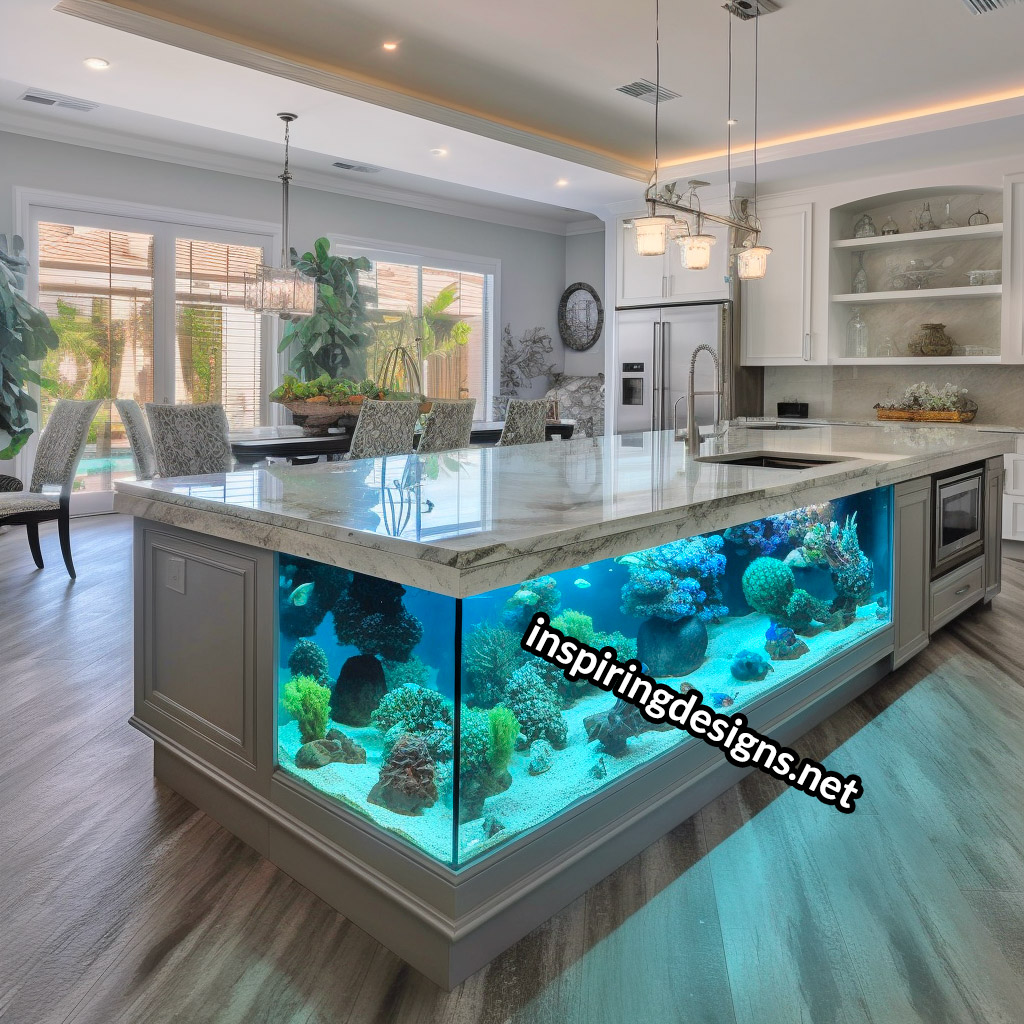 While this might sound daunting, many aquarium enthusiasts find the process soothing and engaging. Plus, you can always hire a professional to help keep your aquatic haven in tip-top shape.
The cost of an aquarium kitchen island can vary significantly based on size, materials, and labor. Expect to shell out anywhere from $50,000 to $200,000 for a custom creation. However, the joy and visual appeal of this stunning centerpiece are truly priceless.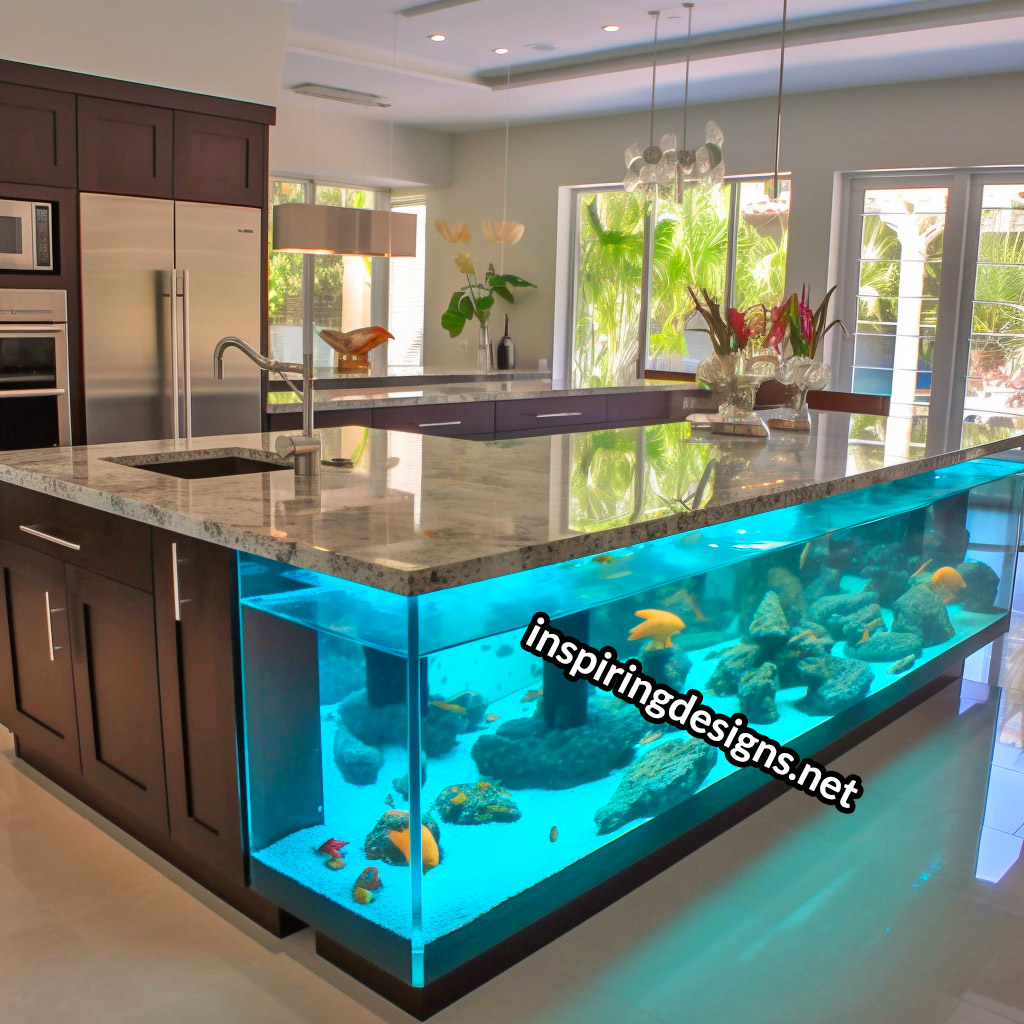 To bring your aquatic vision to life, you'll need materials such as acrylic or glass for the aquarium, metal or wood for the frame, and your choice of countertop material. Don't forget to invest in a high-quality filtration system, heater, and lighting to keep your fishy friends happy and healthy.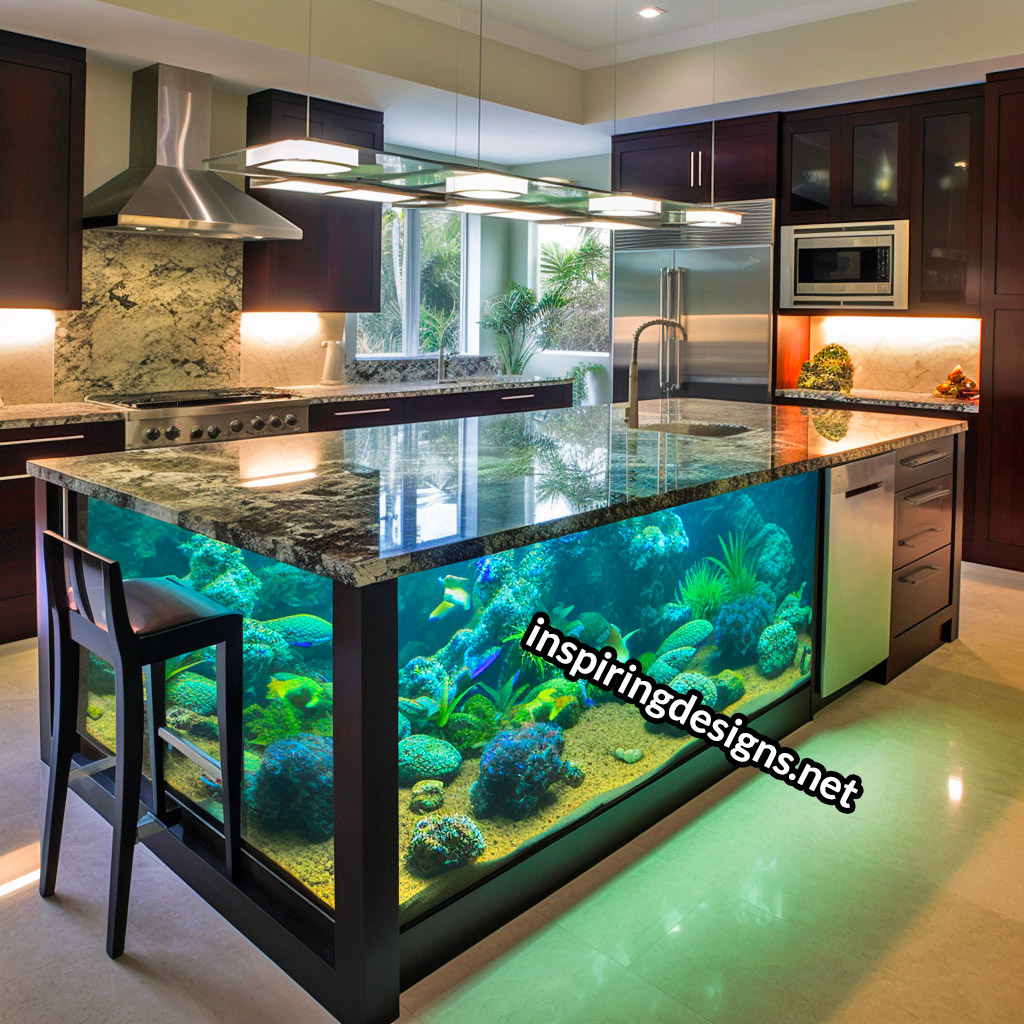 The best kitchen designs to complement an aquarium kitchen island are those that embrace natural elements and colors. Think coastal or tropical themes with shades of blue, green, and sandy neutrals. Materials like driftwood, bamboo, and rattan can add a touch of authenticity to your underwater paradise.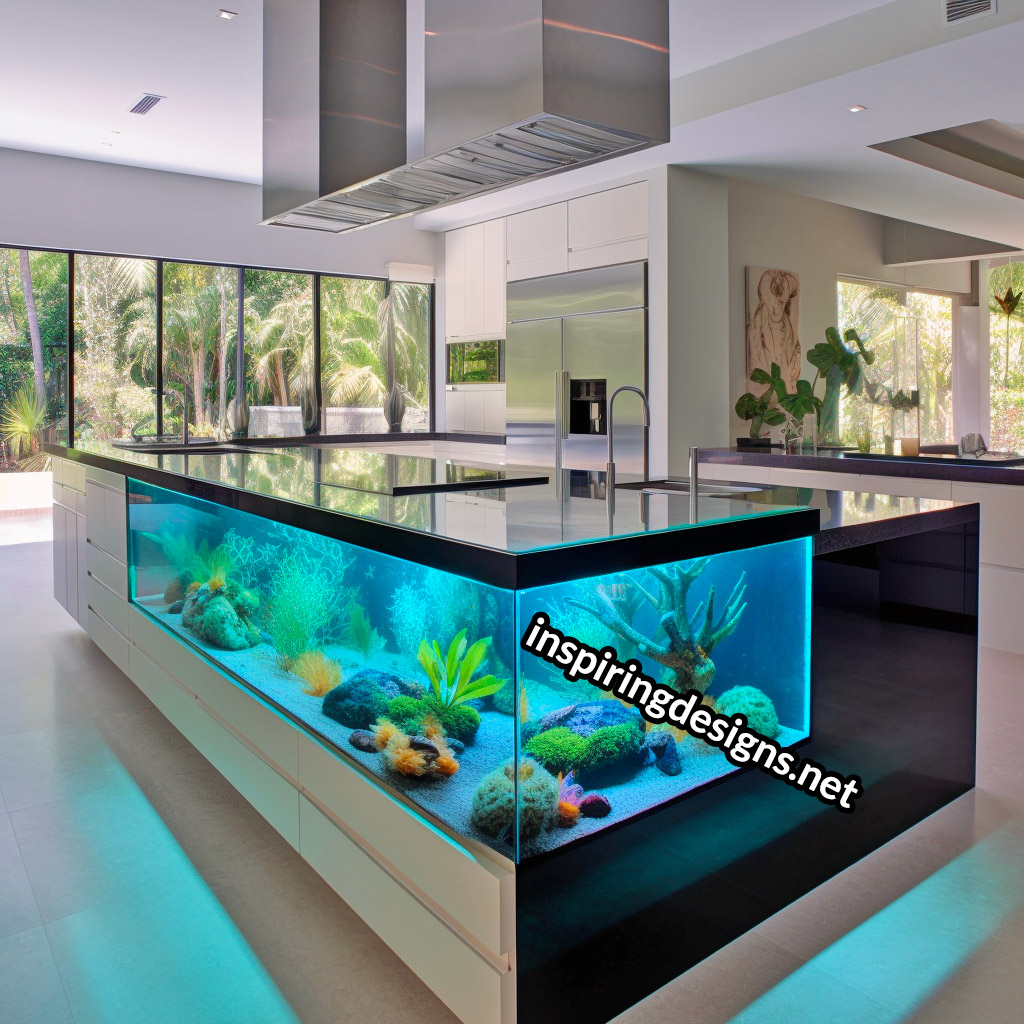 An aquarium kitchen island is guaranteed to captivate your guests and make your home the talk of the town. There's nothing quite like sipping wine while watching a colorful array of fish swim gracefully around the island.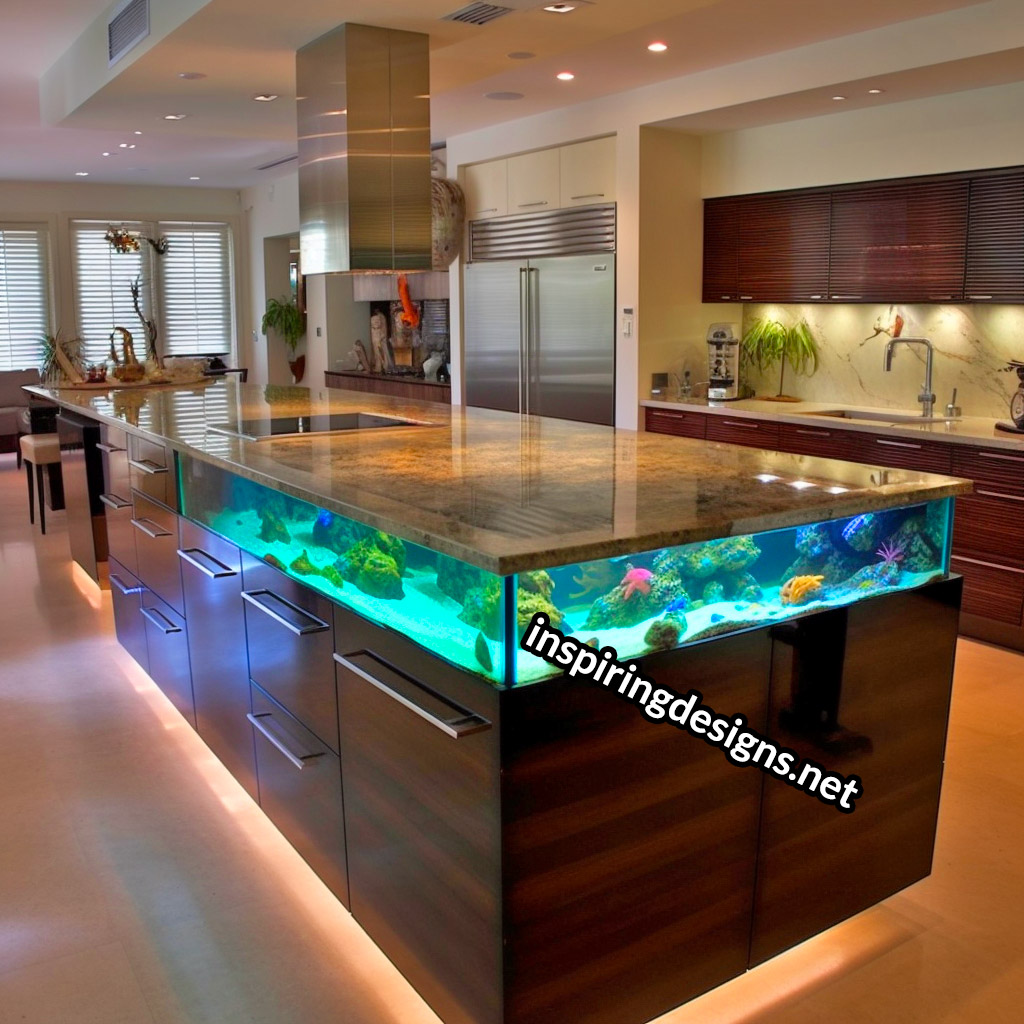 To ensure easy access for feeding and cleaning, incorporate a discreet opening within the countertop or a side panel. This feature allows you to care for your aquatic inhabitants without disturbing the overall aesthetic.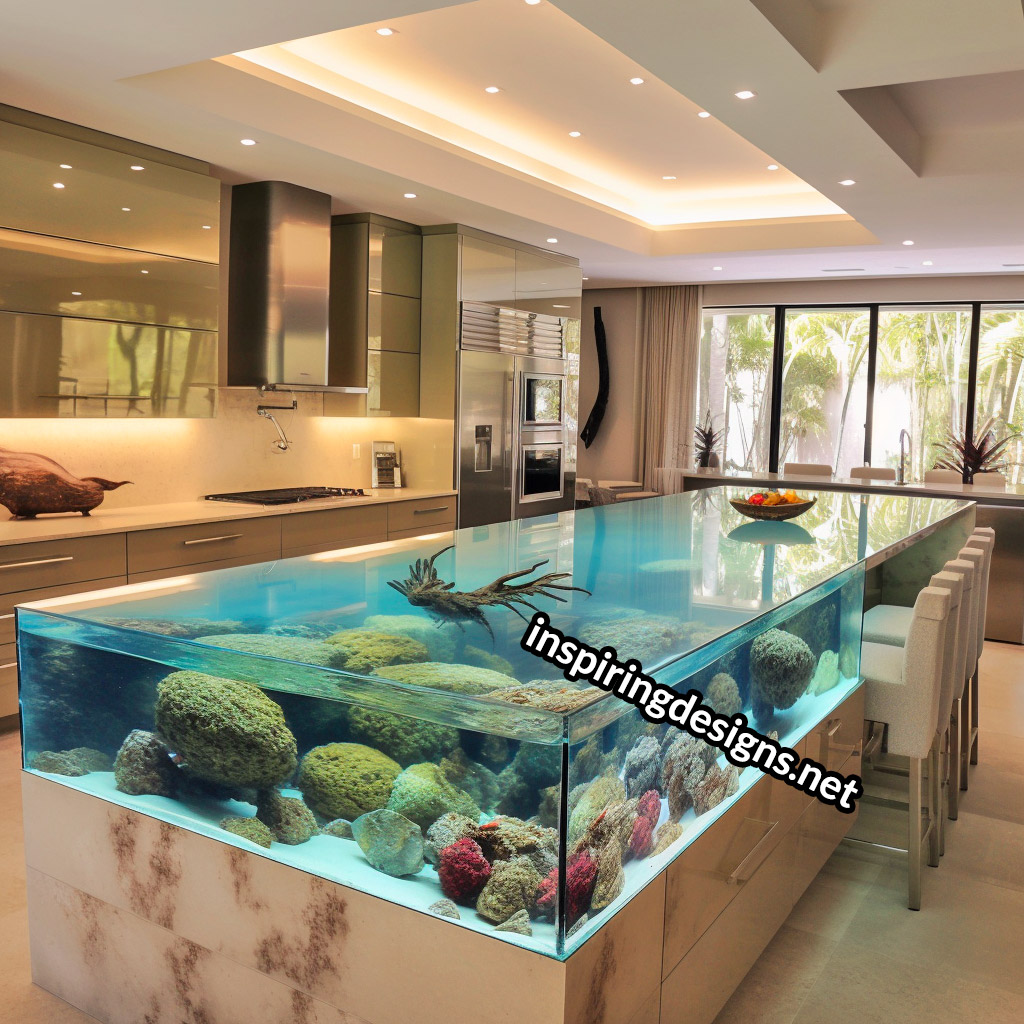 Last but not least, remember that a large aquarium requires substantial structural support due to the weight of water, fish, and materials. Consult with a structural engineer or a professional aquarium builder to ensure your kitchen island can safely handle the load. This may involve reinforcing the floor or adding additional support columns.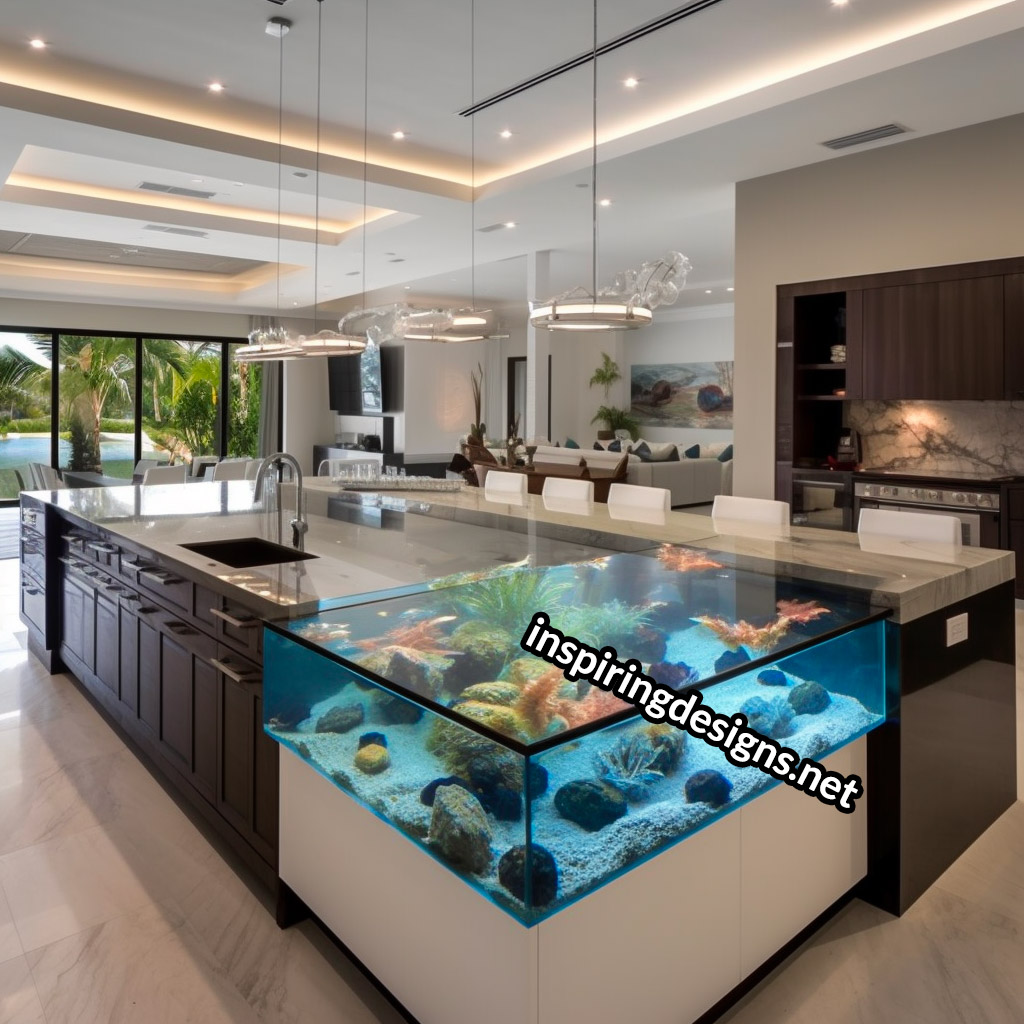 Aquarium kitchen islands are an extraordinary way to blend form and function, making your kitchen the most talked-about room in the house.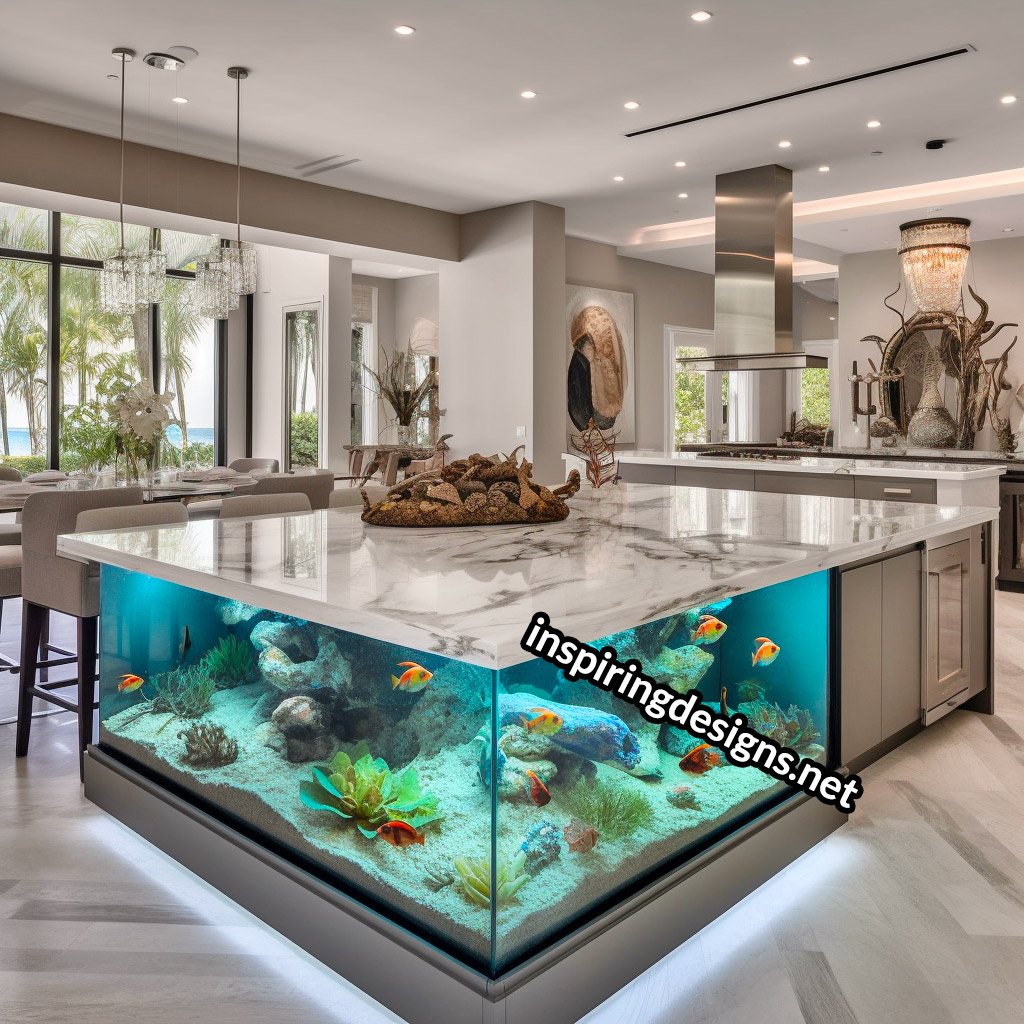 By considering factors such as materials, storage, fish selection, maintenance, and structural support, you can create a show-stopping centerpiece that will mesmerize your guests and provide endless enjoyment.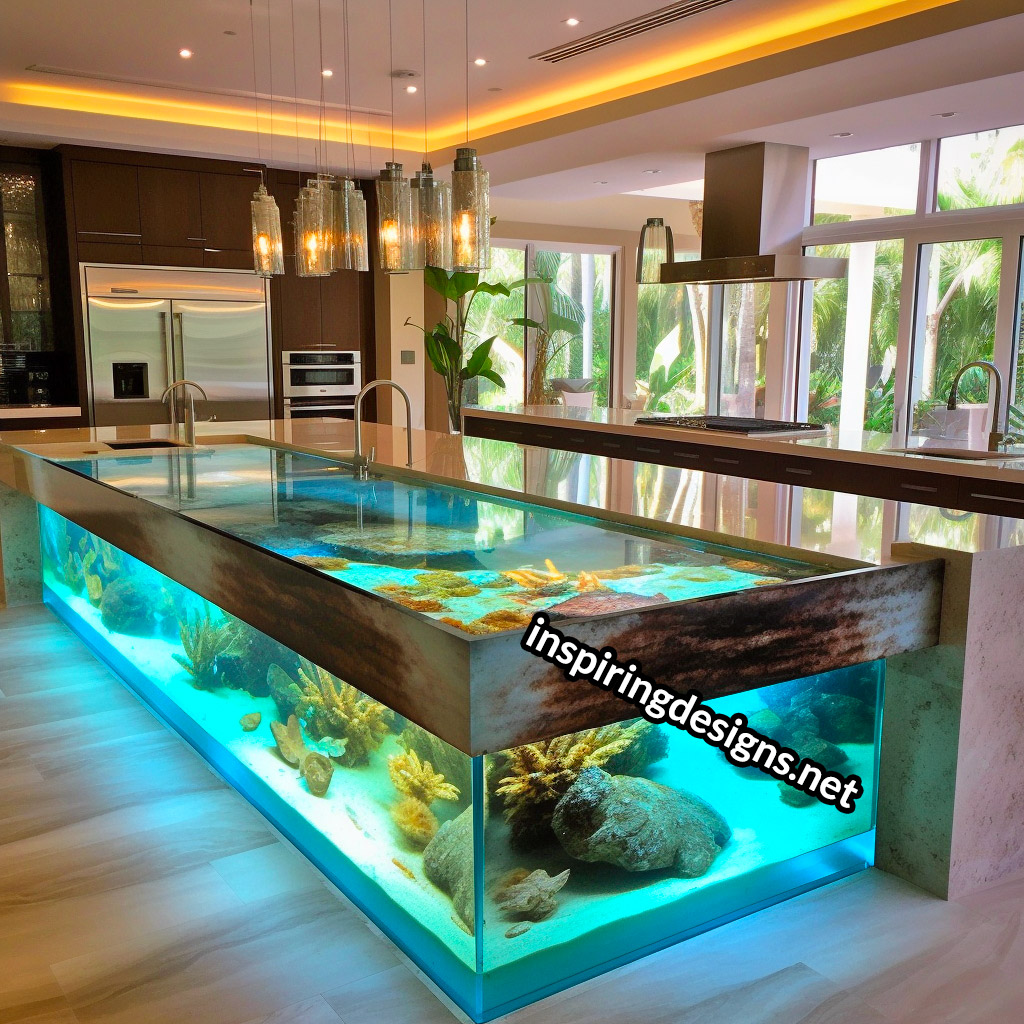 Dare to be different and take the plunge into the world of aquarium kitchen islands. Transform your culinary space into an aquatic sanctuary where culinary magic and underwater wonder coexist harmoniously. Happy swimming and bon appétit!