Once upon a time, there was a trend that captured the hearts of many modern homeowners. It was a fusion of rustic charm and contemporary design, and it all began with the rise of the live edge wood and epoxy resin barn doors. So, grab your favorite beverage and get ready for fun ride through the world of these magnificent, one-of-a-kind barn doors.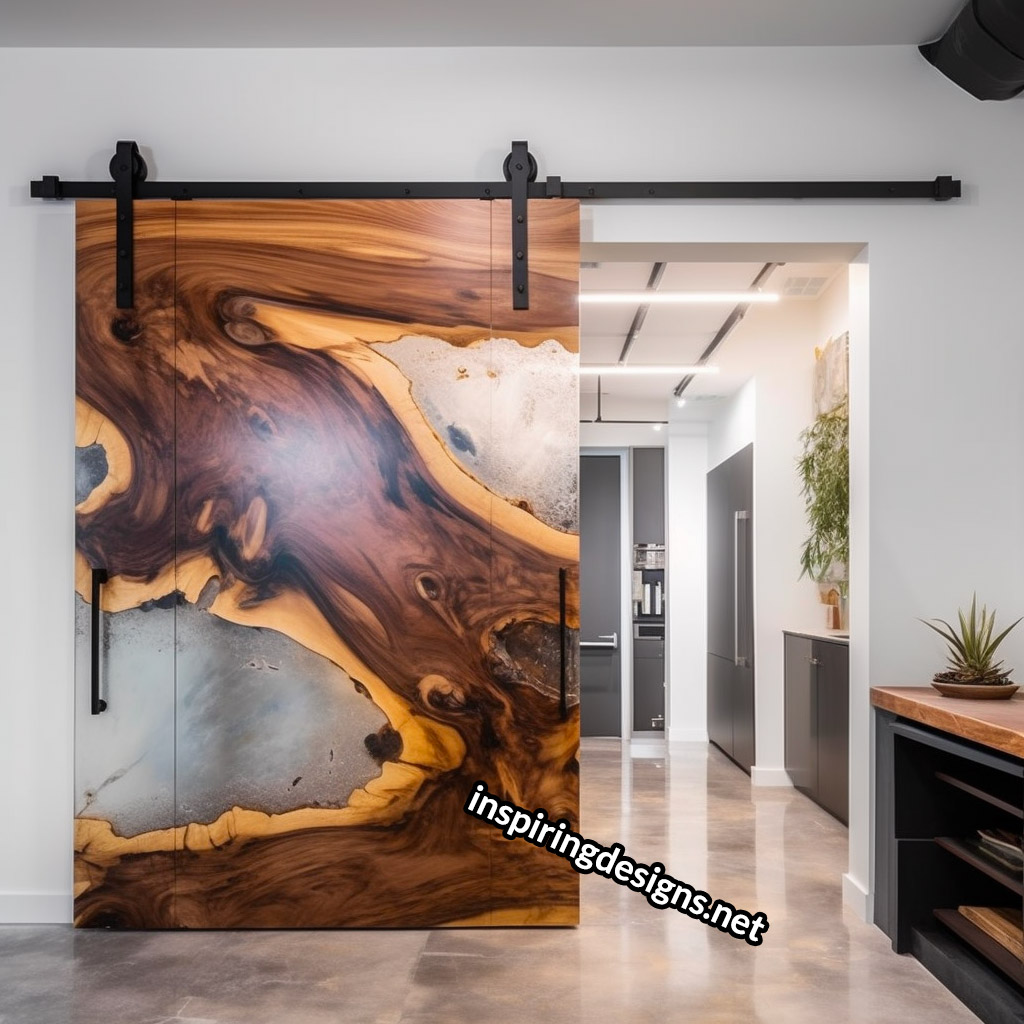 The live edge barn door is perfect for those looking to add a touch of rustic flair to their modern homes.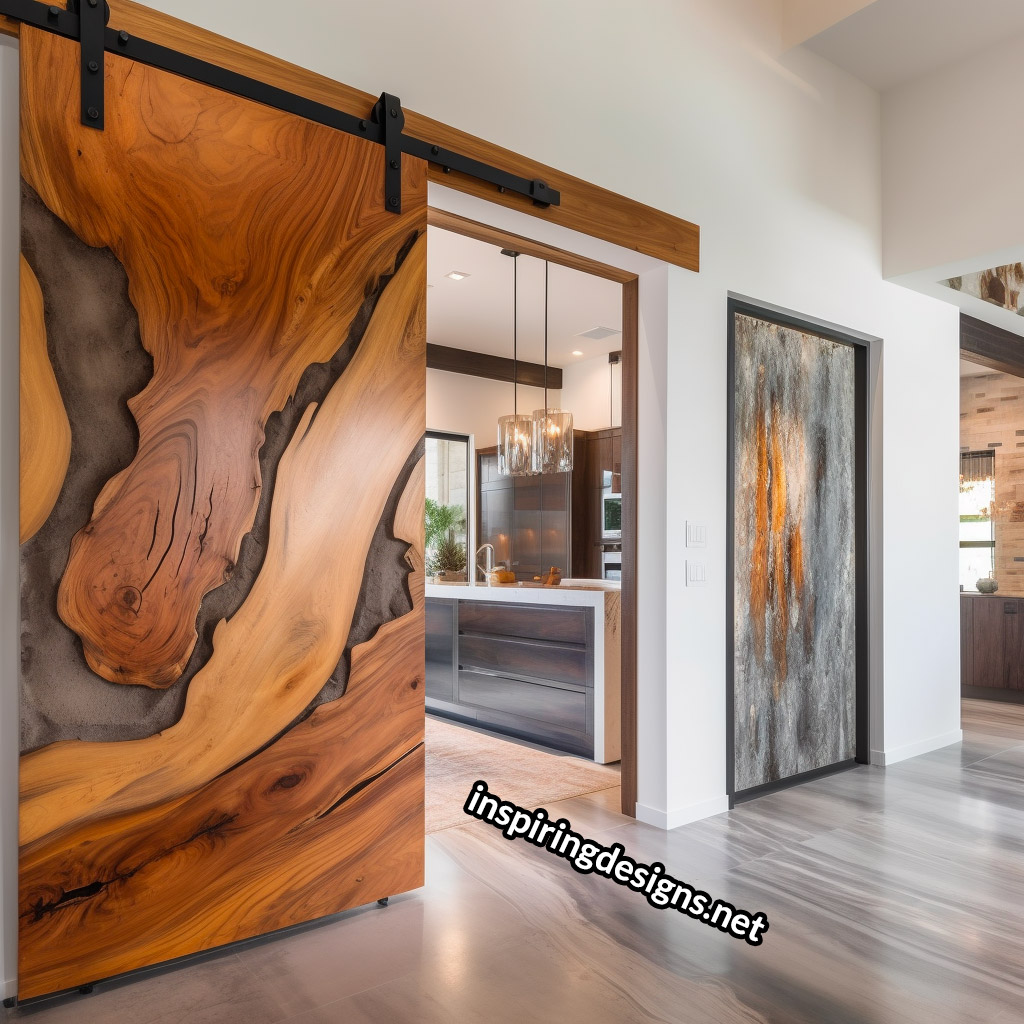 It's where the old meets the new, creating a unique and harmonious blend of styles. And the best part? Each door is as unique as the tree it came from, ensuring no two doors look the same.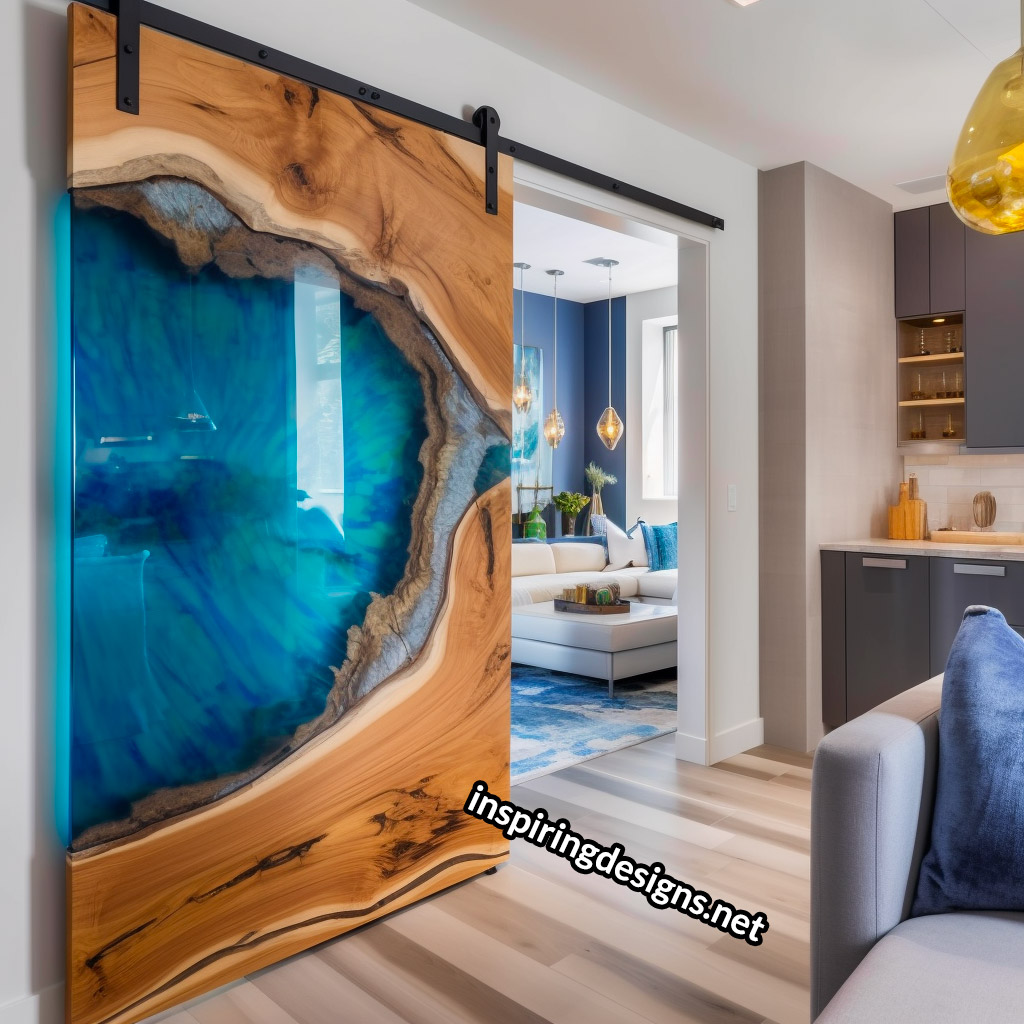 These barn doors feature a live edge wood slab combined with epoxy resin, creating an awe-inspiring design that resembles an aerial view of a river or lake.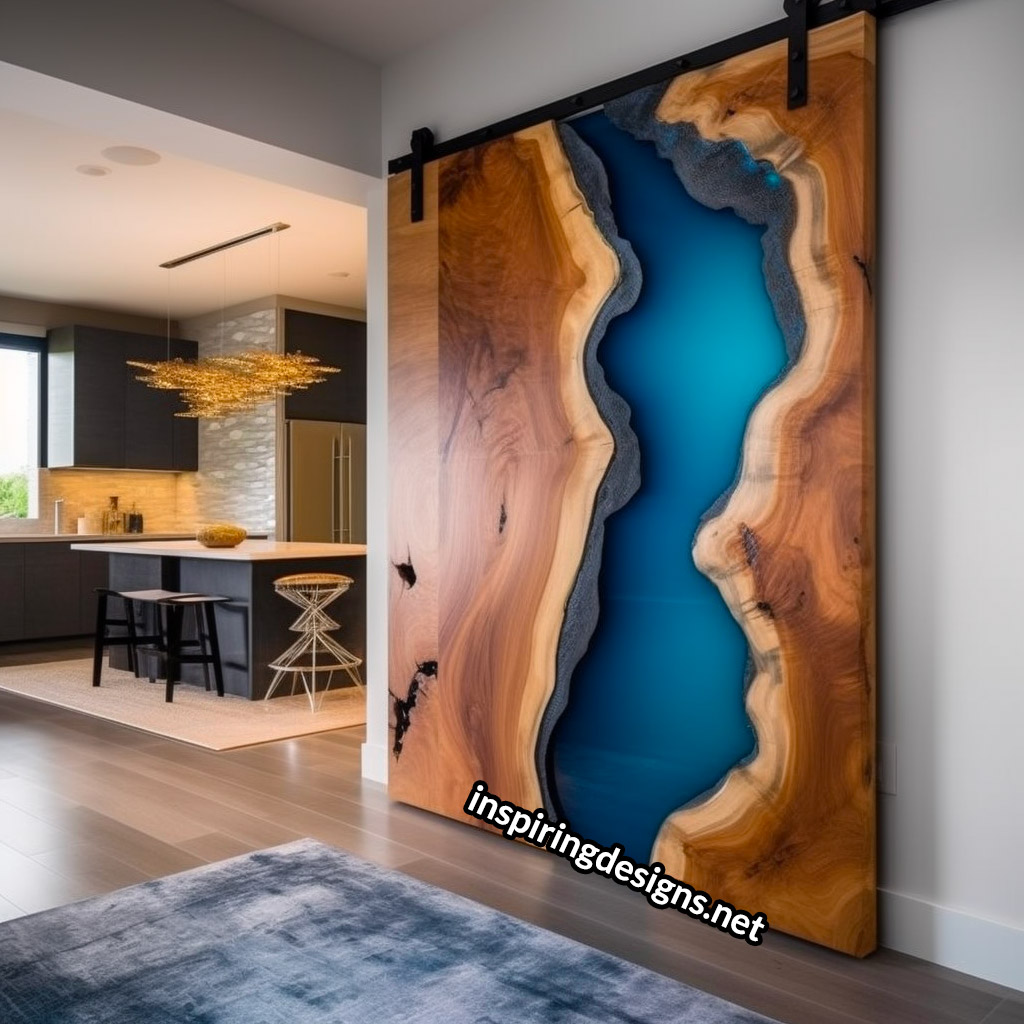 Just imagine a mesmerizing mix of organic curves and sleek lines that will leave your guests talking for days.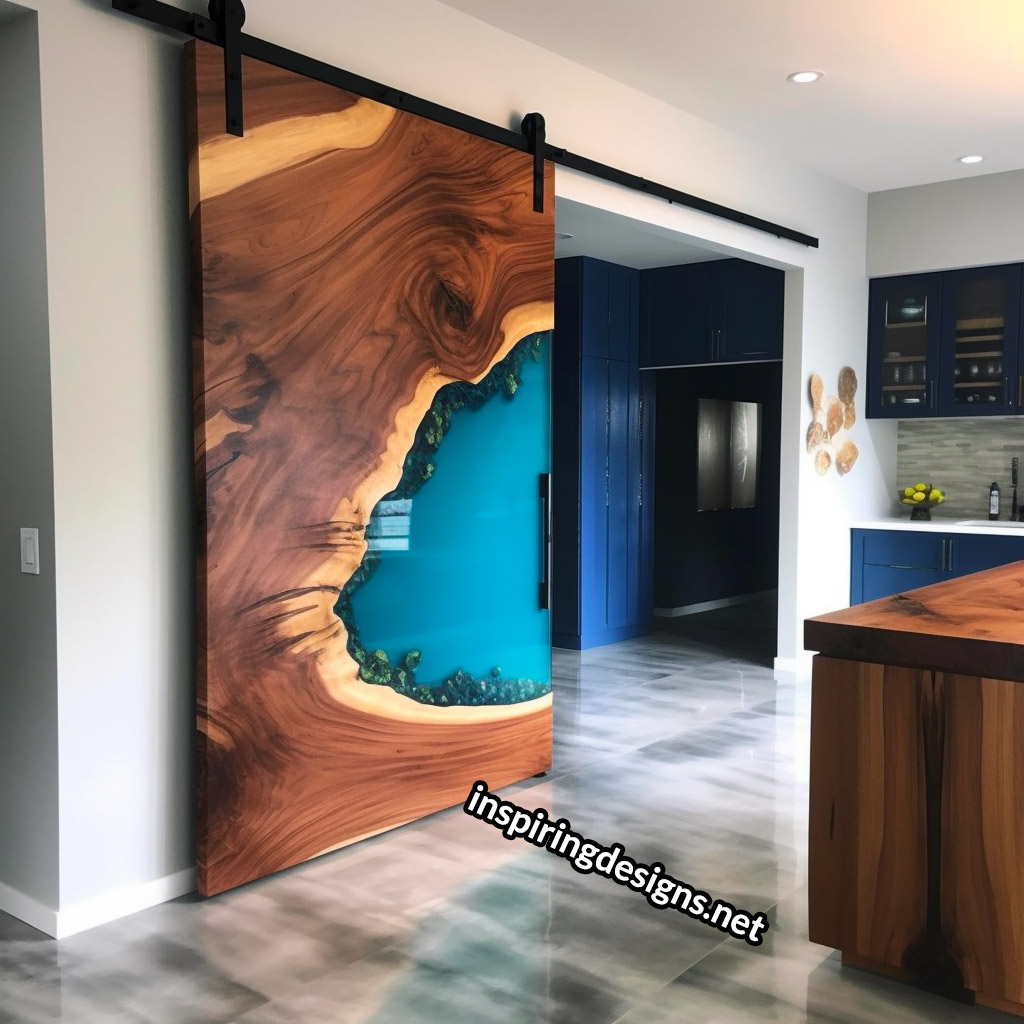 Not only do these doors serve as functional room dividers, but they also act as instant conversation starters. With their captivating appearance, they'll quickly become the focal point of any room.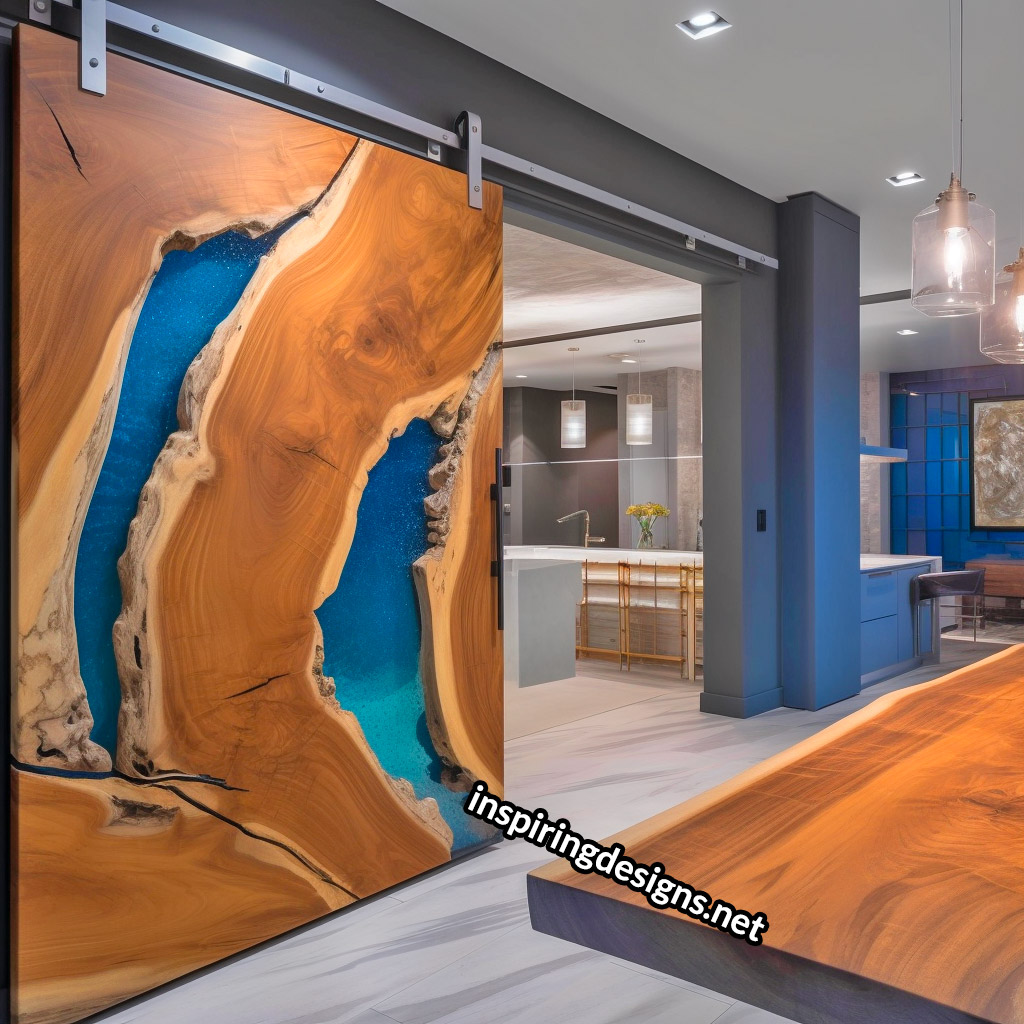 Choosing the right type of wood is crucial to achieving the desired look. Walnut, cherry, and maple are all excellent choices due to their rich colors and appealing grain patterns.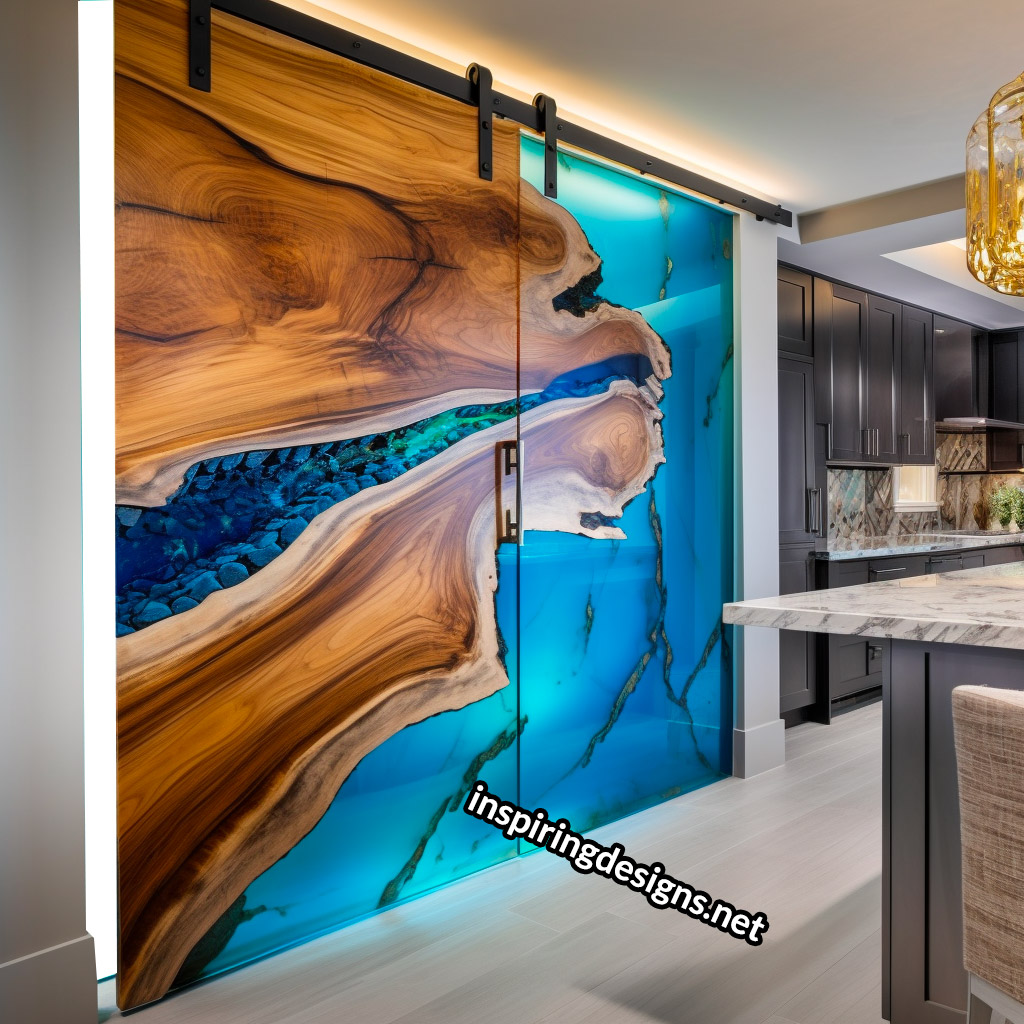 Additionally, these woods are extremely durable and can withstand the test of time, and quite possibly anything your young toddlers might throw at them!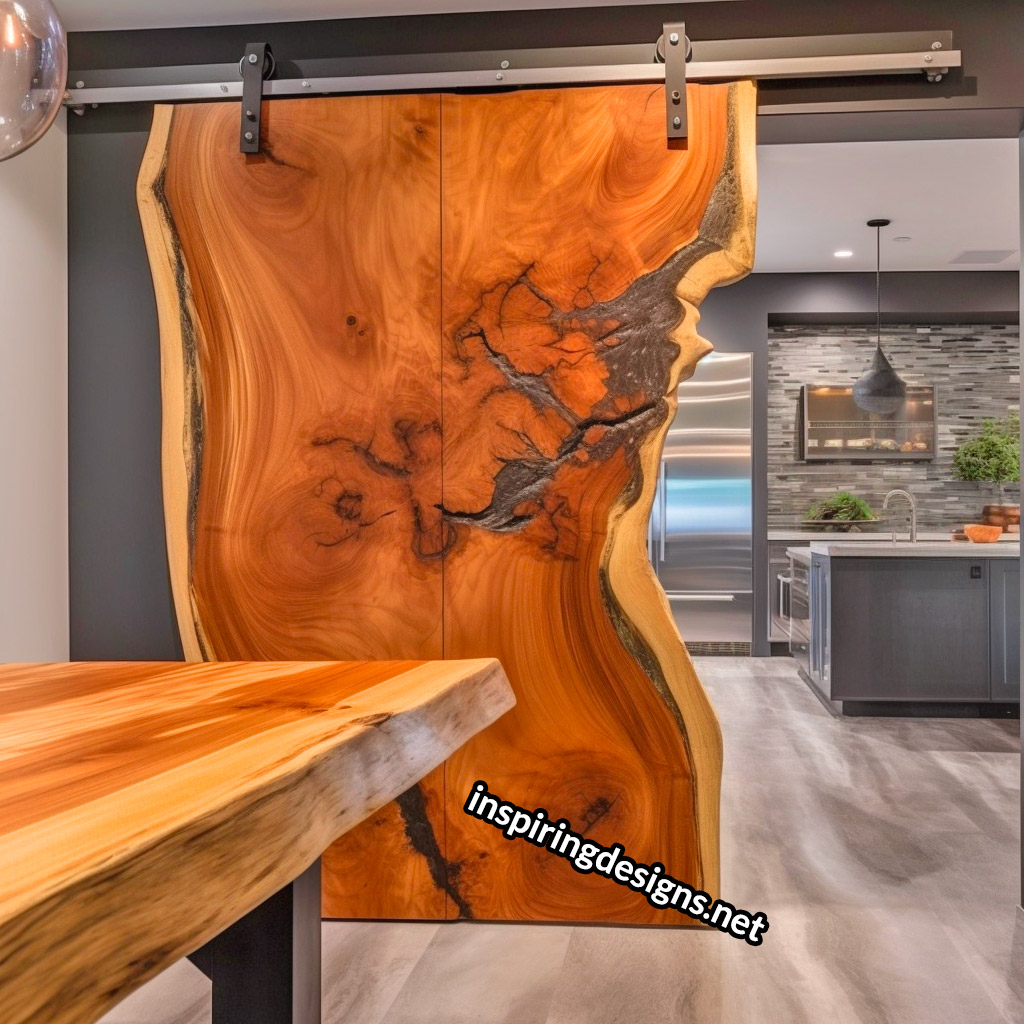 When using transparent epoxy, these barn doors offer a subtle window into the adjacent room. It's a unique feature that adds depth and intrigue to your space.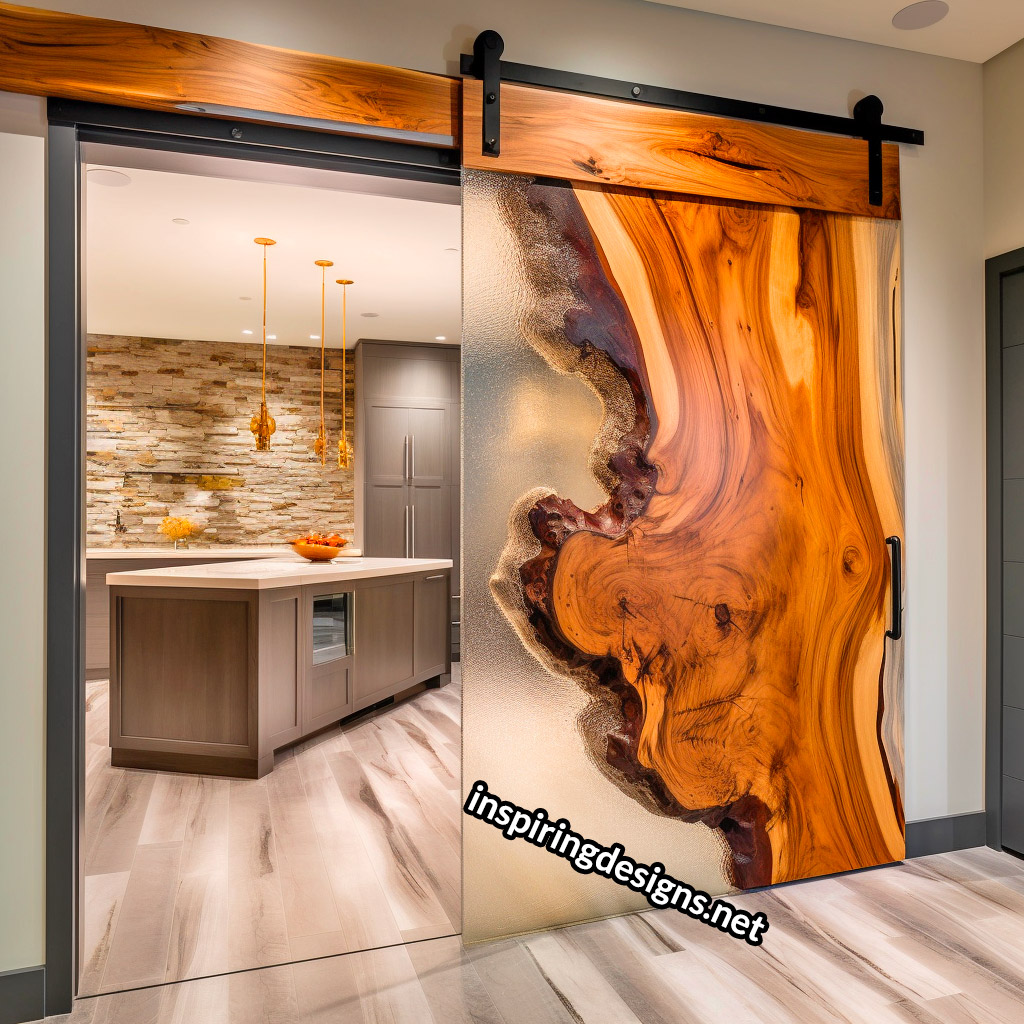 These barn doors are versatile and can be used in various rooms, such as bedrooms, bathrooms, or even as a stylish pantry door.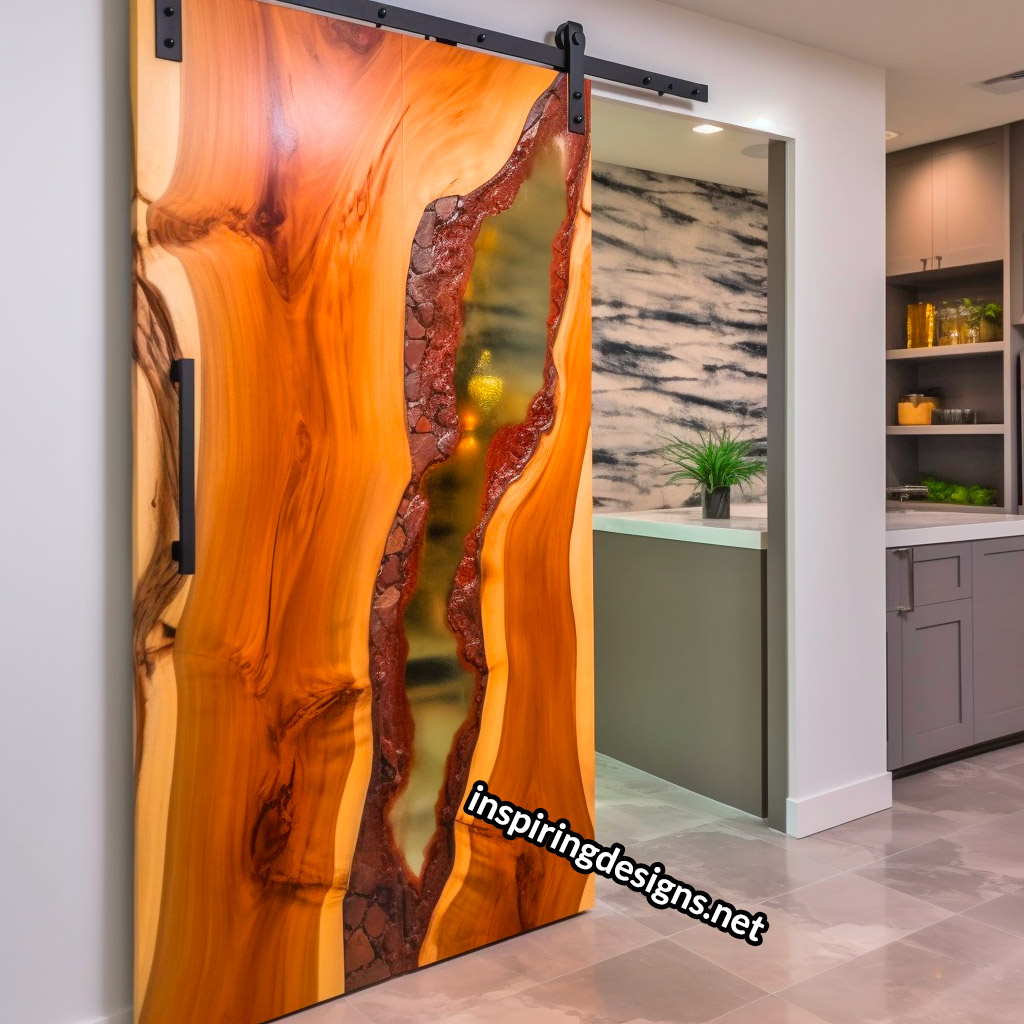 However, they're most impressive when used in spaces where they can be seen and appreciated by guests, like in a living room or dining area.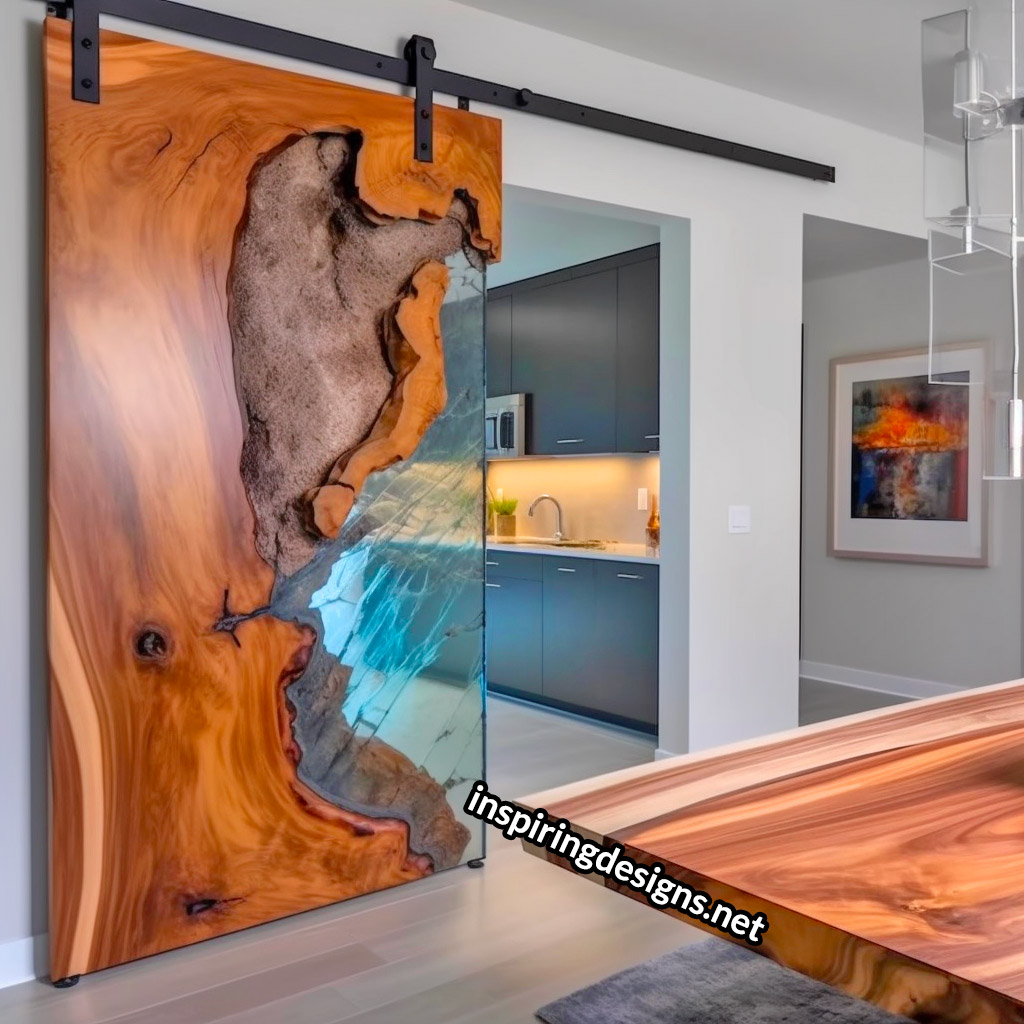 So there you have it! The live edge wood and epoxy resin barn door is a whimsical, eye-catching addition to any modern home that craves a touch of rustic charm.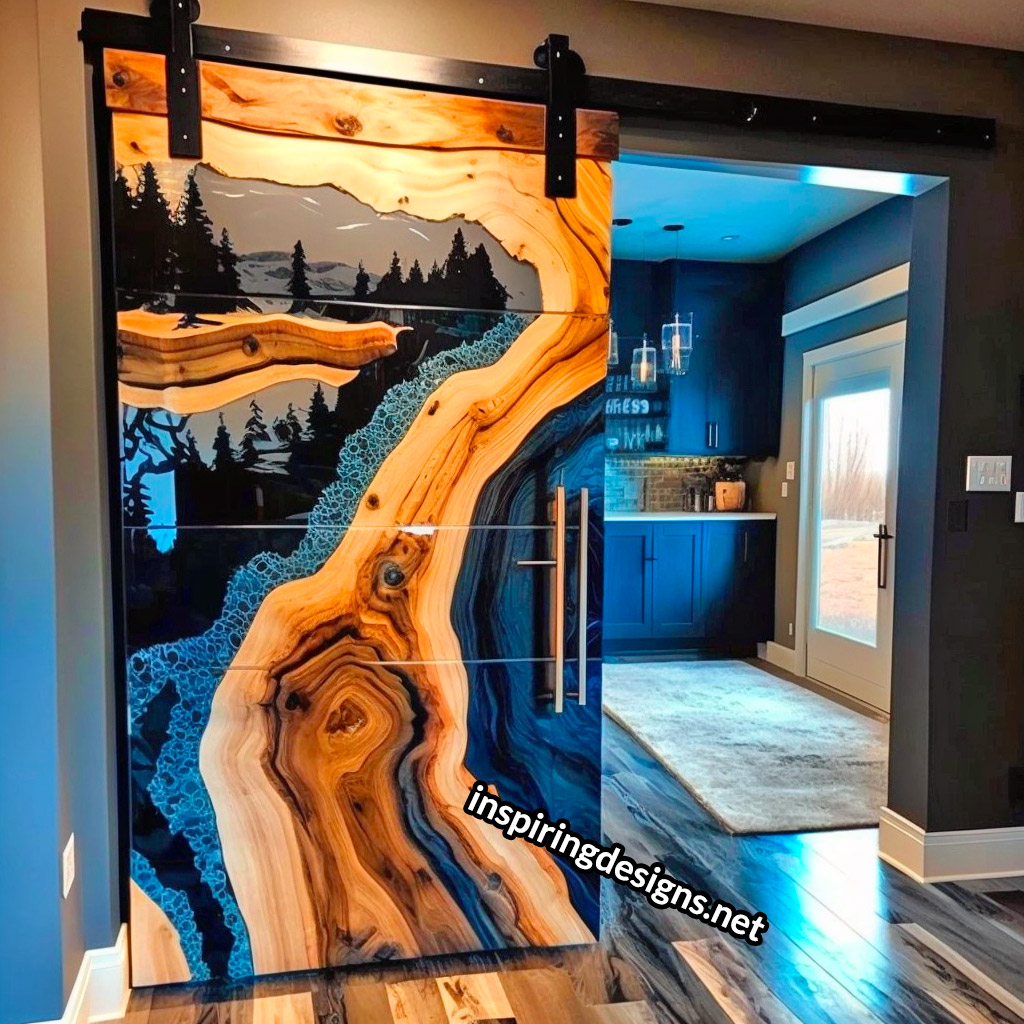 With their unparalleled beauty, these doors are sure to make a lasting impression on anyone who lays eyes on them. So why not invite this enchanting trend into your home and let the magic unfold?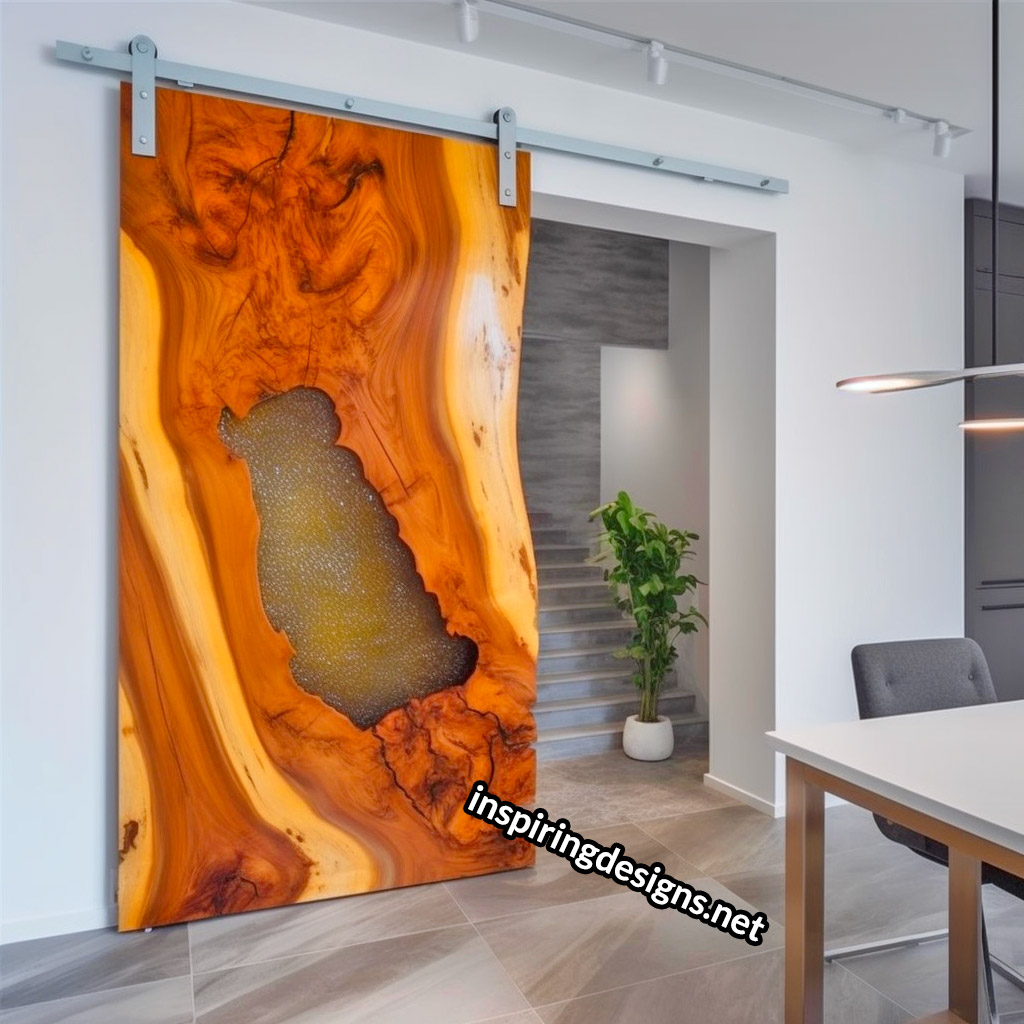 DIY Live Edge Barn Door with Epoxy Resin
If you're a crafty type, why not try your hand at creating a live edge barn door with epoxy resin yourself? Here's a quick rundown of the process:
Materials you'll need:
Live edge wood slab
Epoxy resin and hardener
Mixing cups and stirring sticks
Sandpaper (120 grit and 220 grit)
Wood glue
Clamps
Circular saw or jigsaw
Router (optional)
Sander (optional)
Safety equipment (gloves, respirator, eye protection)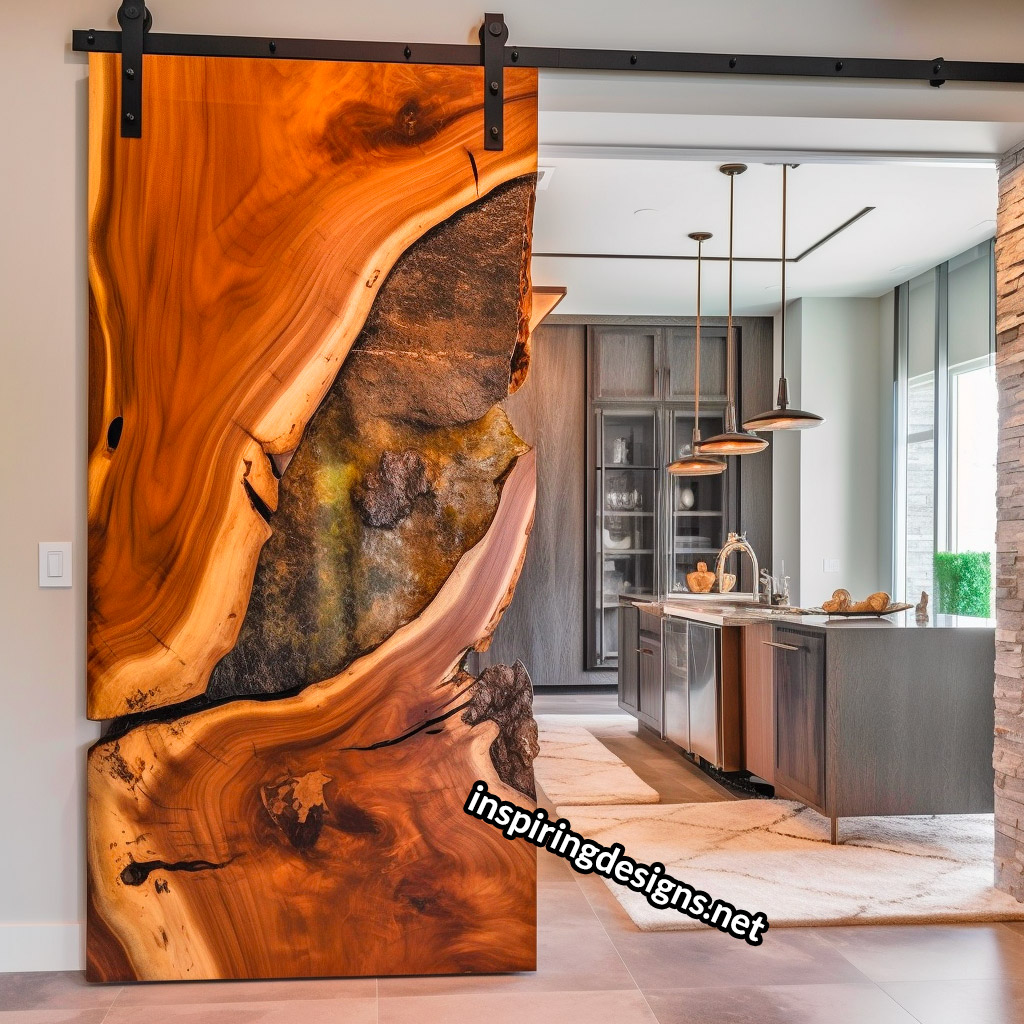 Instructions:
Step 1: Choose your wood slab Choose a live edge wood slab that is the right size for your door. It should be thick enough to be sturdy but not too heavy to maneuver. You can choose from a variety of woods, including maple, cherry, and walnut. Make sure that the slab is straight and level.
Step 2: Cut the slab to size Use a circular saw or jigsaw to cut the slab to the size you need for your door. Use a straight edge as a guide to ensure a straight cut. Sand the rough edges with 120-grit sandpaper.
Step 3: Sand the slab Sand the entire slab, including the live edge, with 220-grit sandpaper. Sand in the direction of the grain to prevent scratches. If you have a router, you can use it to create a smooth, rounded edge on the live edge.
Step 4: Apply wood glue Apply a thin layer of wood glue to the live edge of the slab. Use a brush to spread the glue evenly. Clamp the slab together with another straight piece of wood until the glue dries.
Step 5: Mix the epoxy resin Mix the epoxy resin according to the manufacturer's instructions. Make sure to mix thoroughly to ensure an even consistency. You may want to wear gloves and a respirator to protect yourself from the fumes.
Step 6: Apply the epoxy resin Use a brush or spreader to apply the epoxy resin to the live edge of the slab. Make sure to cover the entire surface evenly. If you want a thicker layer, you can add more epoxy resin. Let the resin cure for the recommended time, usually 24-48 hours.
Step 7: Sand the epoxy resin Once the epoxy resin is cured, sand it with 220-grit sandpaper to remove any rough spots or bubbles. You can also use a sander to make the surface smoother.
Step 8: Install hardware Once your door is finished, install the hardware. This includes the handle, hinges, and any other hardware you want to use. You can use a template to ensure that the hardware is installed correctly.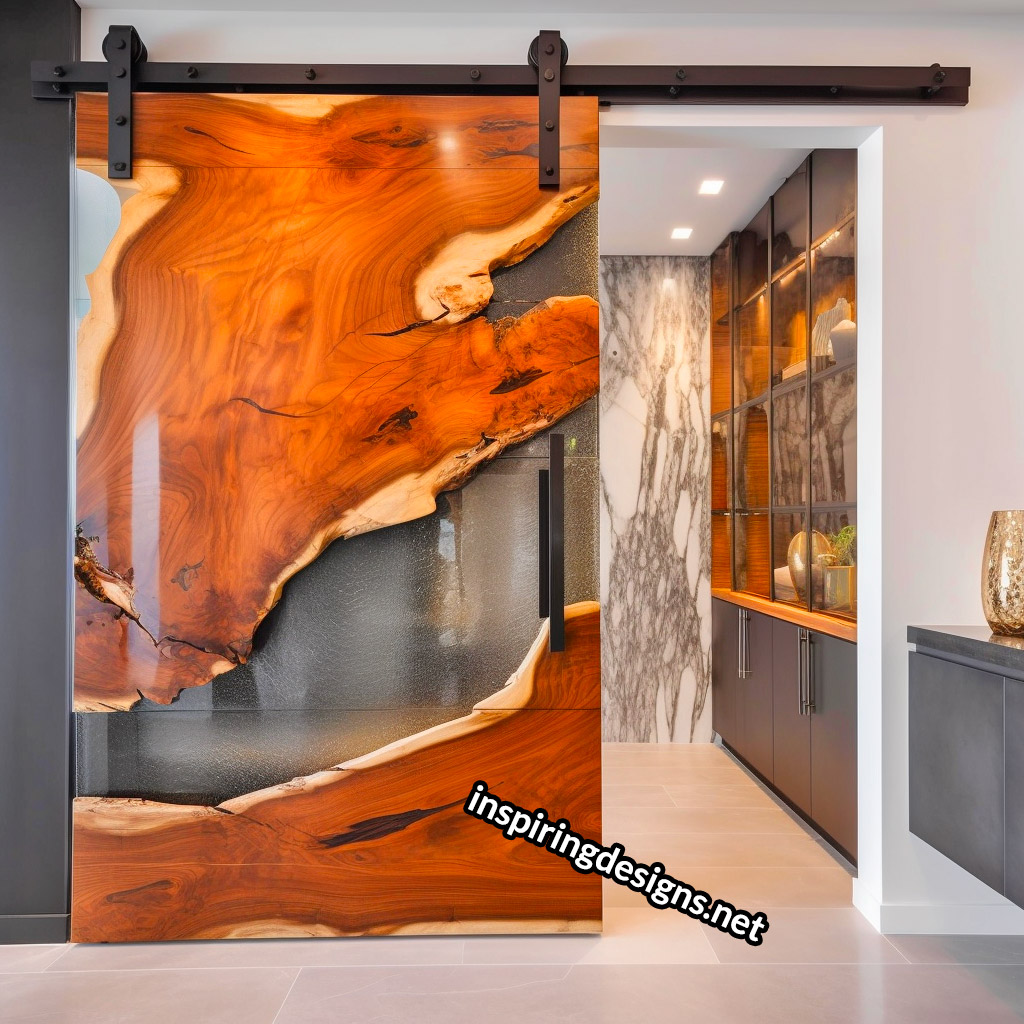 There you go… a beautiful interior barn door made from live edge wood and epoxy resin. It's a unique and stunning addition to any home, and it's easy to make with just a few tools and some DIY skills.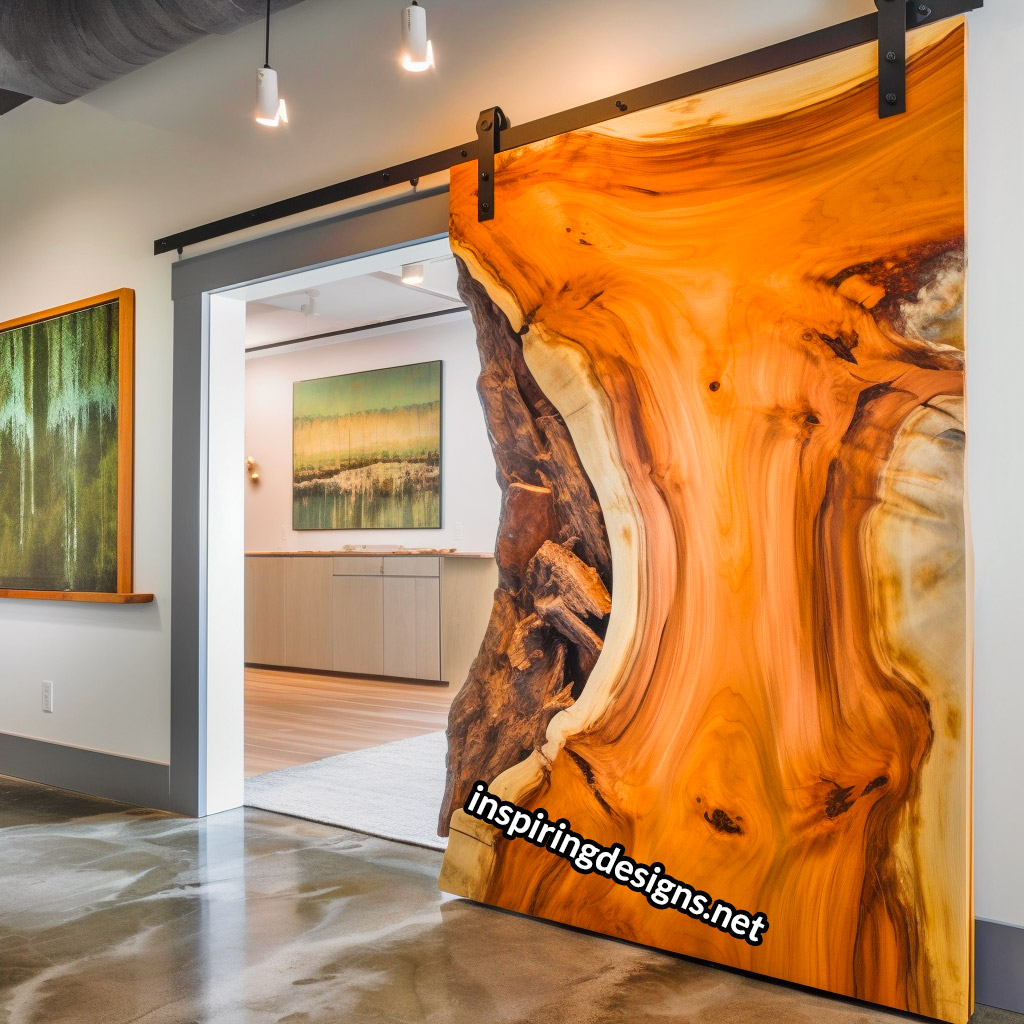 For those looking to get their hands on a custom live edge barn door, Etsy is the place to be. With talented artisans showcasing their work, you're bound to find the perfect piece to complement your home.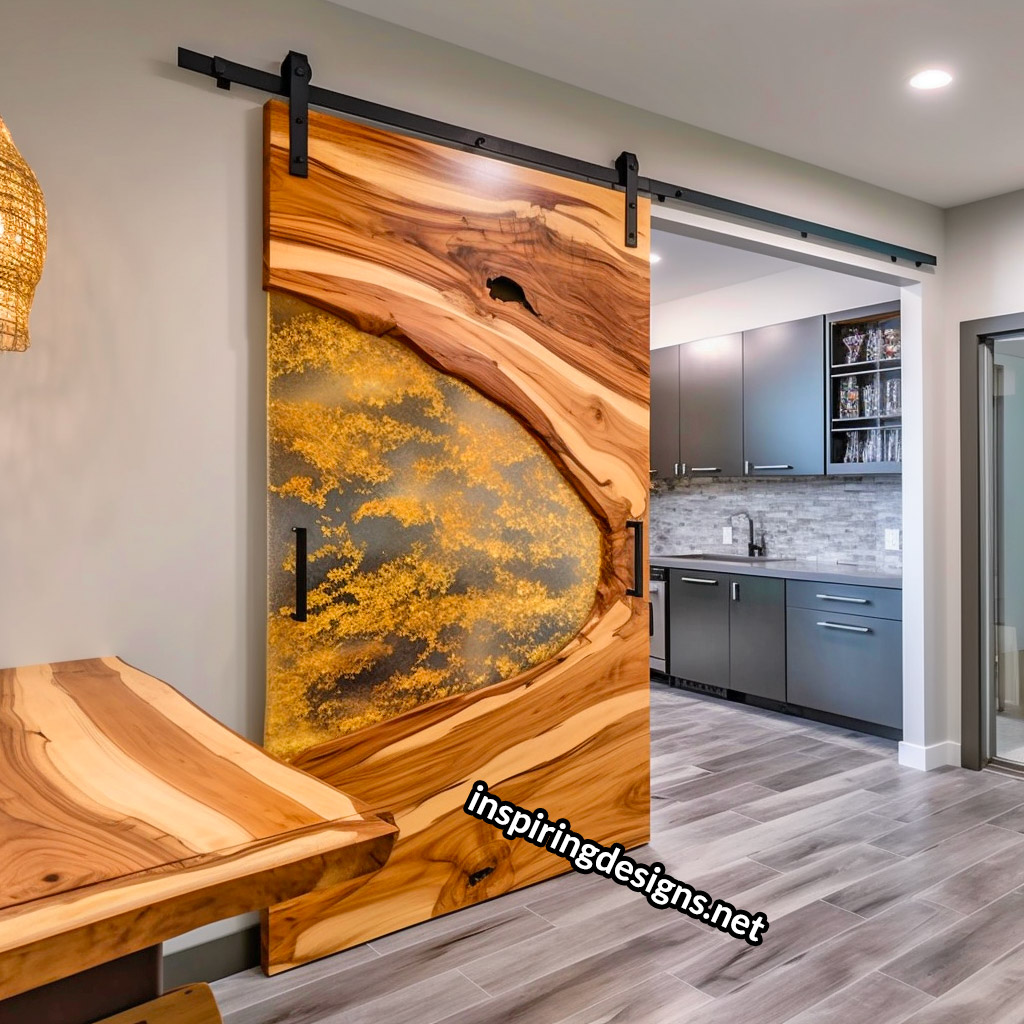 Check out some more stunning examples of live edge barn door designs that are mixed with epoxy resin! Perhaps these will inspire you to make your own, or perhaps get a custom door created on Etsy!