Remember the awe you felt when Harry first set eyes on the majestic Hogwarts castle? Those turrets, the towers, the mystique! What if I told you, your little one can now drift into dreamland with that very enchantment every night? No, we haven't mastered the 'Apparate' spell (yet), but we're bringing Hogwarts right into the bedroom!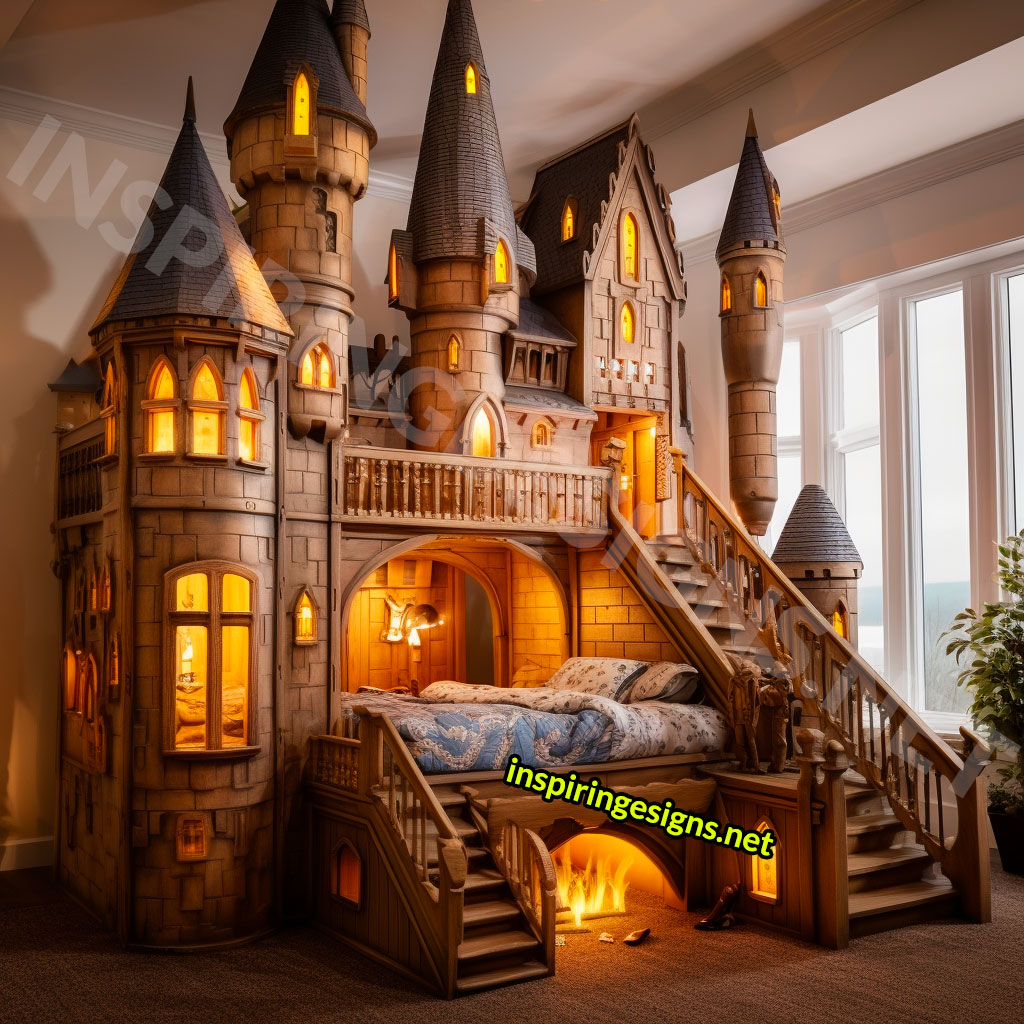 You might think you've seen every kind of kids' bed out there – race cars, princesses, spaceships. But let's crank that creativity up a notch. These castle-shaped beds are unique, each showcasing a design only a true Potterhead could conjure.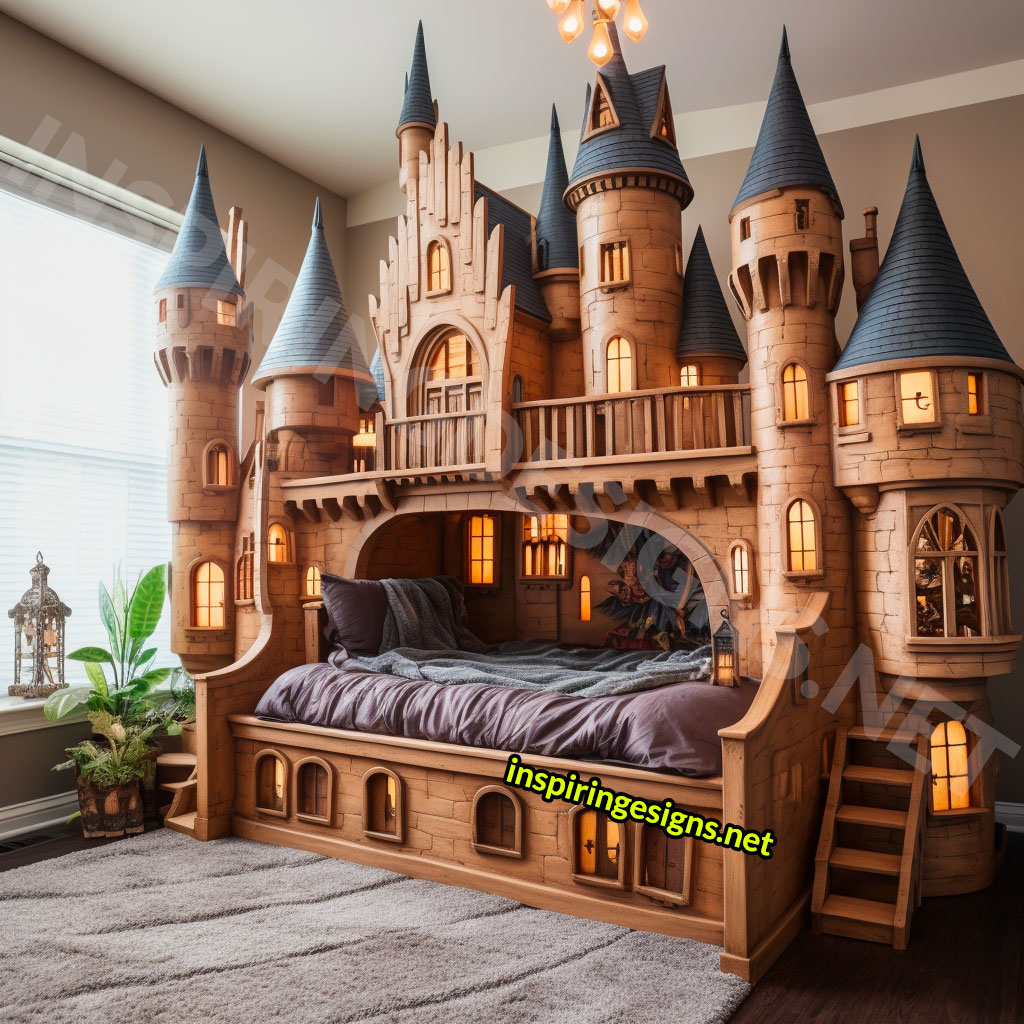 No two are the same! Some might tuck your budding witch or wizard snugly inside the castle walls, letting them dream beneath turrets and towers. Others artfully position the castle structure as a grand backdrop, making it feel as if the bed sits on the majestic Hogwarts grounds.
Craftsmanship? Oh, it's out of this (wizarding) world! These beds aren't whipped up with a quick 'Evanesco'.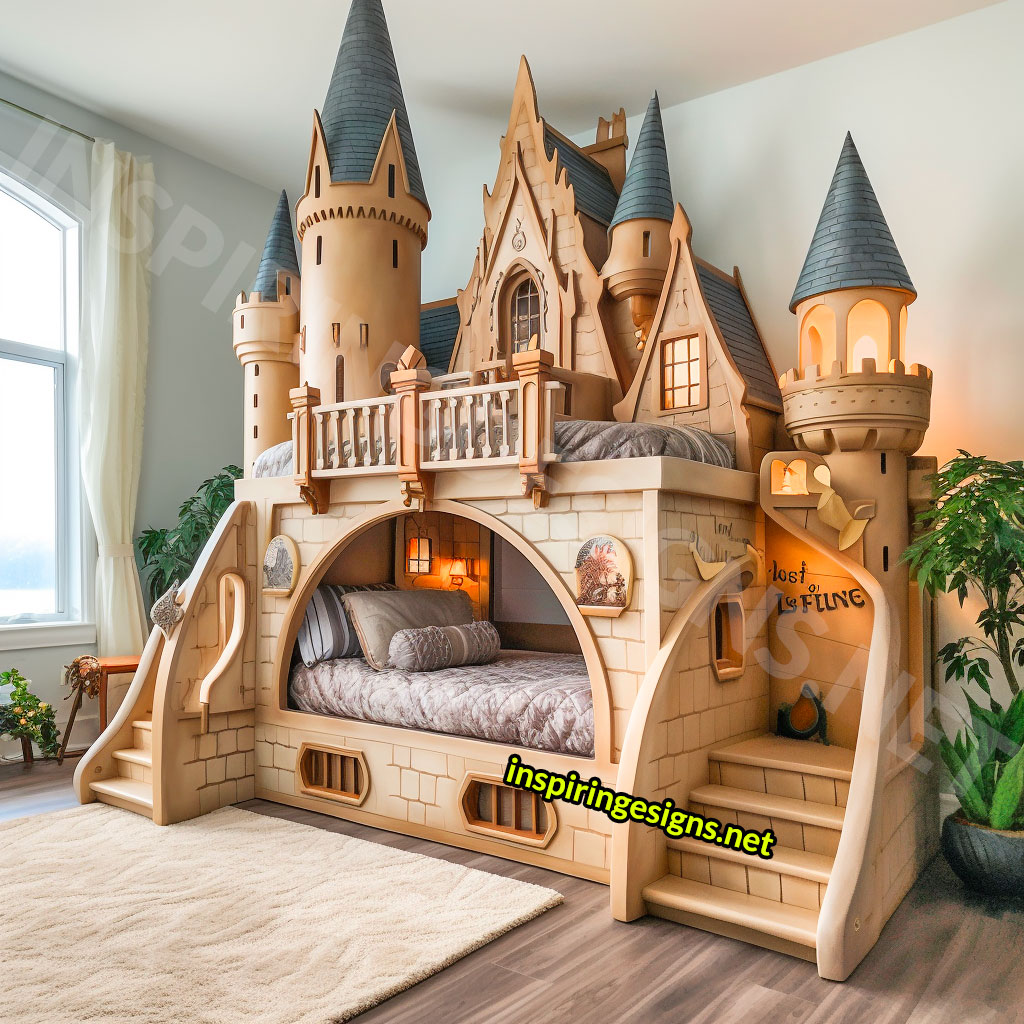 Each piece is meticulously handmade, using a medley of materials ranging from plaster, plastic, epoxy, resin, to good ol' wood. Such diversity in material ensures durability, longevity, and of course, that magical aesthetic.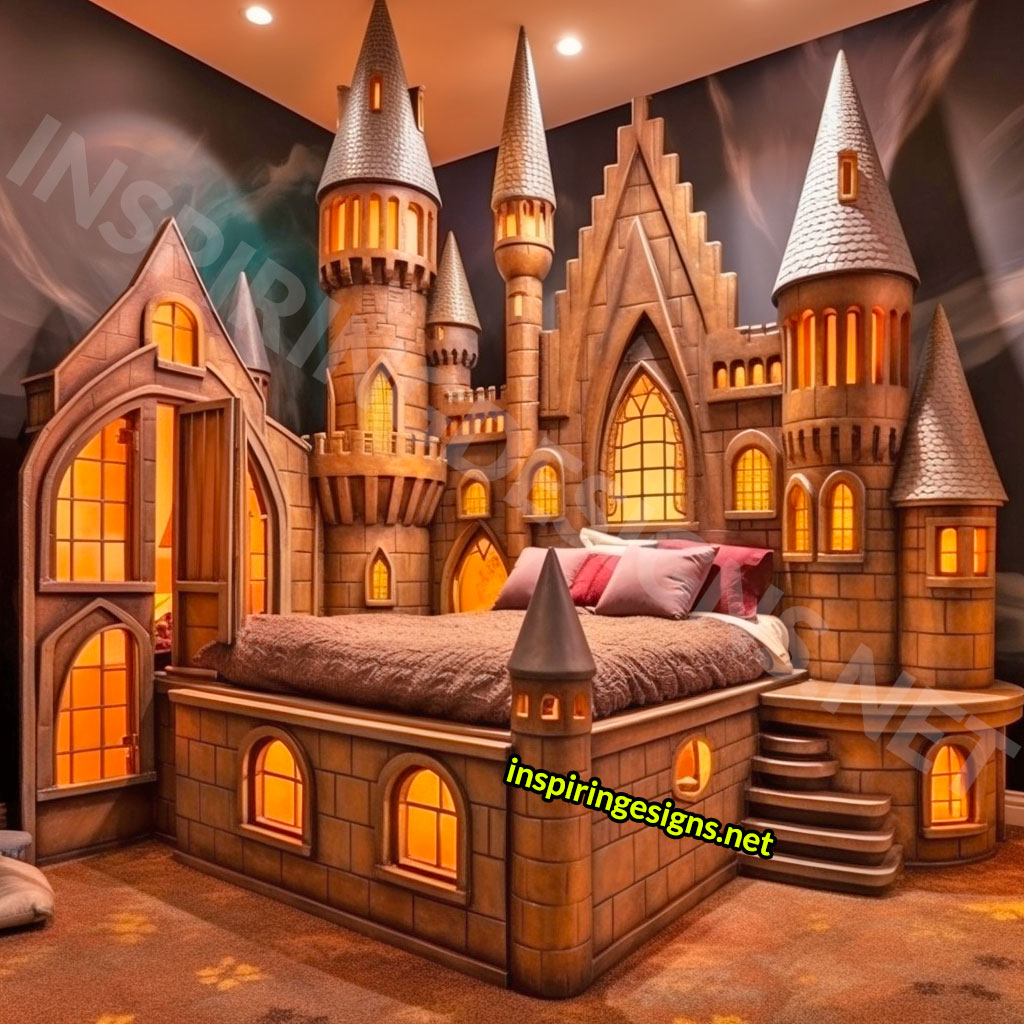 Nighttime in Hogwarts was always a magical sight, wasn't it? With integrated lighting, these beds recreate those visuals.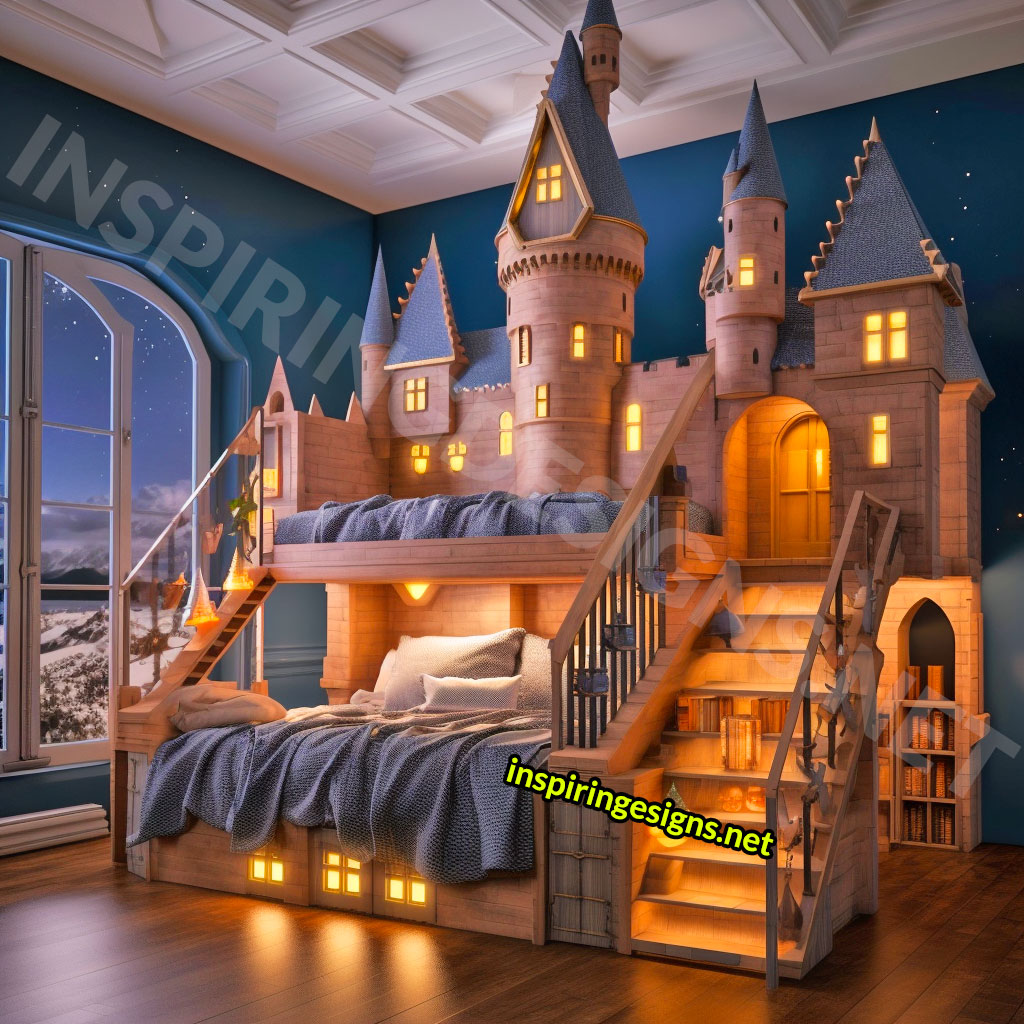 Imagine the castle glowing subtly as your little one drifts off, or hidden lights under the mattress shimmering like the starry Hogwarts night. Spellbinding!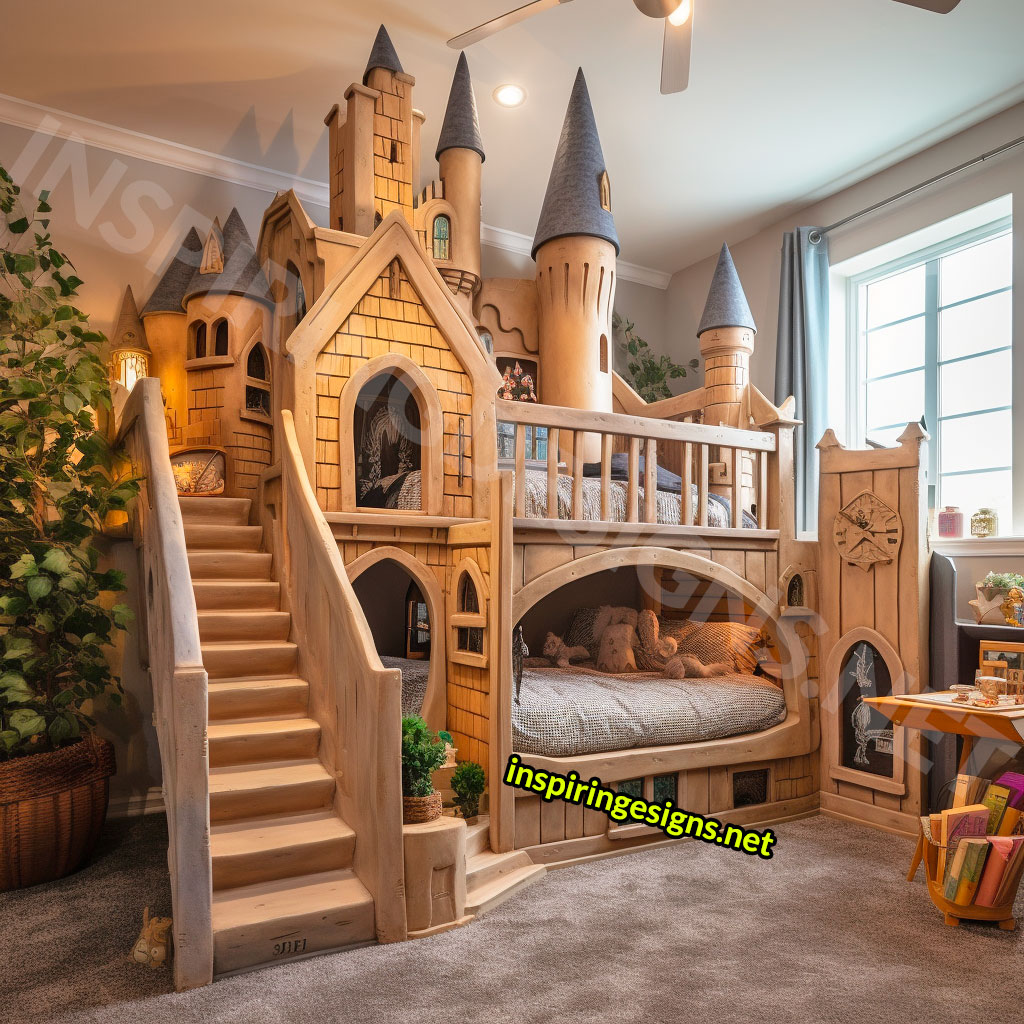 Is your young one not quite ready for bedtime? No worries! Some designs feature playful areas perfect for pre-bedtime adventures.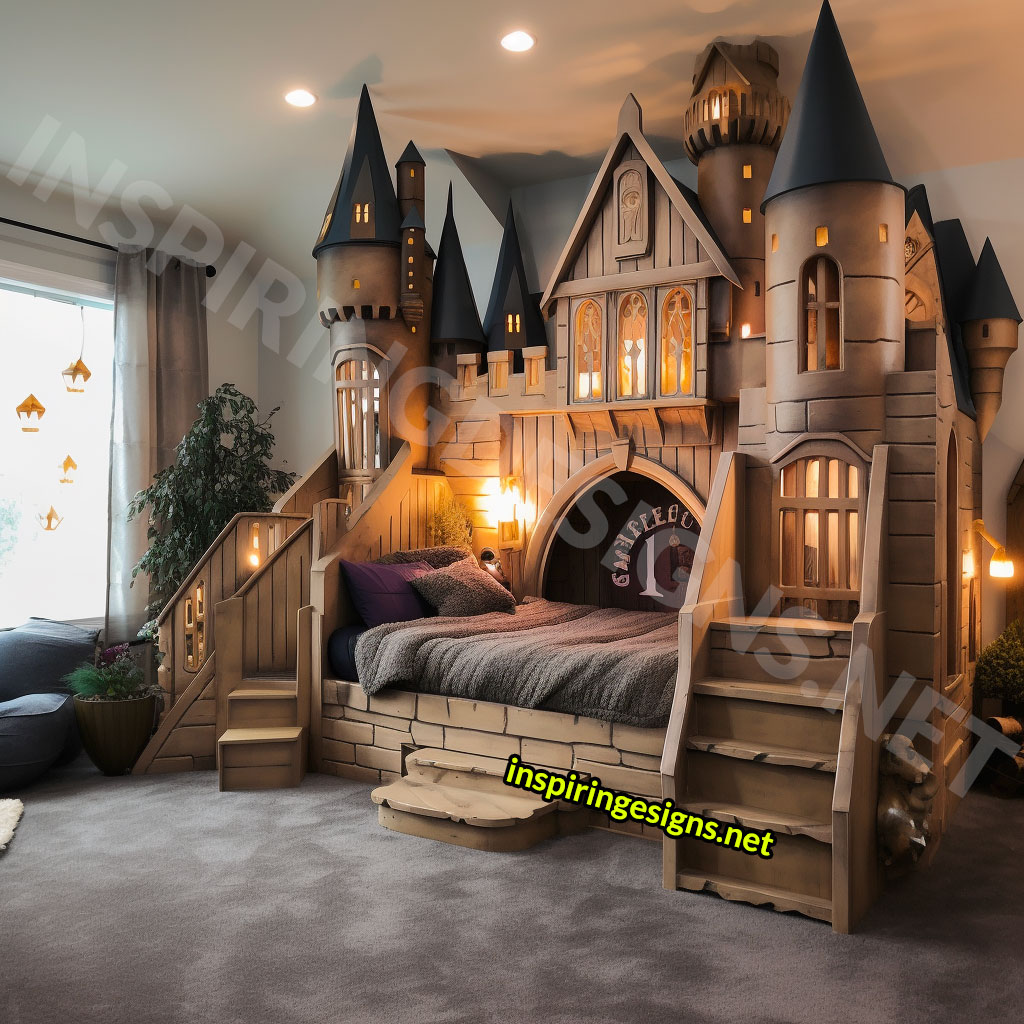 There might be stairs leading up to castle chambers, secret hideaways, or storage spaces for their cherished treasures – be it toys, books, or that wand they swear chose them at Ollivanders.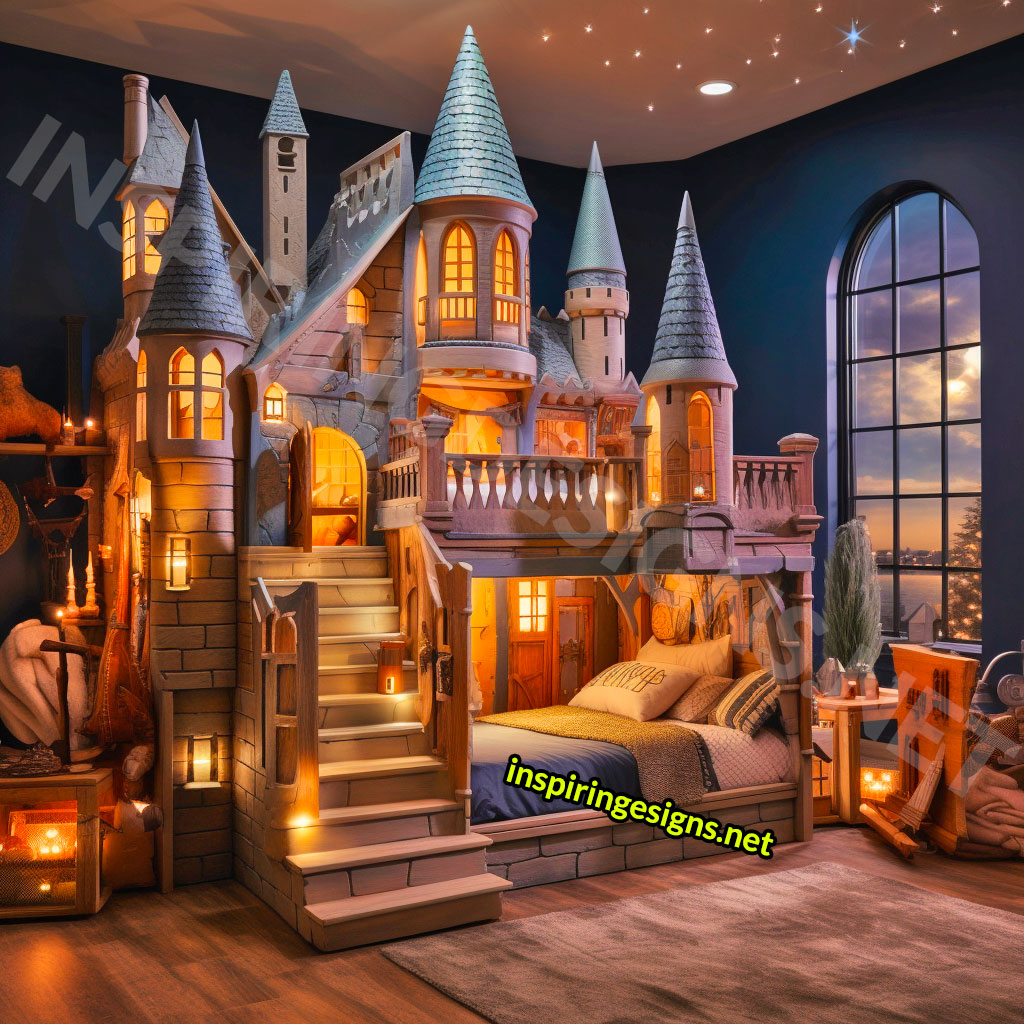 With hundreds of painstaking hours poured into each creation, this isn't just furniture – it's art. A centerpiece. A manifestation of love for the wizarding world.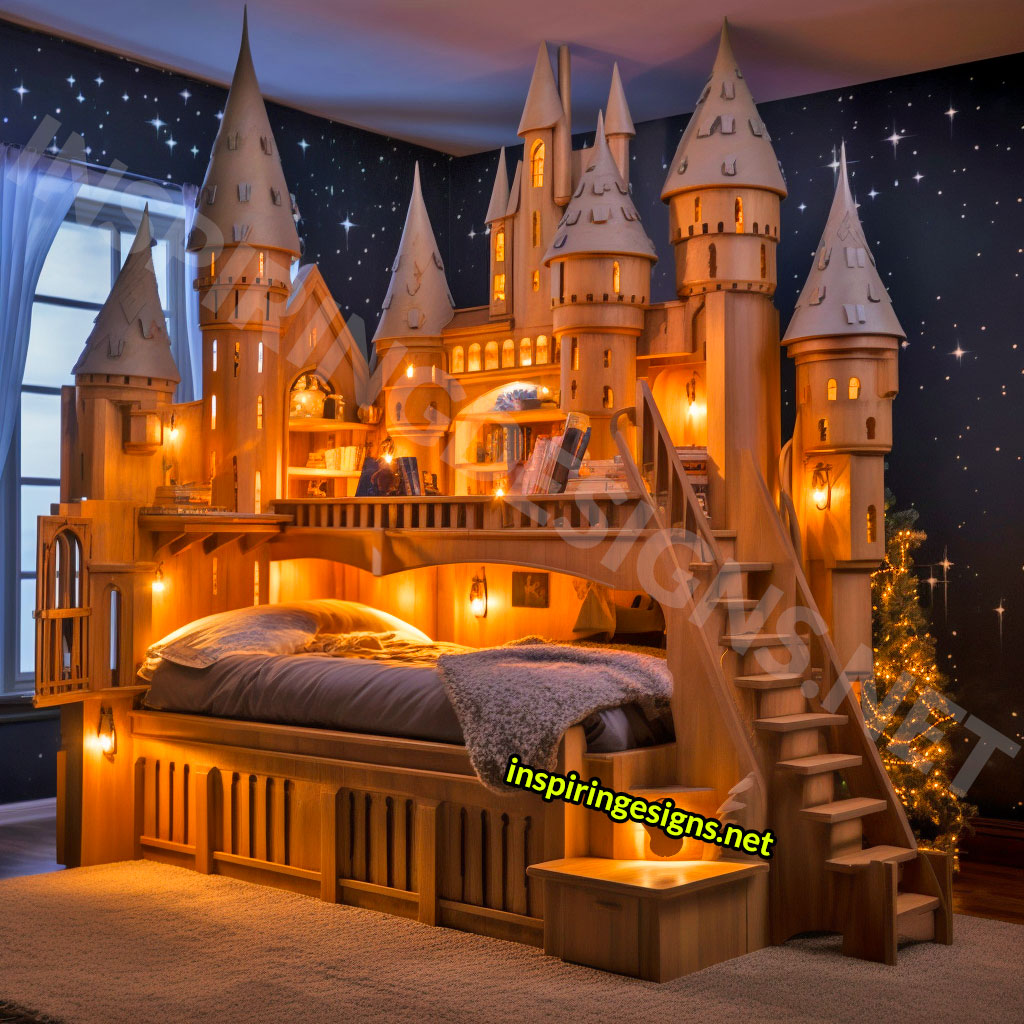 Imagine hosting a sleepover with this beast of a bed! It's not just a sleeping space but an experience. Pajama-clad tots running around pretending to be in the heart of a Quidditch match or brewing potions – it's a sight to behold!
Speaking of beholding, anyone who walks into the room will be captivated. Parents, other kids, even that one aunt who doesn't 'get' the whole Harry Potter thing – they'll all be talking about it.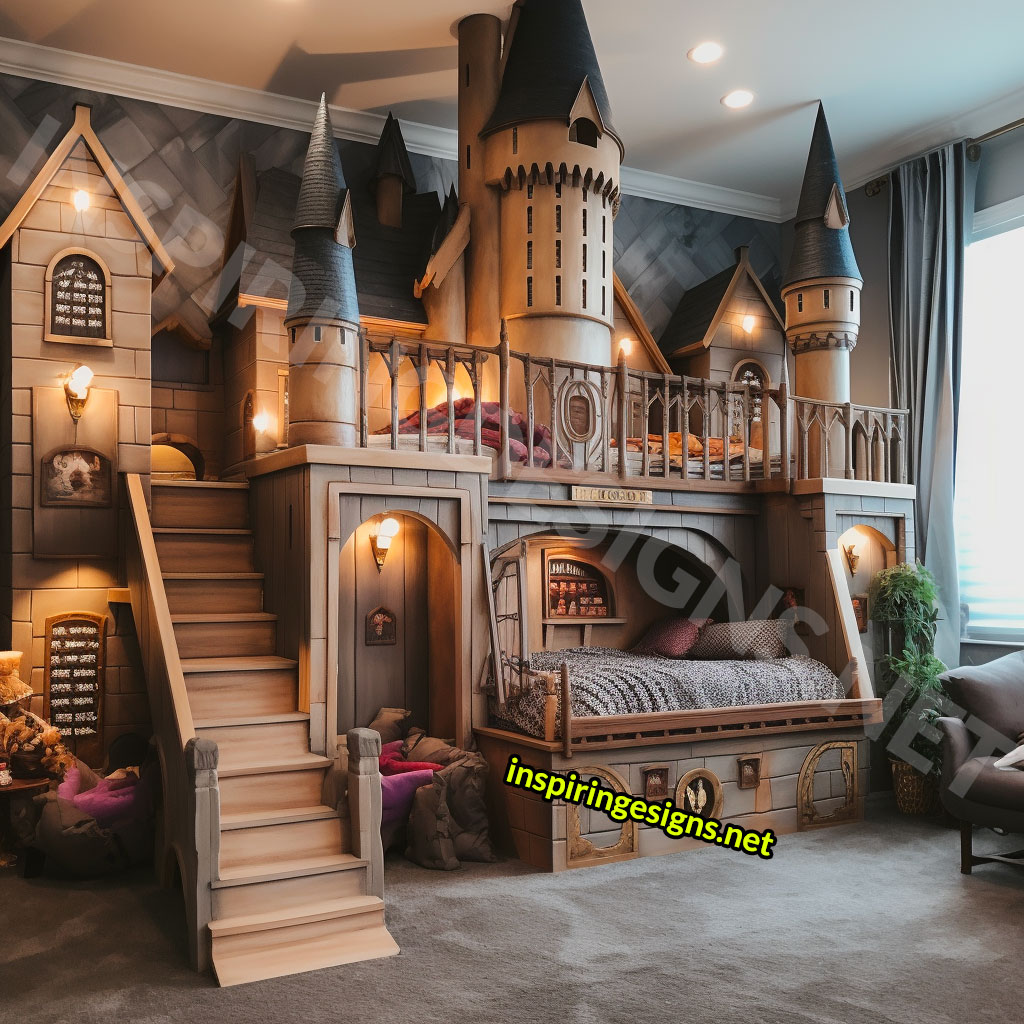 This bed isn't just a resting place; it's a conversation starter, a story waiting to be told.
Now, let's talk aesthetics. Such a grand piece needs the right setting. Modern and minimalistic interiors? The bed acts as a standout contrast.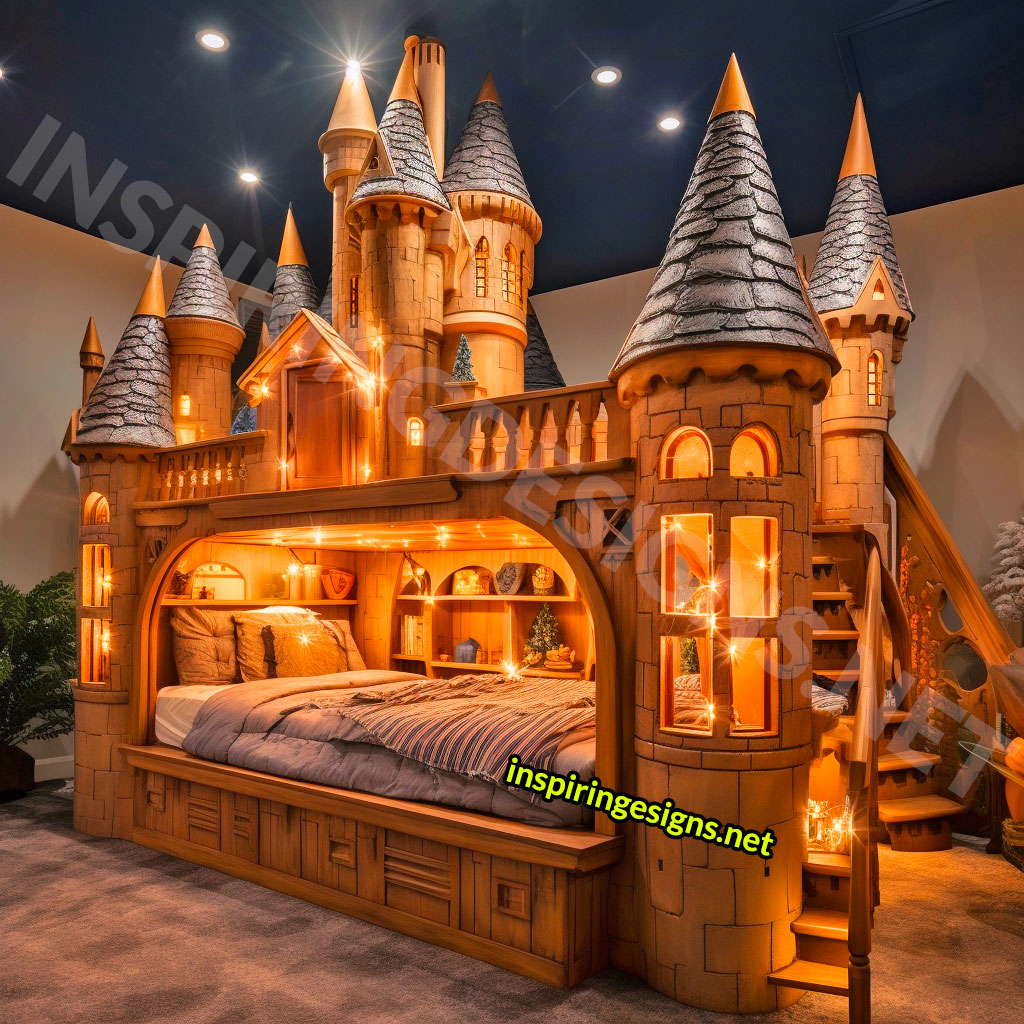 Classic and vintage décor? It complements beautifully. Rustic or bohemian? The castle morphs into a fairytale element, bridging reality and fantasy.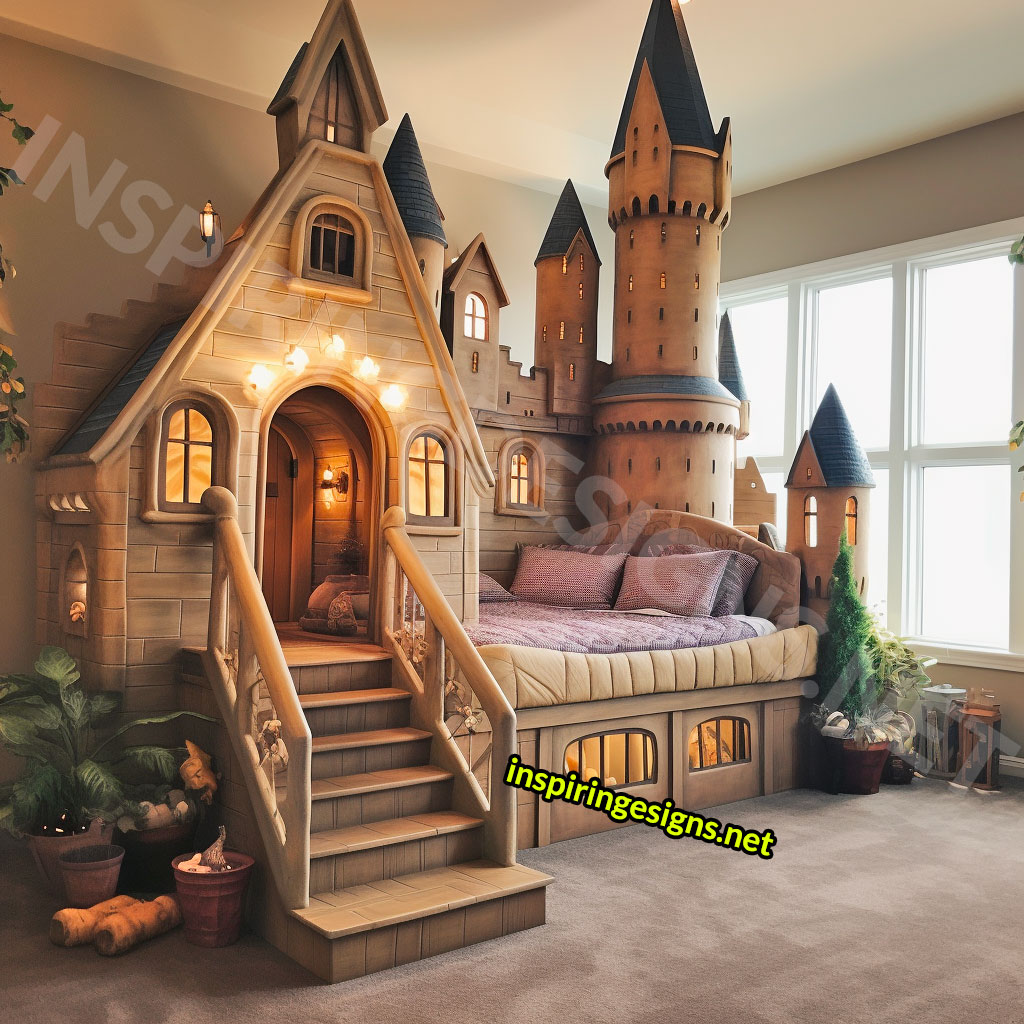 But remember, Hogwarts was massive. These Harry Potter castle beds, while not quite as expansive, are sizable! They can stretch 7-11 feet wide and stand proud at 8-12 feet tall.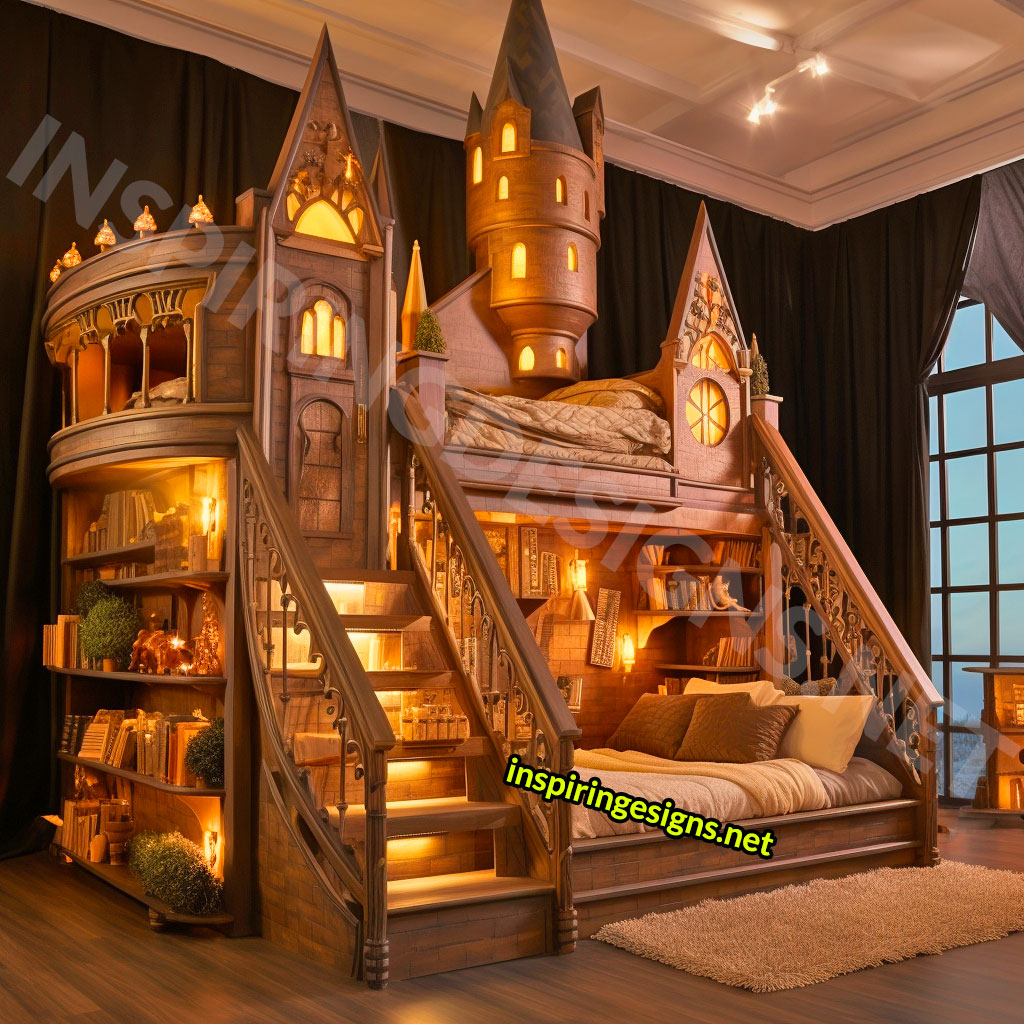 So, before you get one, ensure your room can accommodate this magical monument. High ceilings are a must, and ample square footage will let the magic truly shine.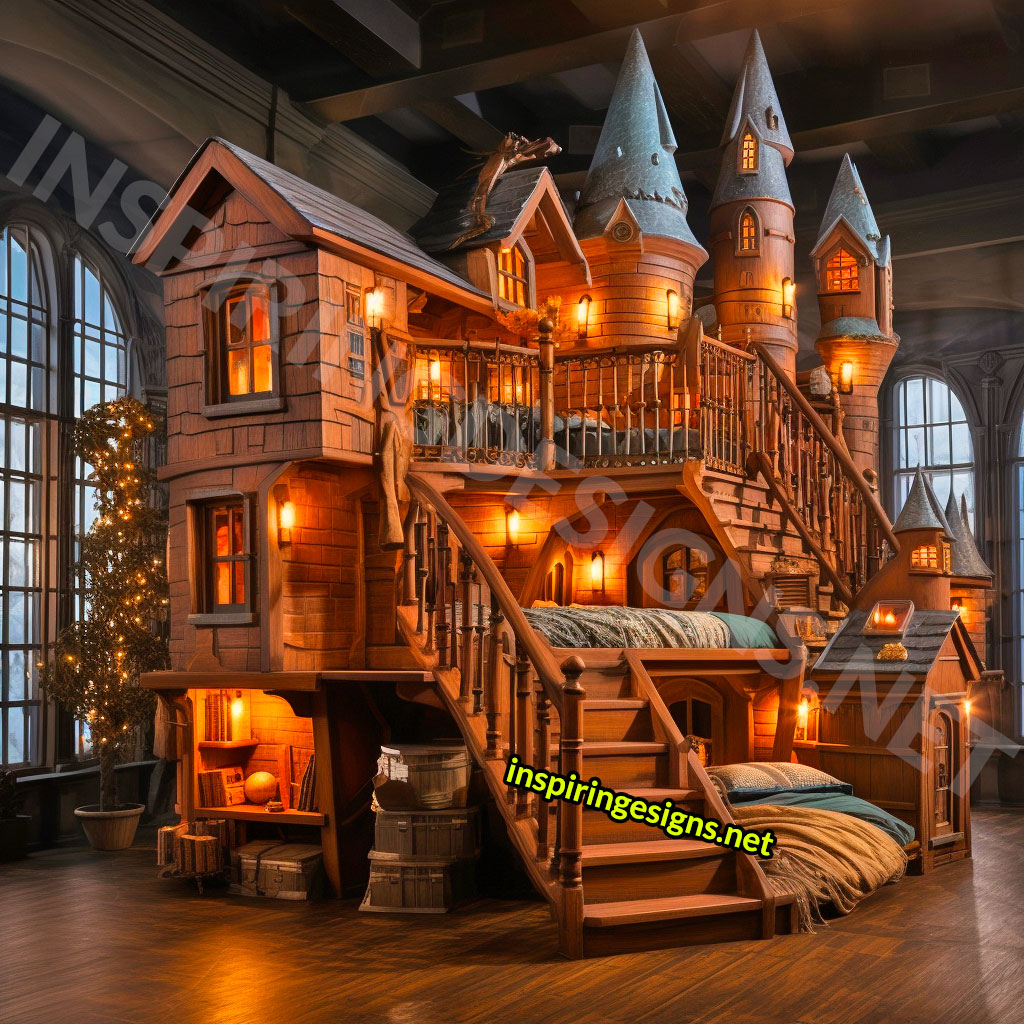 Oh, and if you thought the Hogwarts magic was spellbinding, wait till you see its Disney counterpart! We've previously swooned over the ethereal charm of Disney Castle kids beds. These creations transport young princes and princesses straight to the heart of their favorite fairytales.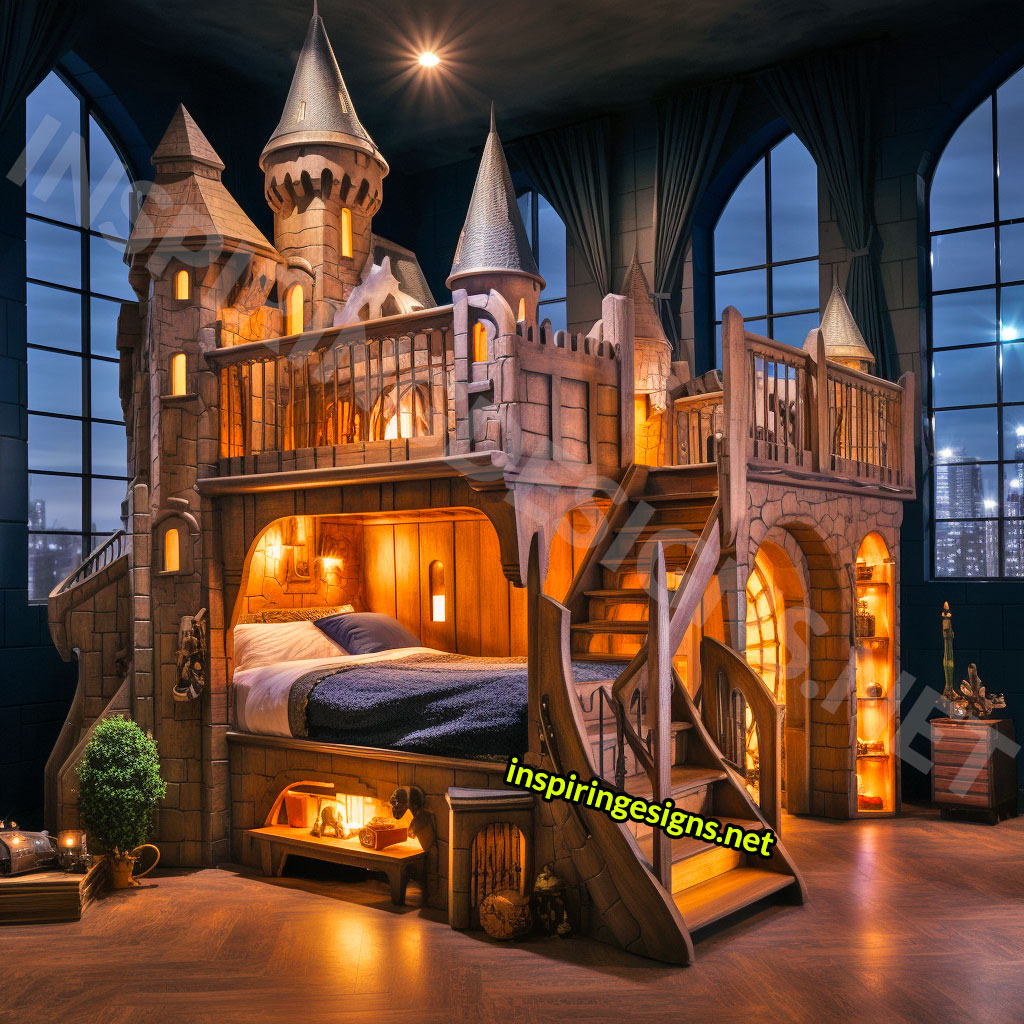 Sleeping beneath the turrets of Cinderella's or Sleeping Beauty's castle? It's a dream come true! Crafted with the same dedication and intricate detailing, these beds ensure your little ones drift off in a world where magic is as real as their dreams. Eager to dive into this enchanting world? Check out our previous article for a magical tour of the Disney Castle kids beds universe!
Cost for Hogwarts castle kid bed? Well, conjuring one doesn't come cheap. Given the intricacy and labor, a local builder might ask anywhere between $20,000 to $60,000, depending on the design and materials. But then again, can you really put a price on magic?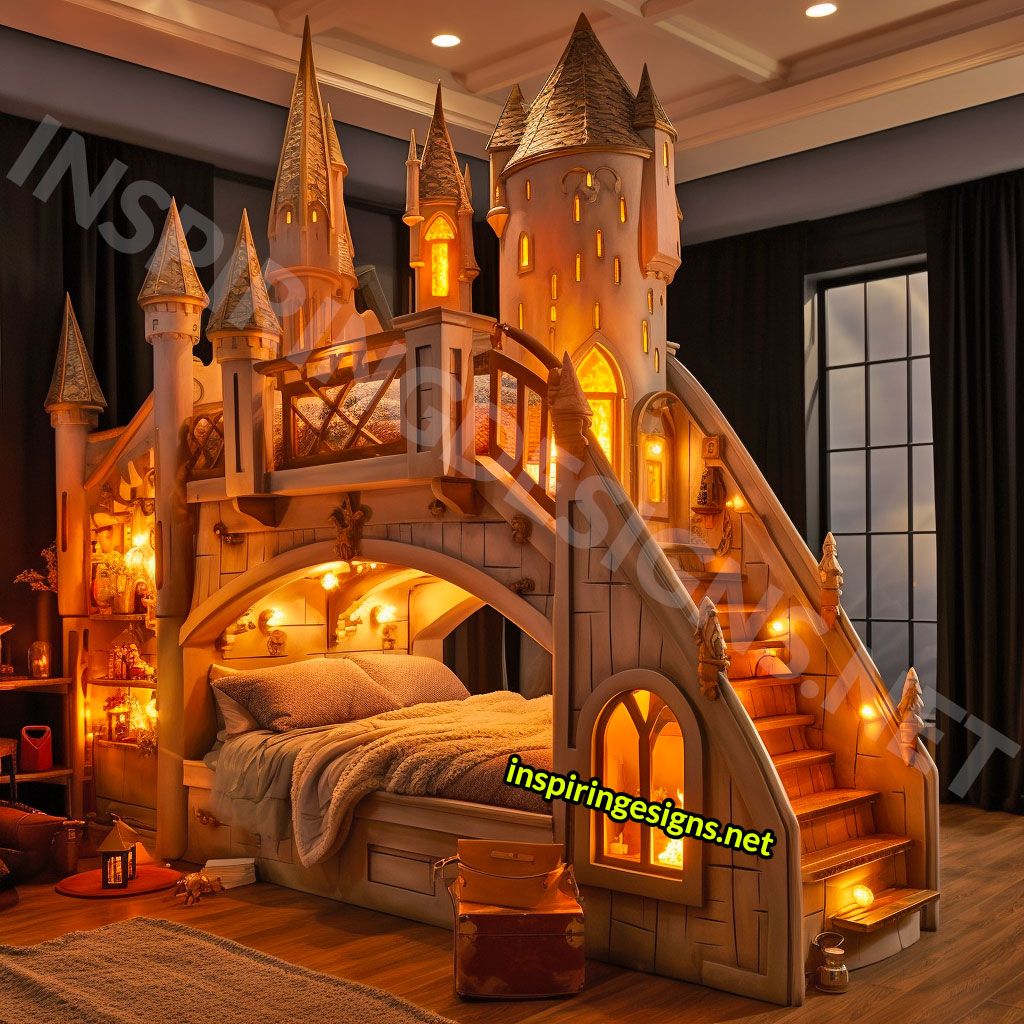 So, there you have it! Perfect for Potter-enthusiasts, these oversized Hogwarts castle beds are more than just furniture.
They're a dream come true for any child (and let's face it, many adults too!). Whether it's for sleep or play, rest assured, every night will be magical!