Have you ever dreamed of cruising down Route 66 in a classic Volkswagen bus from the flower-powered 60s and 70s? Well, fasten your seat belts because we're about to take you on a wild ride… to your bathroom!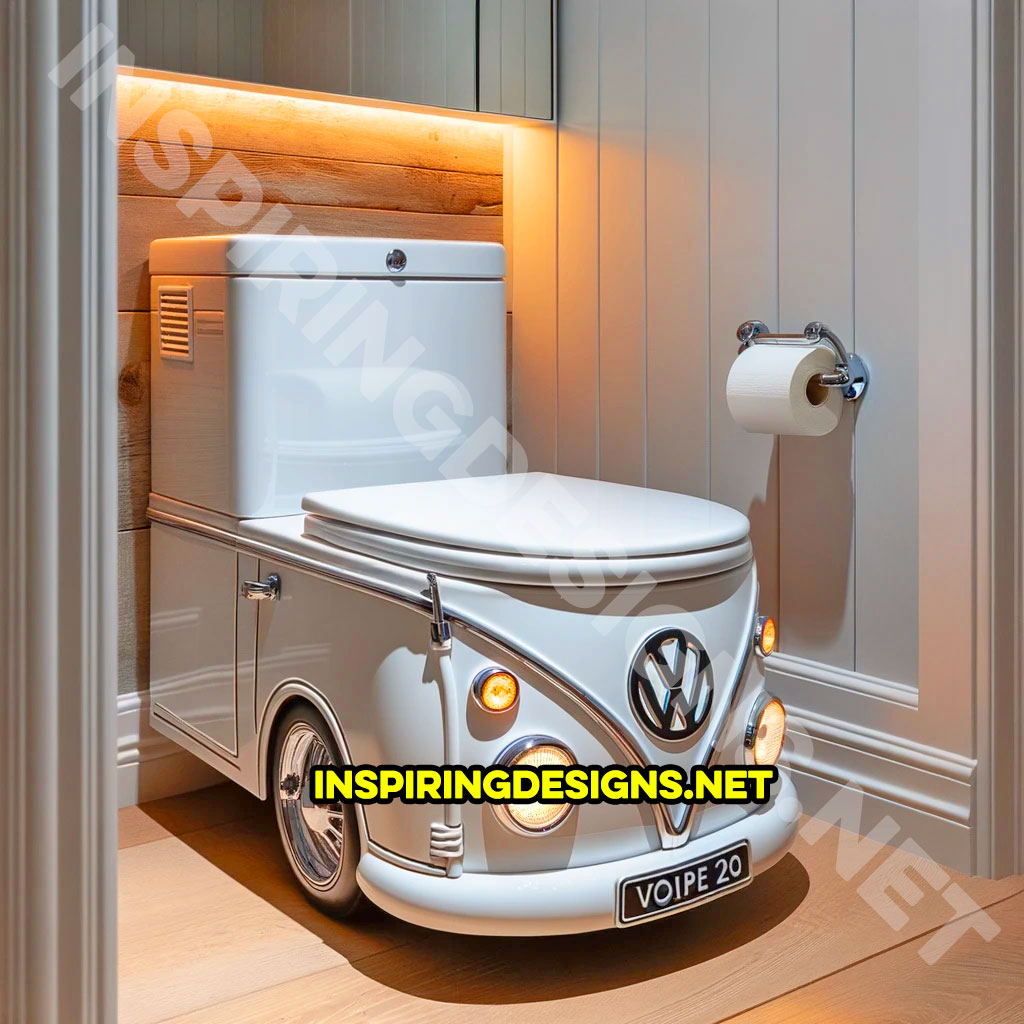 For all the VW aficionados out there, your toilet experience is about to shift gears. Gone are the days of bland bathroom breaks. Prepare to be transported back in time with toilets that scream, "Peace, Love, and Porcelain!"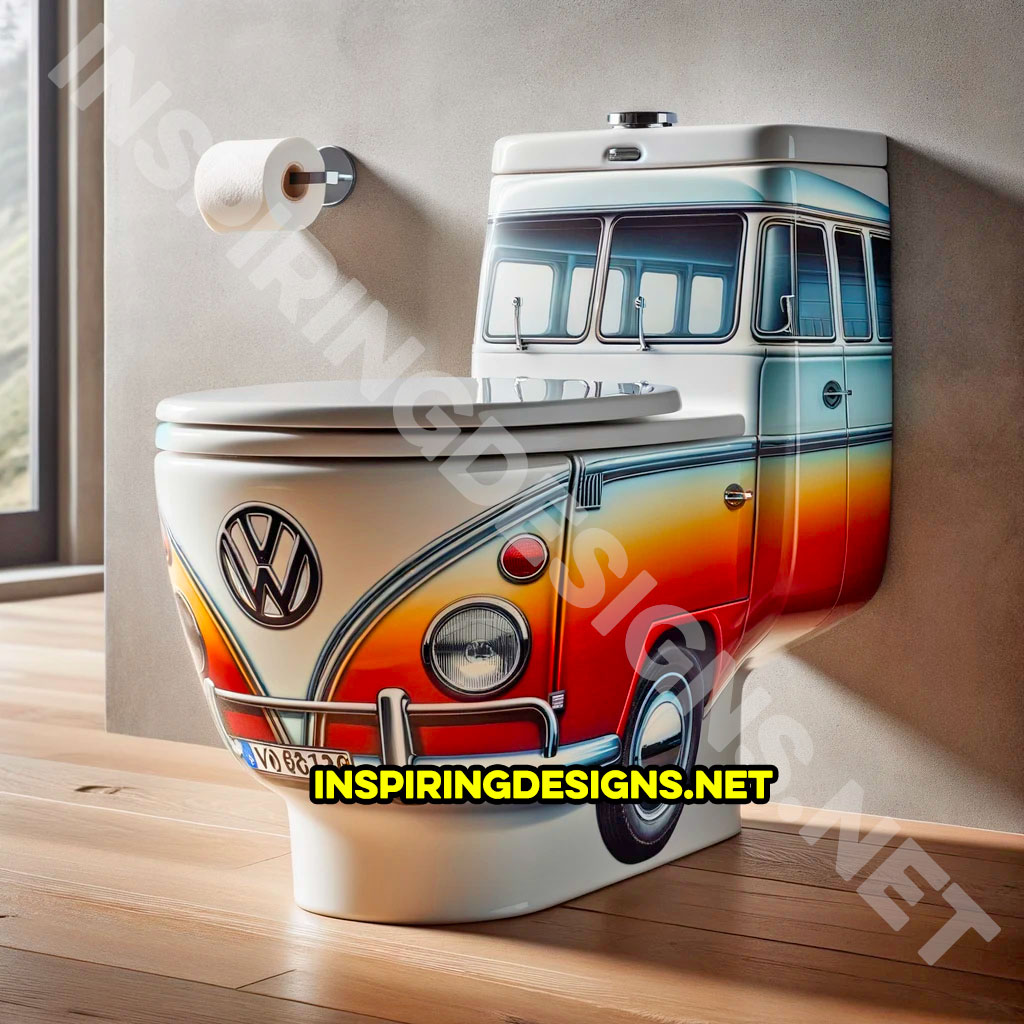 Our toilets come in a myriad of designs, all echoing the vibe of the iconic hippy bus. Whether you're a seasoned Volkswagen collector or just someone with a penchant for all things retro, these loos are perfect for you. Fancy having a mini Volkswagen bus in your man-cave bathroom? We've got you covered.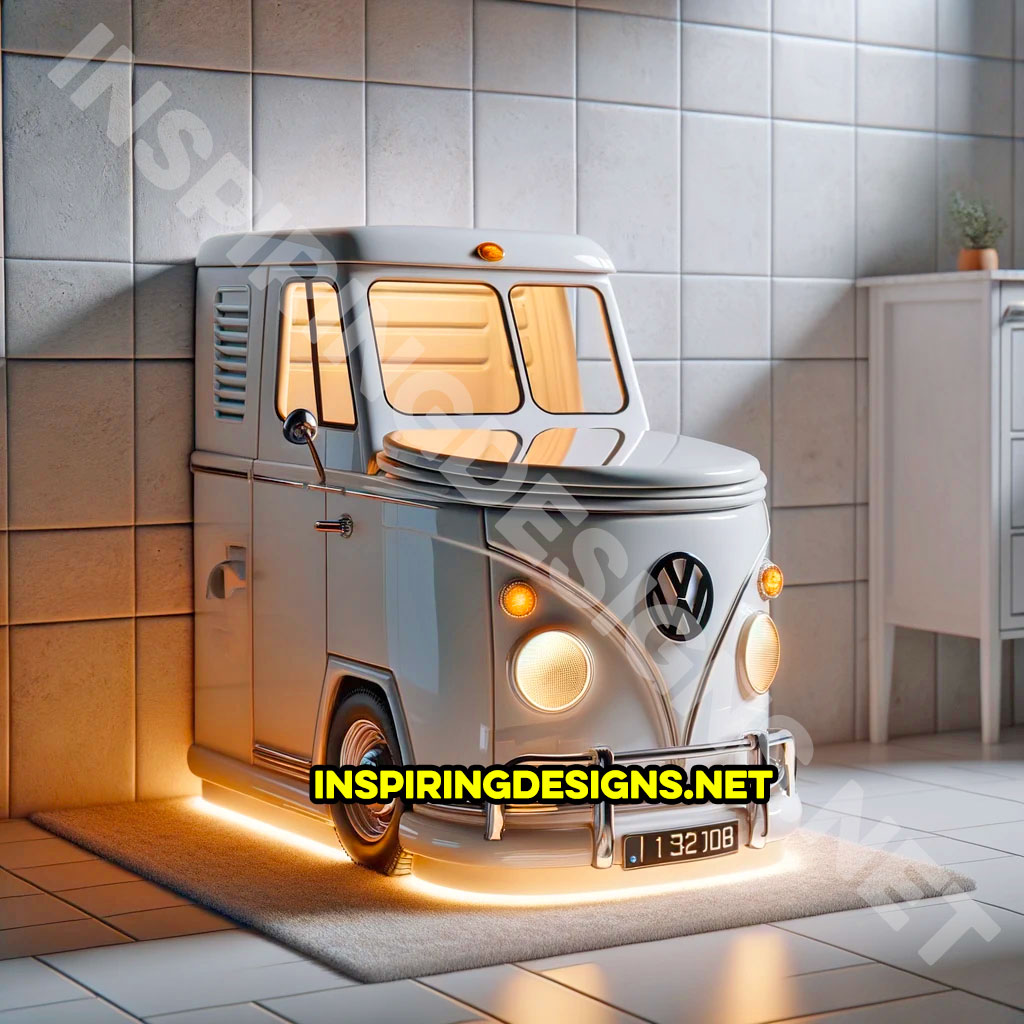 Size does matter, and we understand that. Our toilets range in dimensions, ensuring that you find the right fit for your space.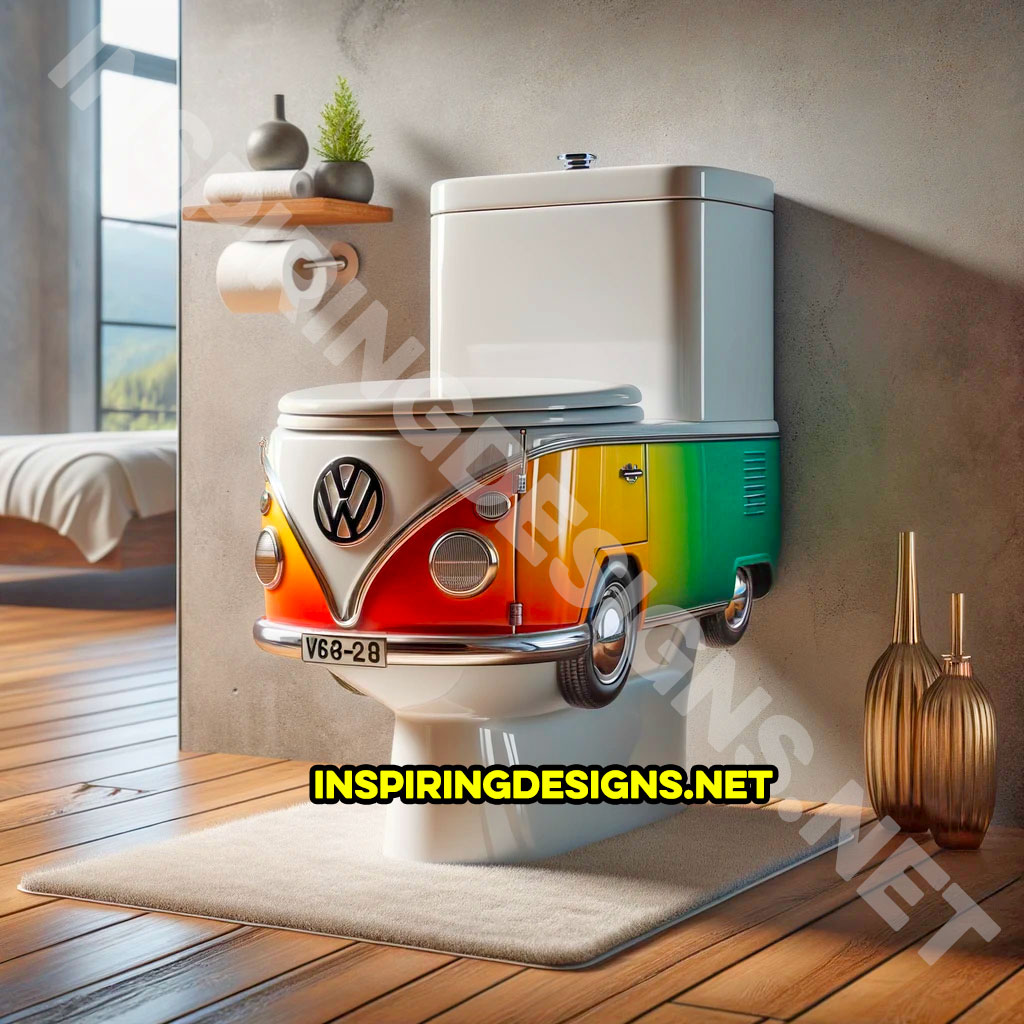 Crafted predominantly from porcelain, there are bits and bobs made from durable plastic and wood. This ain't your regular porcelain throne – it's a classic beauty on wheels.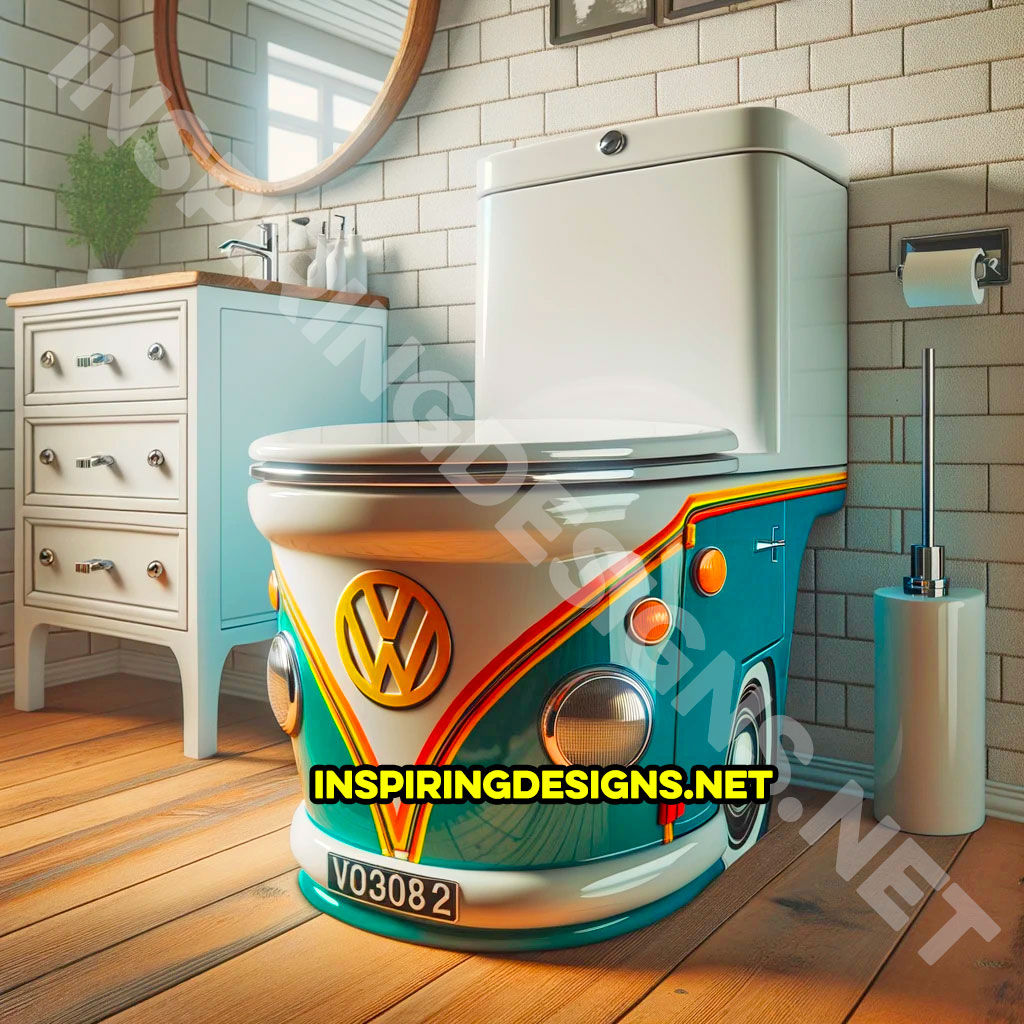 Yes, you heard that right! Some designs sport realistic wheels. And for those midnight nature calls, we've got working headlights to illuminate your path, ensuring you don't take any detours.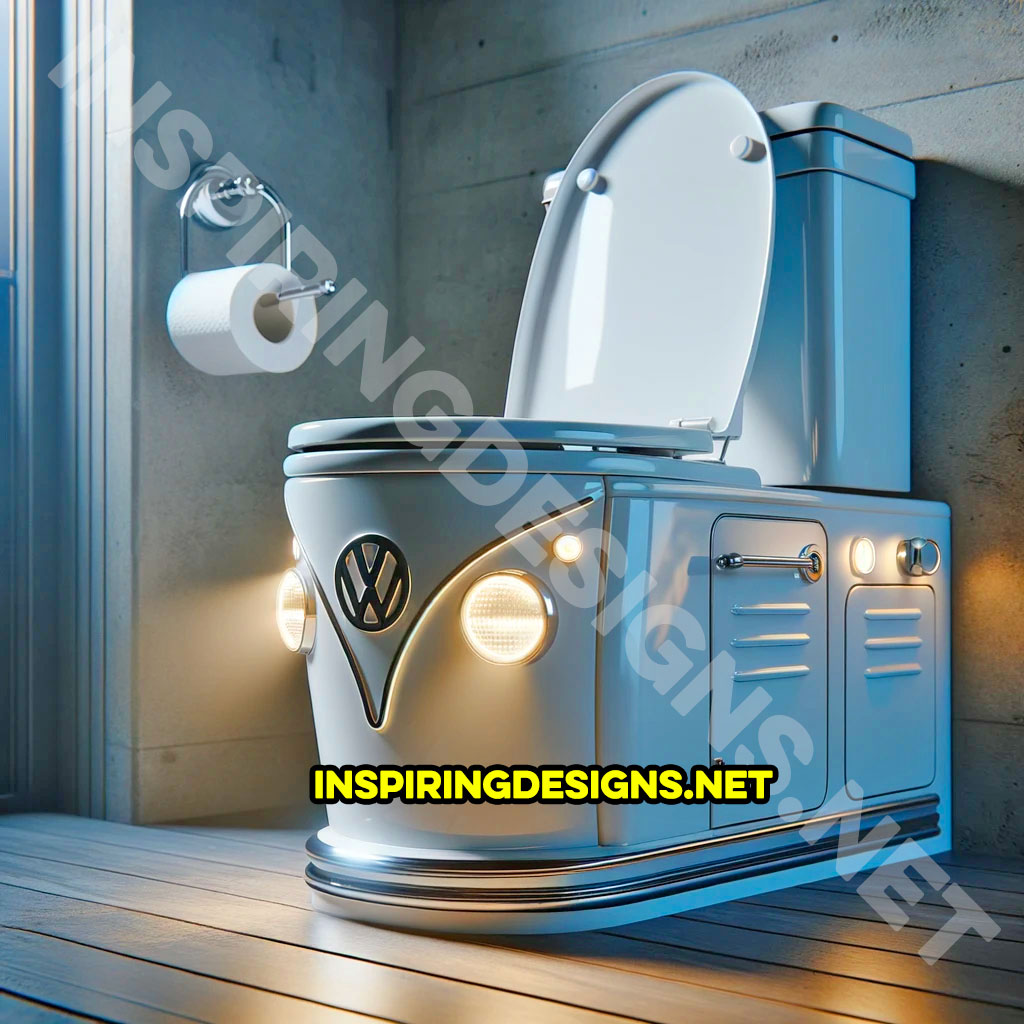 Now, let's talk finish. These beauties boast a glossy, satin finish that not only shines but also comes with a mildew-resistant additive. So, it's not just a pretty face; it's practical too.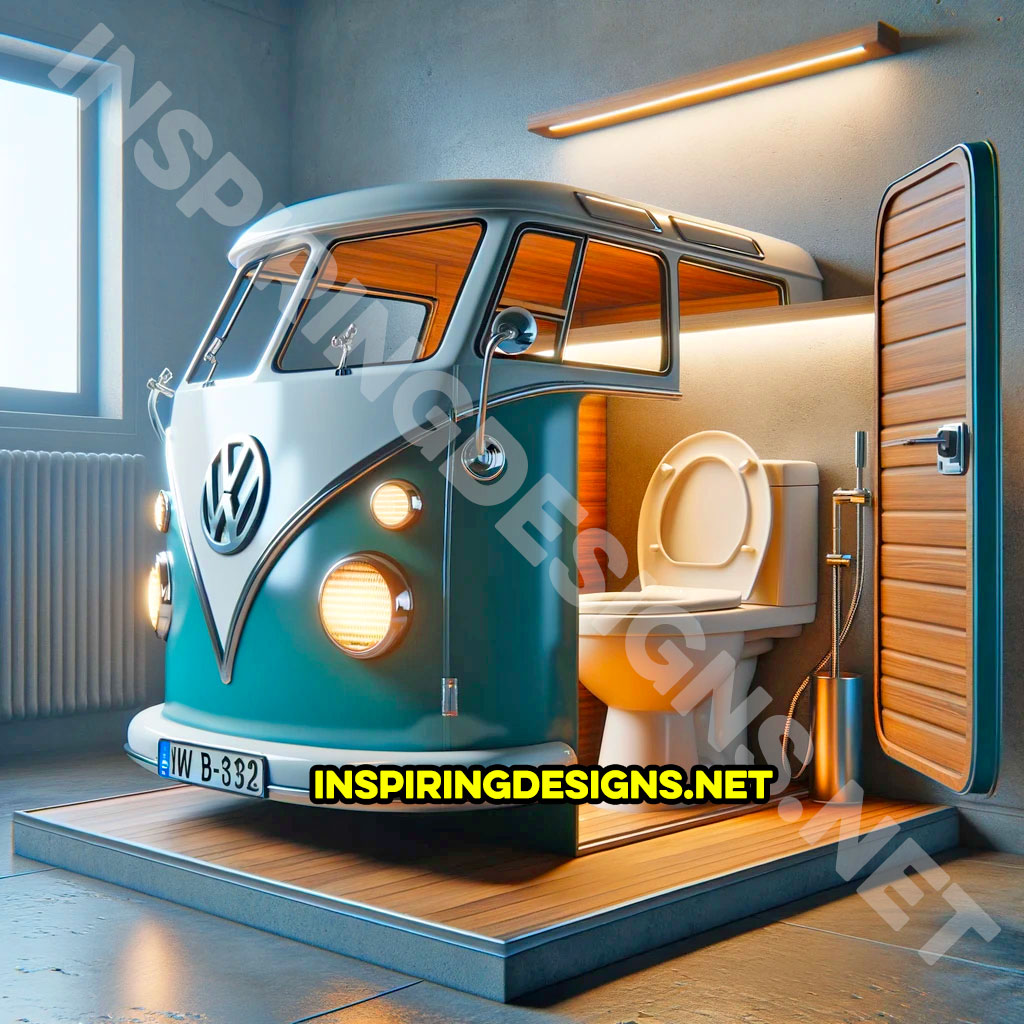 The level of detail on these toilets will have you doing a double-take. The intricate designs capture the essence of the iconic bus, right from its colorful exterior to its groovy interiors.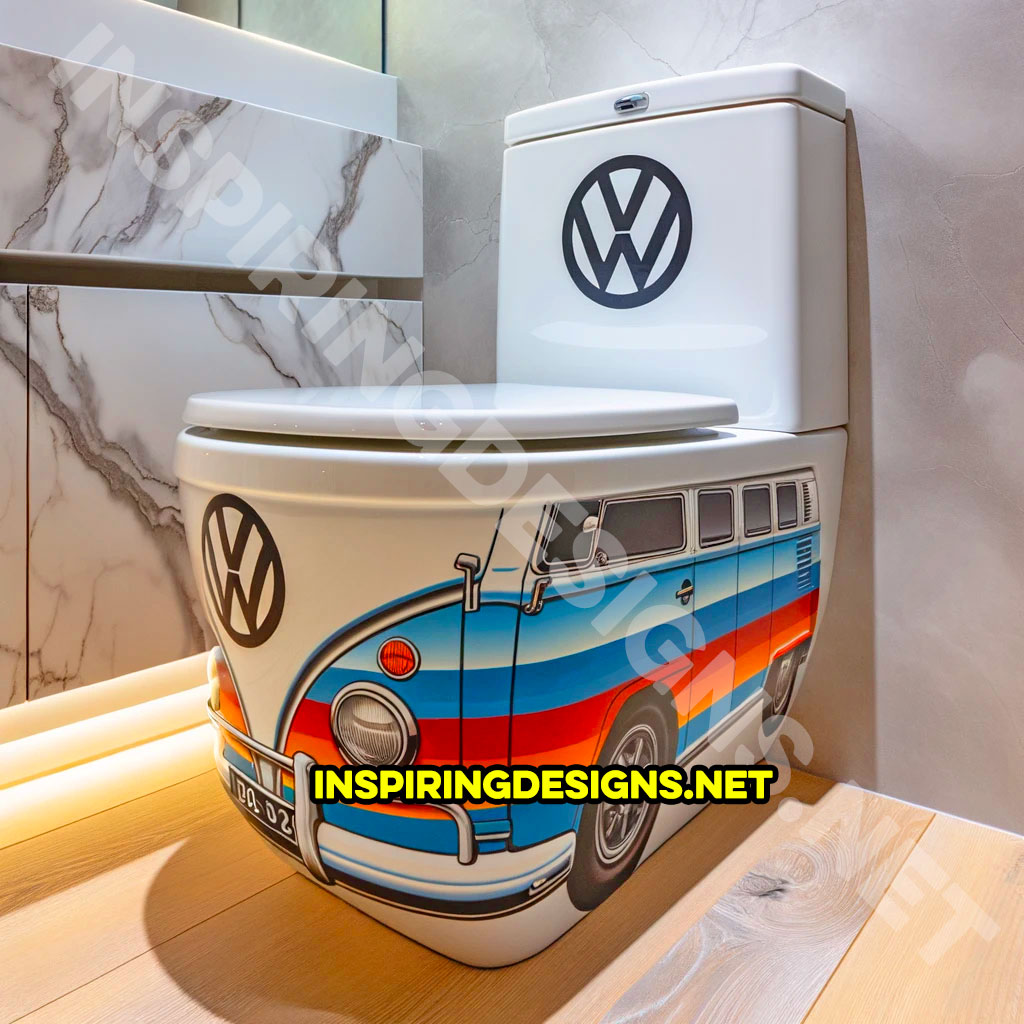 Some designs offer a full hippy bus enclosure experience, allowing you to step into a mini bus before you… well, you know. On the other hand, if you fancy a quicker trip, hop onto a toilet shaped like the bus itself.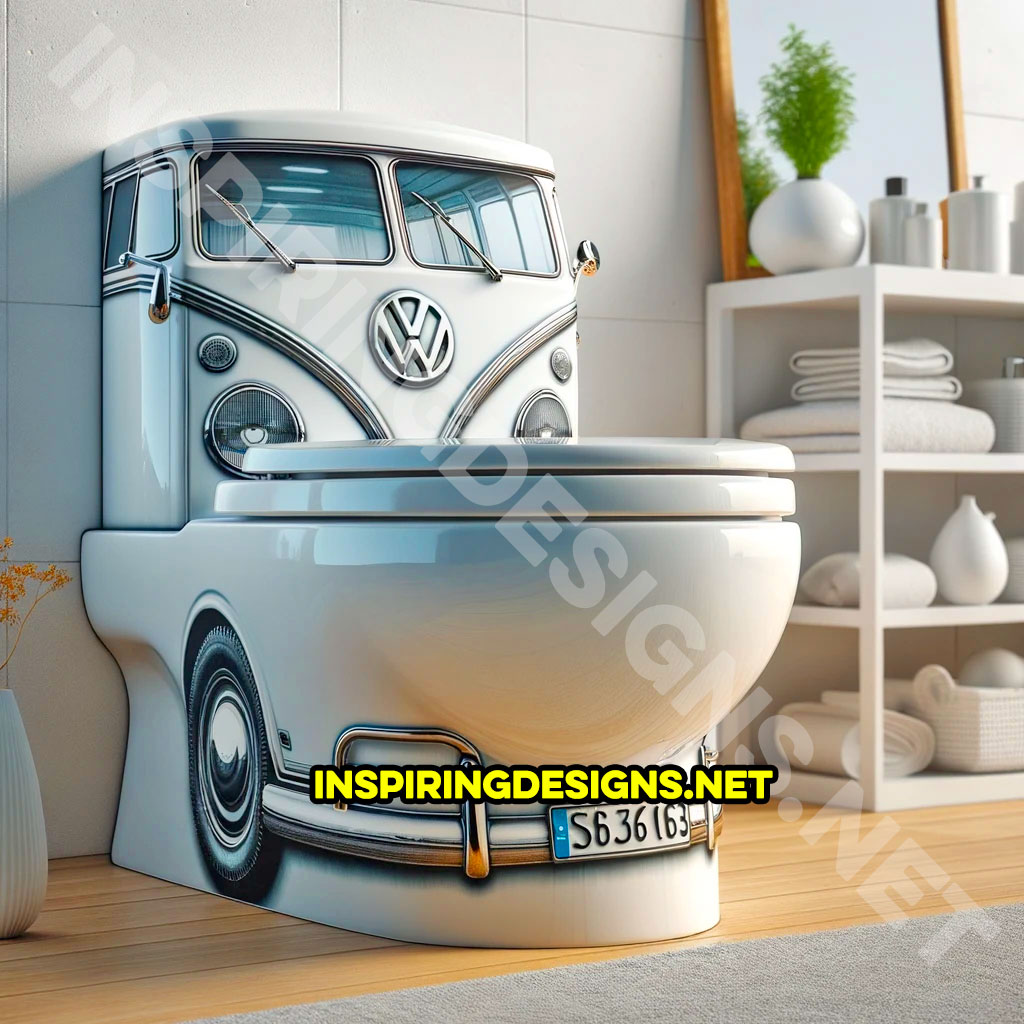 Vibrant colors? Check. Mini VW Type 2 bus designs? Double check. These toilets are not just a nod to the past; they're a full-blown tribute. Whether you're an old hippie or a young soul with a love for classics, this is the ultimate bathroom addition.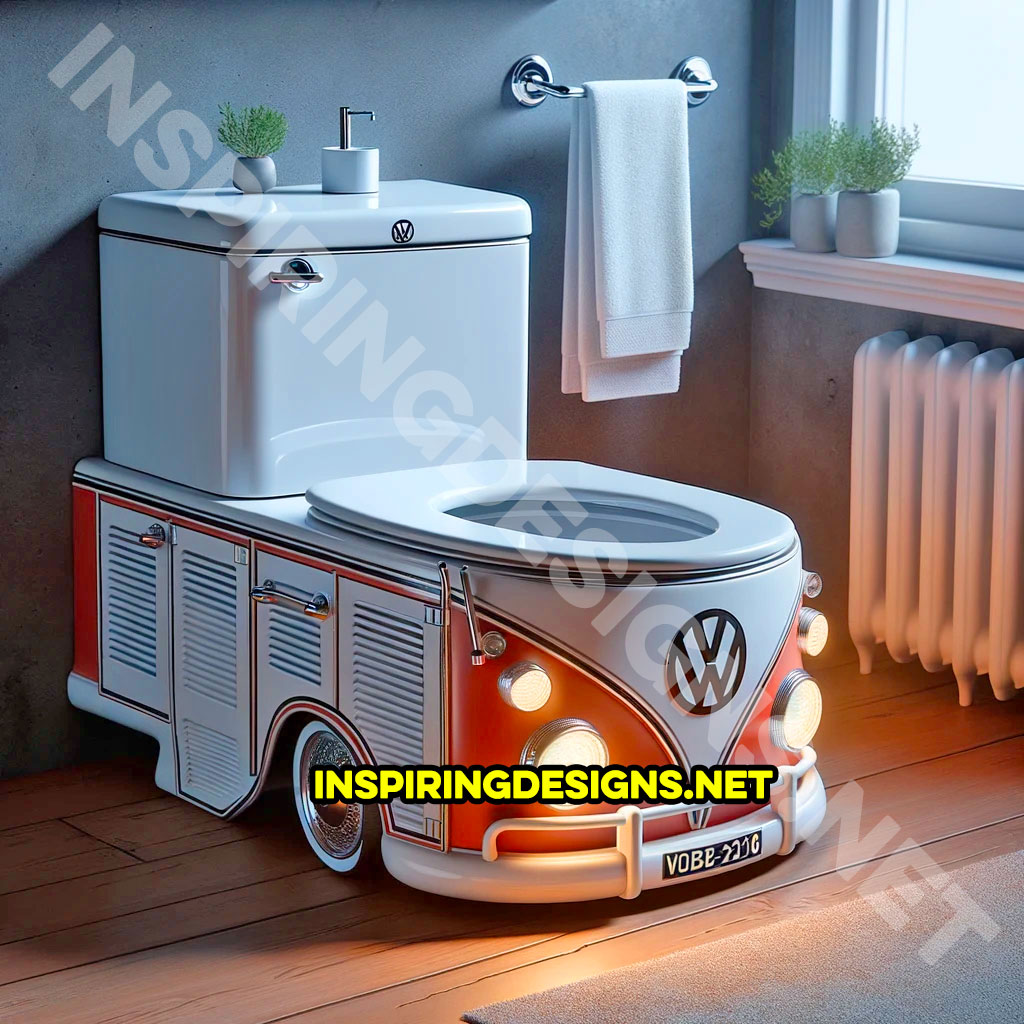 Practicality is key, and these toilets don't skimp on that. Beneath some of these retro rides, you'll find built-in storage.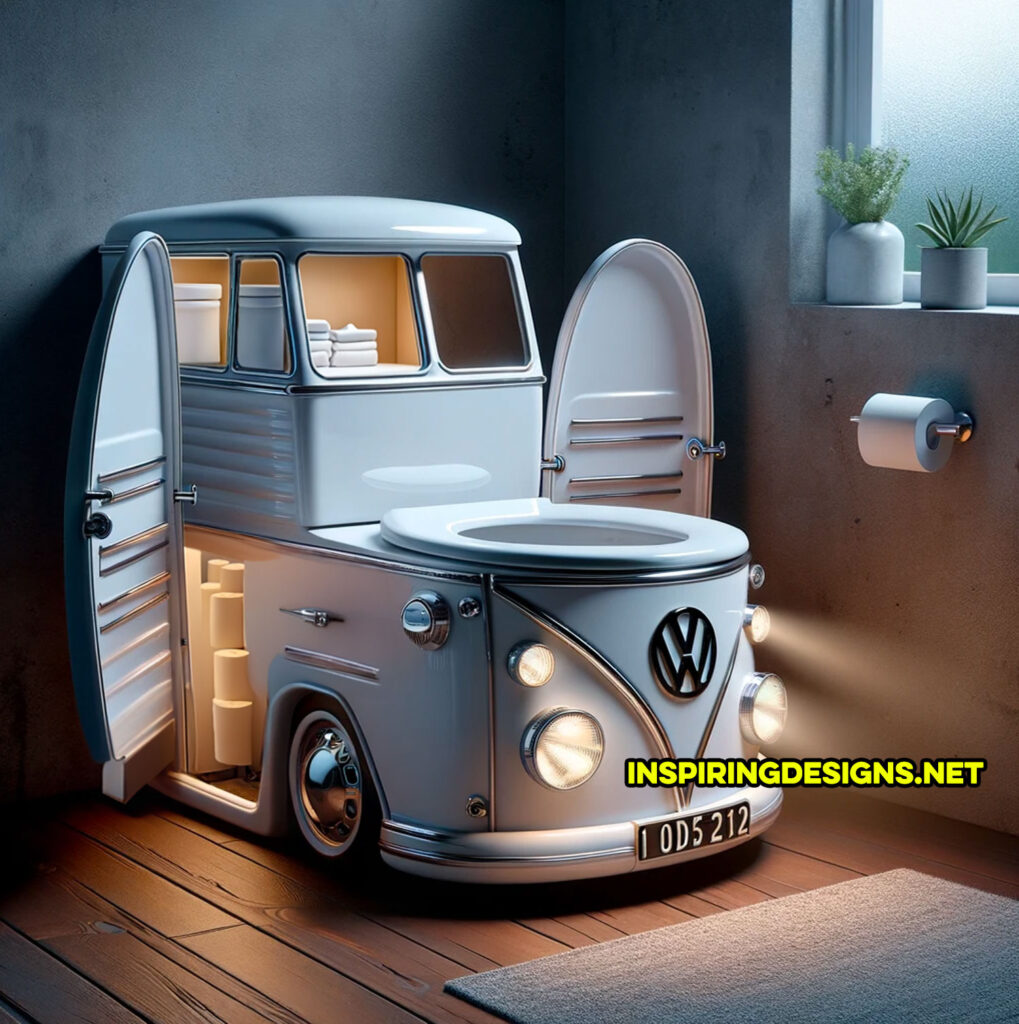 Stash away your bathroom essentials or back stock items, ensuring they're within arm's reach when you need them. And for those who love a little mood lighting, there's a switch on the back to control the headlights and storage area's illumination.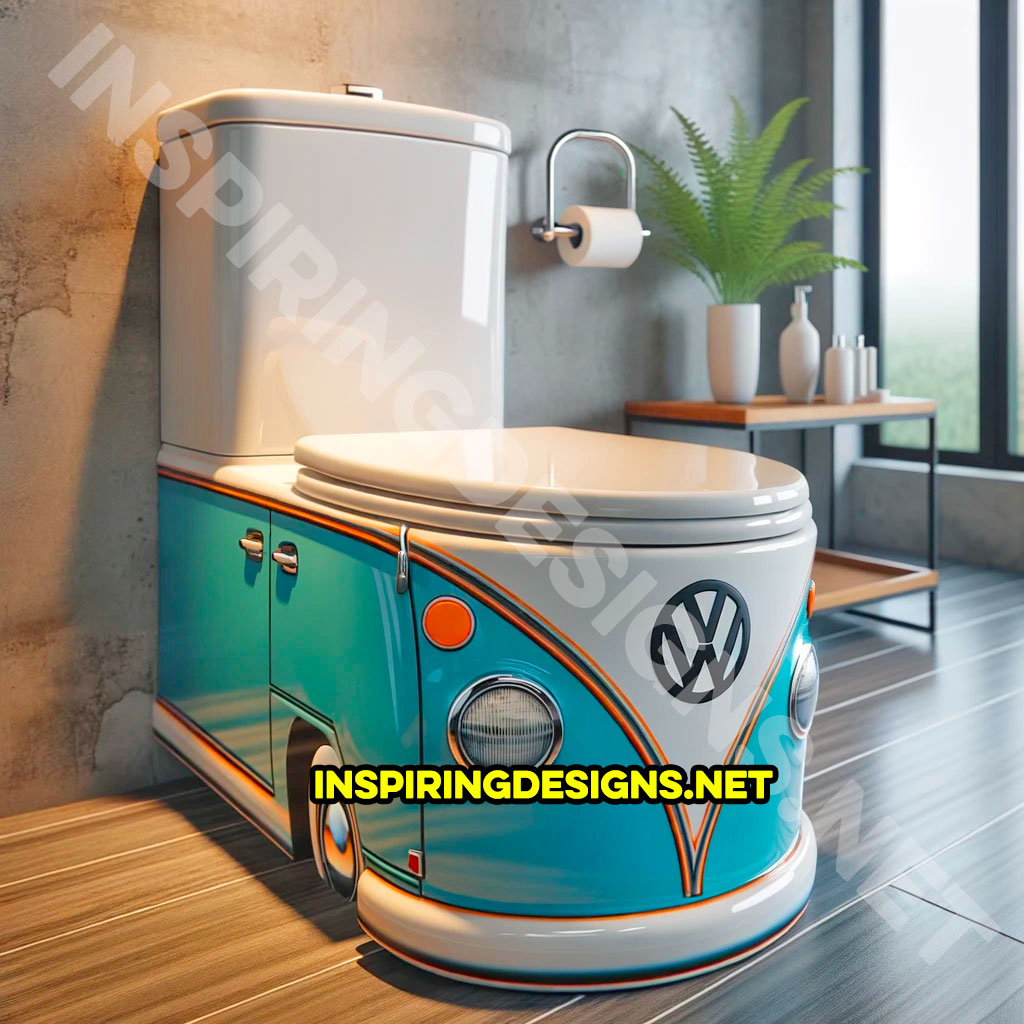 In essence, these Volkswagen Type 2 Bus toilets are more than just a bathroom fixture. They're a slice of history, a dash of style, and a bucket load of fun.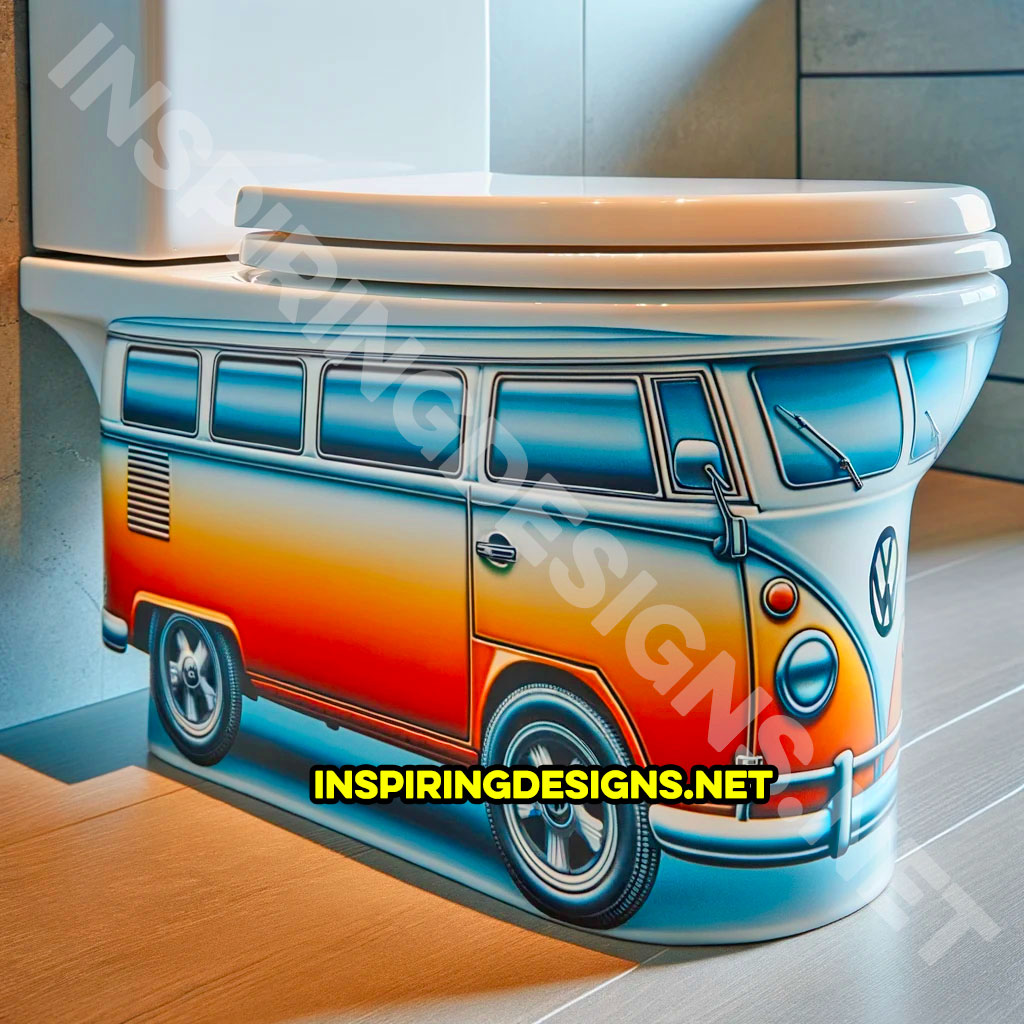 A visit to your bathroom will never be the same again. Friends and family won't just pop in for a chat; they'll want a tour of your groovy loo! It's not just a toilet; it's an instant conversation starter.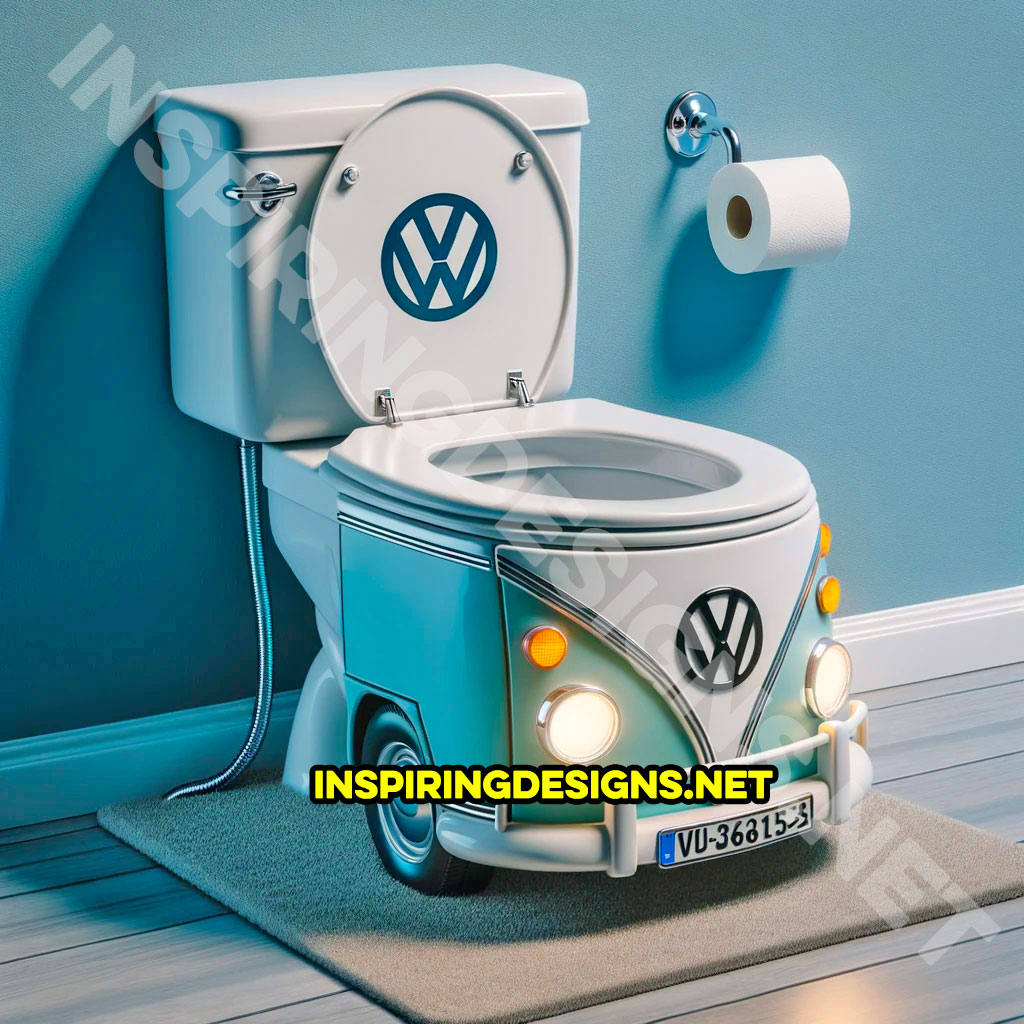 So, next time you feel the call of nature, don't just go. Cruise down memory lane in the most awesome and retro way possible. After all, why settle for ordinary when you can have extraordinary?
Remember, life's a journey, and every pit stop should be memorable. With the Volkswagen Type 2 Bus toilets, every bathroom break is a trip back in time. Peace out!