Once upon a time, in a land not so far away, kitchen islands transformed from mere meal prep stations into the stuff of fairytales. Imagine whipping up a spellbinding soufflé on a kitchen island that looks like it was plucked straight from the magical realms of Disney or the wizarding world of Harry Potter. It's not just fantasy; these islands are the new royal court in home decor.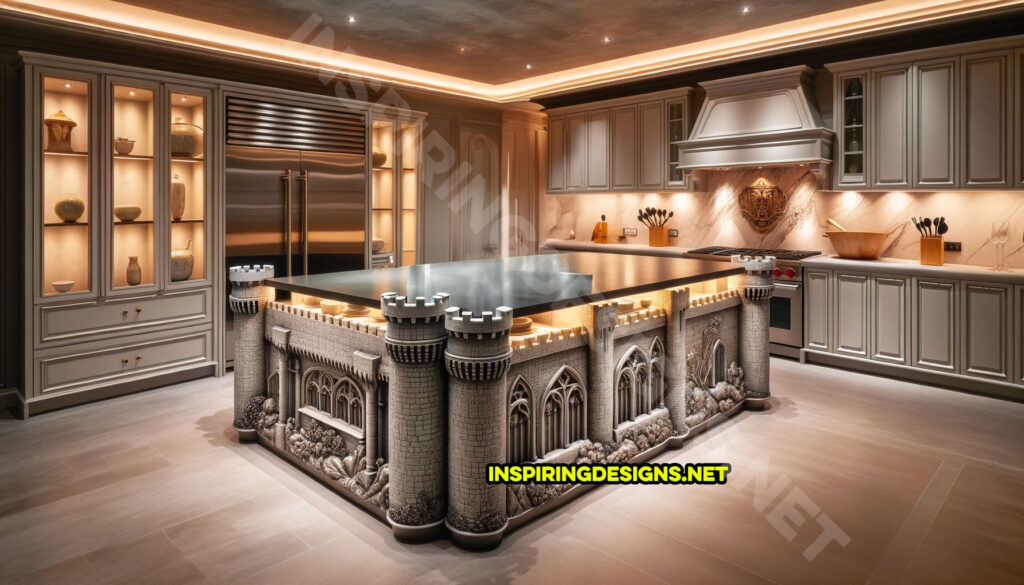 The majesty of Cinderella's castle or the gothic spires of Hogwarts now inspire the base of these fantastical kitchen islands, crafted meticulously through the wizardry of 3D design. Each piece is a one-of-a-kind enchantment, brought to life with the kind of craftsmanship that would make Geppetto drop his tools in awe.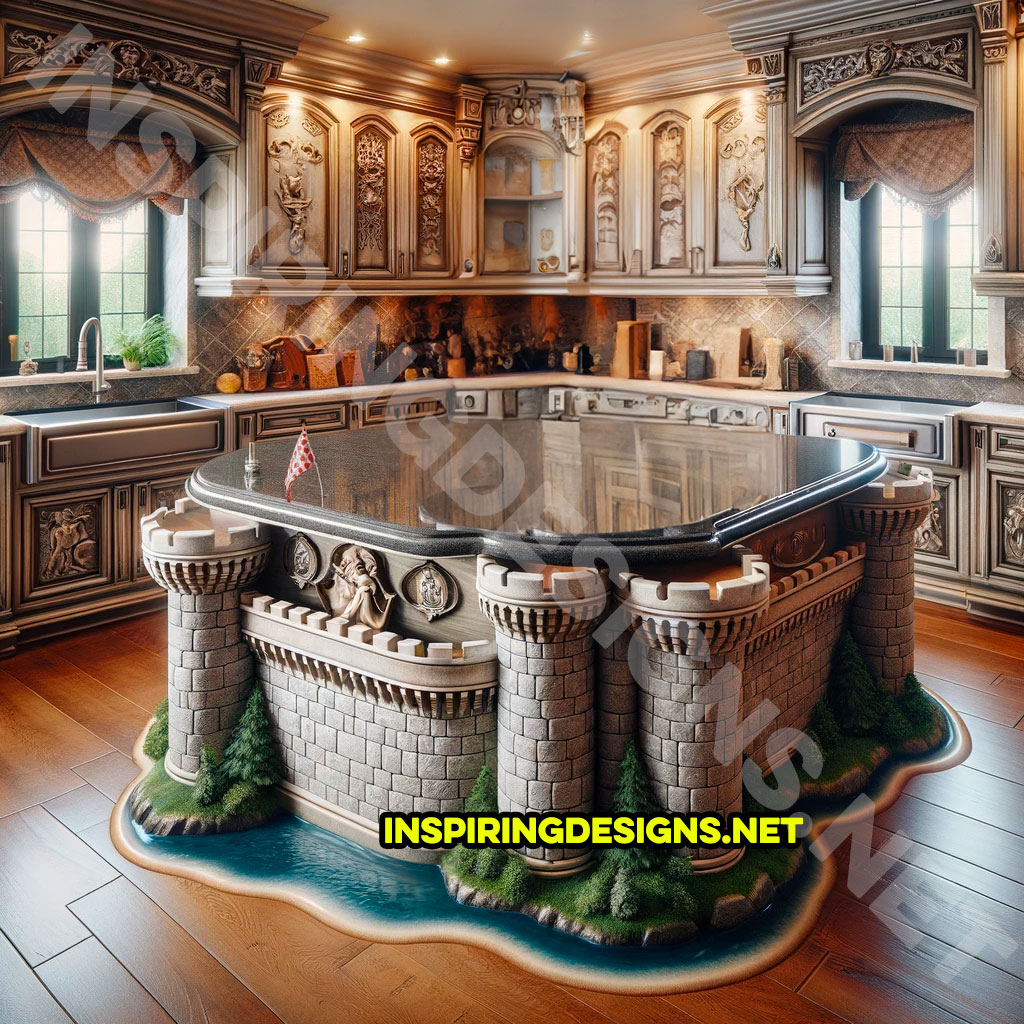 They're not just islands; they're kingdoms, where spoons are wands and the cook is king or queen.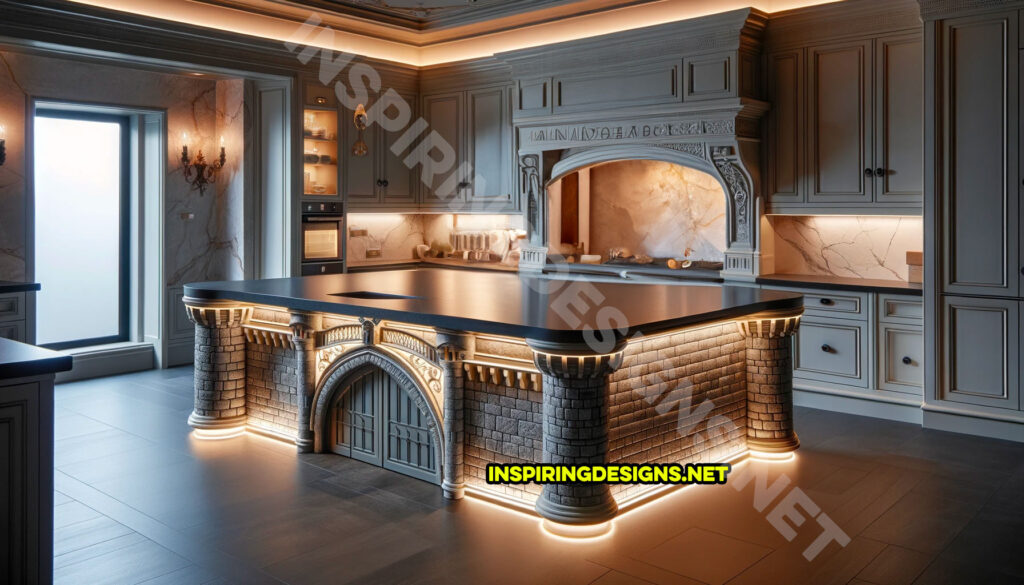 Every castle island is a handmade masterpiece, a tapestry of materials such as plaster that whispers of ancient stone walls, plastic that mimics the sheen of enchanted windows, epoxy that flows like the glassy surface of a still lake, resin that glimmers with the promise of a fairy's wing, and wood hewn as if by the axes of seven dwarves.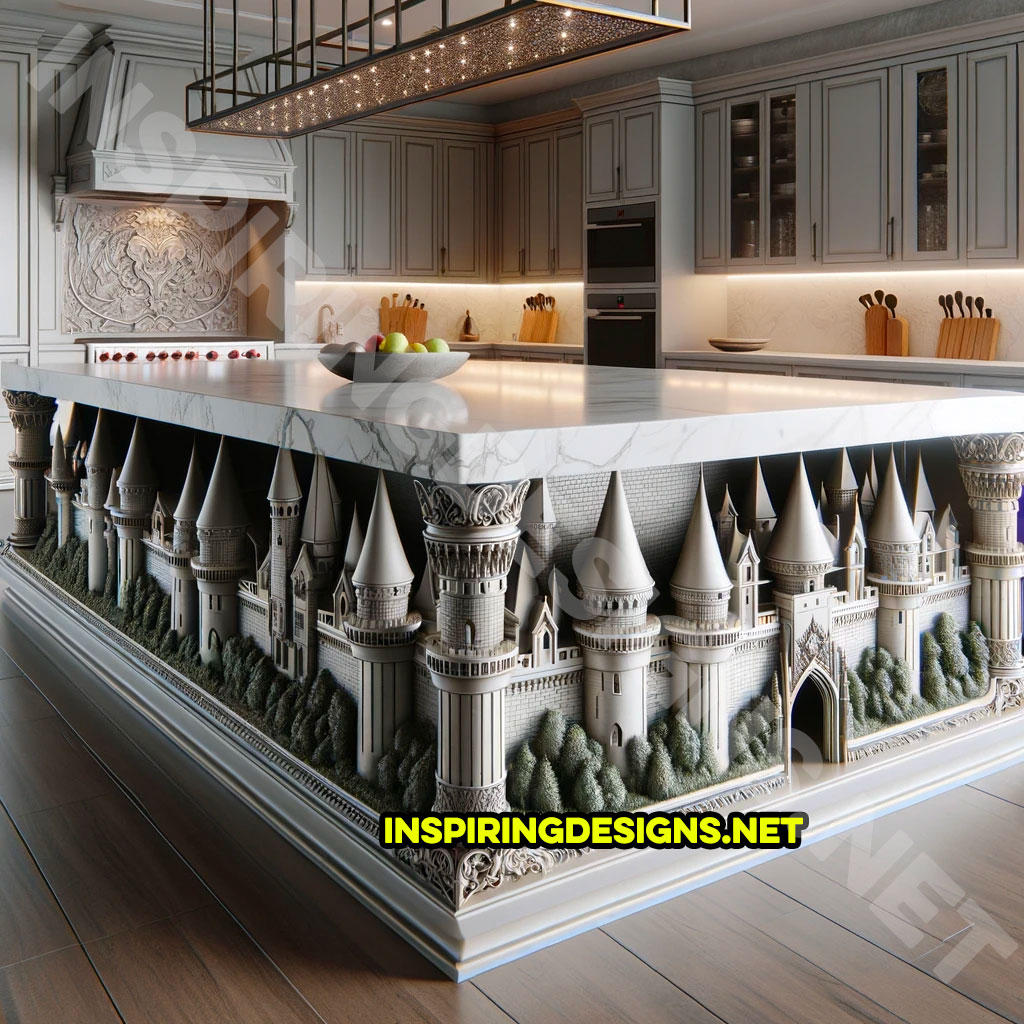 The artistry invested in each is as diverse as the tales that inspire them, with no two castles sharing the same silhouette.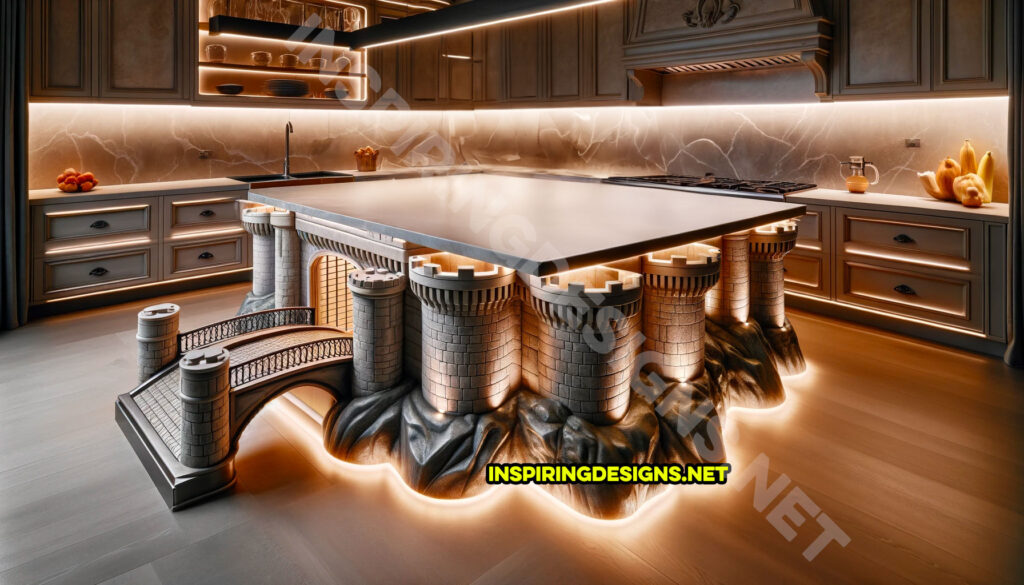 As night falls, these islands cast a spell with integrated lighting, transforming them into glowing spectacles. Windows twinkle as if housing a grand ball or a wizard's duel, inviting onlookers to a world where dreams are just a dish away.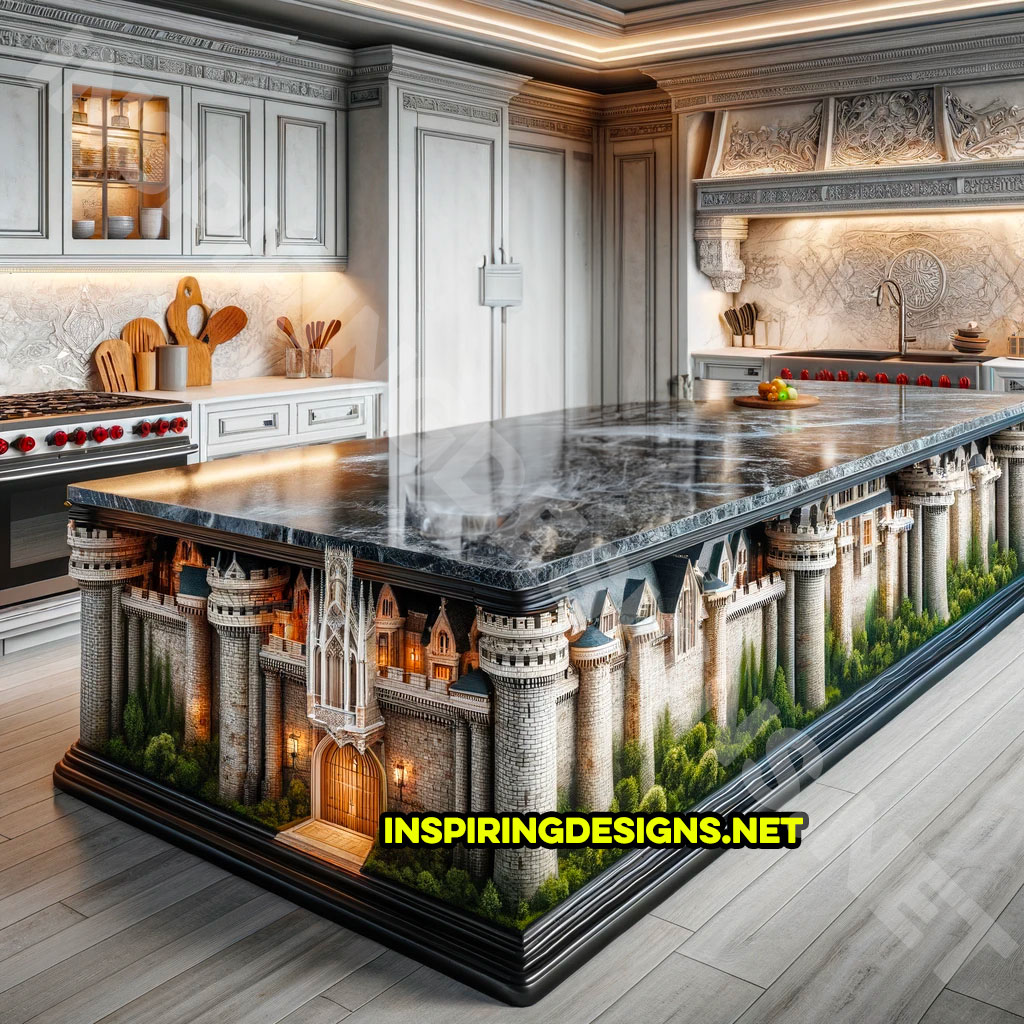 And for the pragmatist in every sorcerer, some castle islands come equipped with storage cunningly concealed within their walls. Imagine a drawbridge that lowers to reveal a hidden pantry, an homage to the secret passages of ancient lore.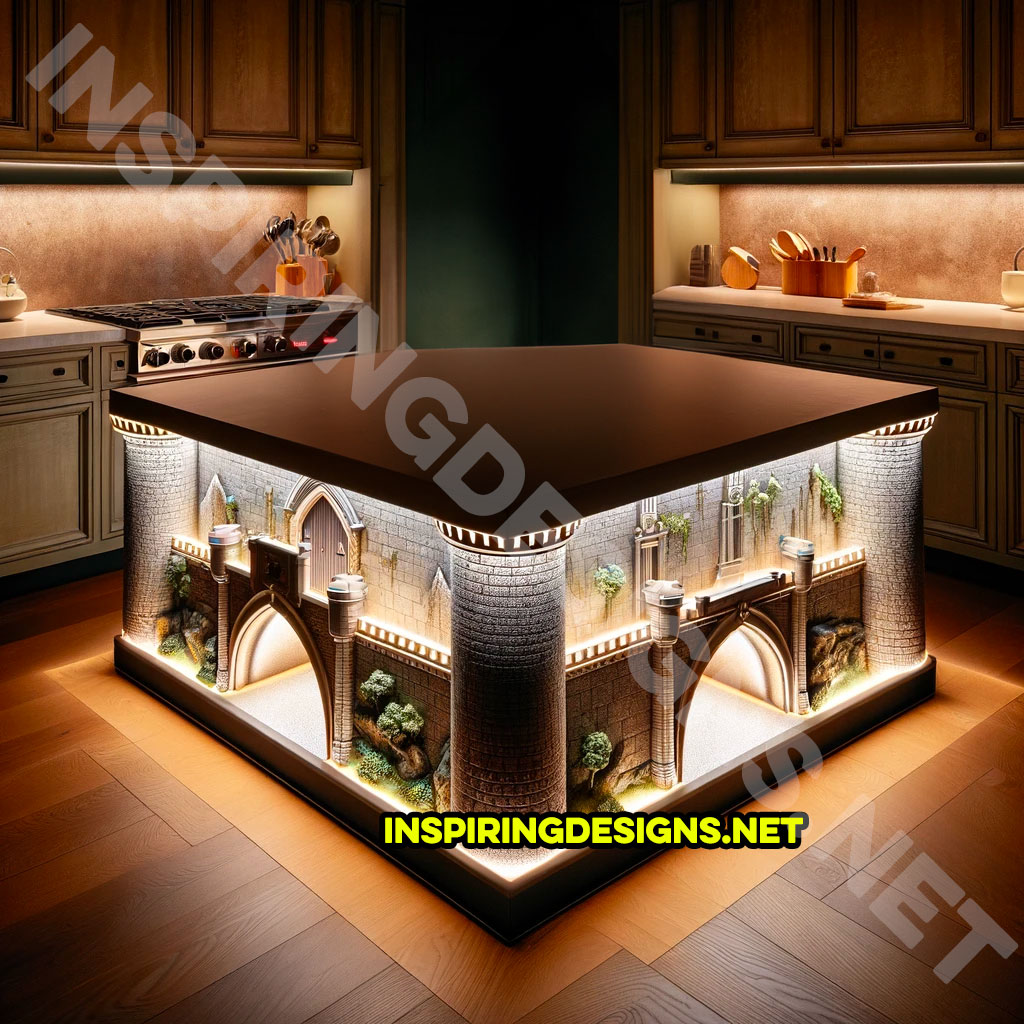 Crafting such pieces is no small feat; they're the result of hundreds of hours of toil and talent, a testament to the creators' dedication to their craft.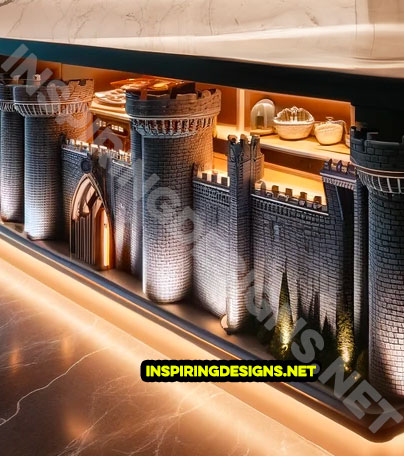 These islands are like the fabled Excalibur, destined to be the centerpiece of the kitchen, impossible to ignore, and a catalyst for storytelling and camaraderie. "How ever did you come by such a wonder?" guests will ask, their eyes wide with the magic of discovery.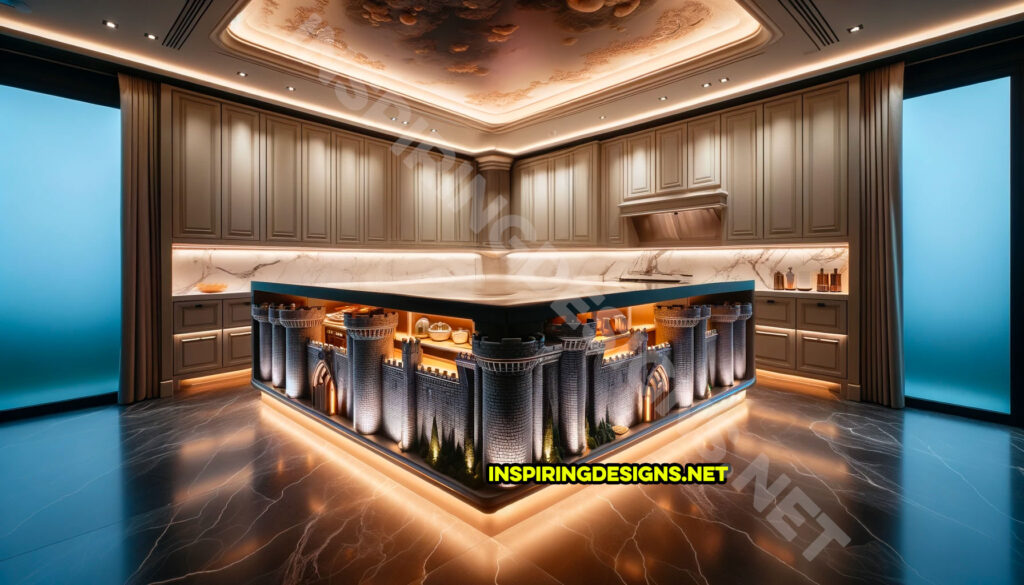 The versatility of these kitchen islands is not limited to the fairy dust of their appearance; they also adapt to a multitude of interior designs. Envision a rustic kitchen with an island echoing the Beast's castle, or a sleek, modern space illuminated by the glow of an Arendelle-inspired fortress.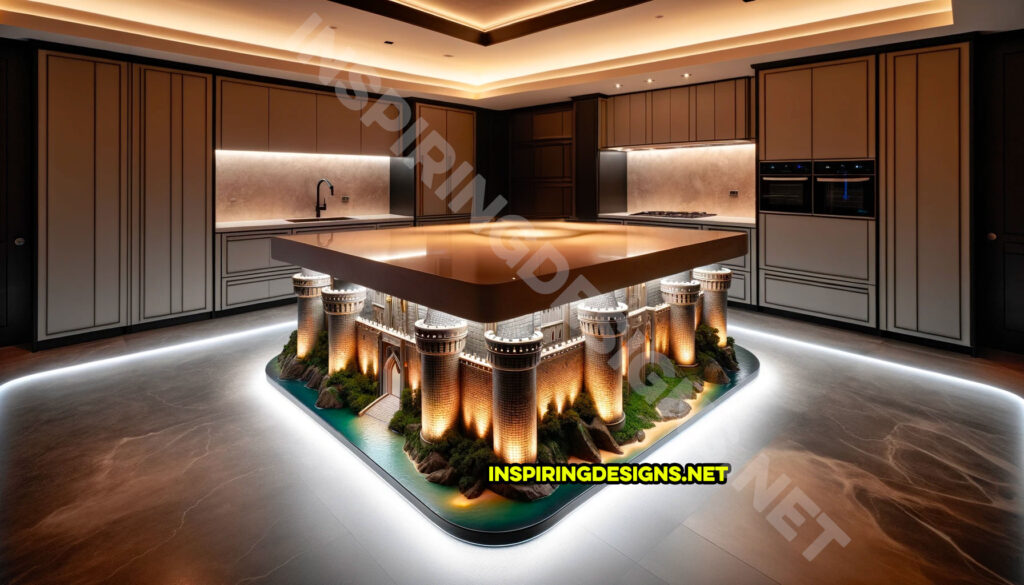 Perhaps a cozy cottage feel complemented by a Hogwarts kitchen island, where every meal feels like a feast in the Great Hall.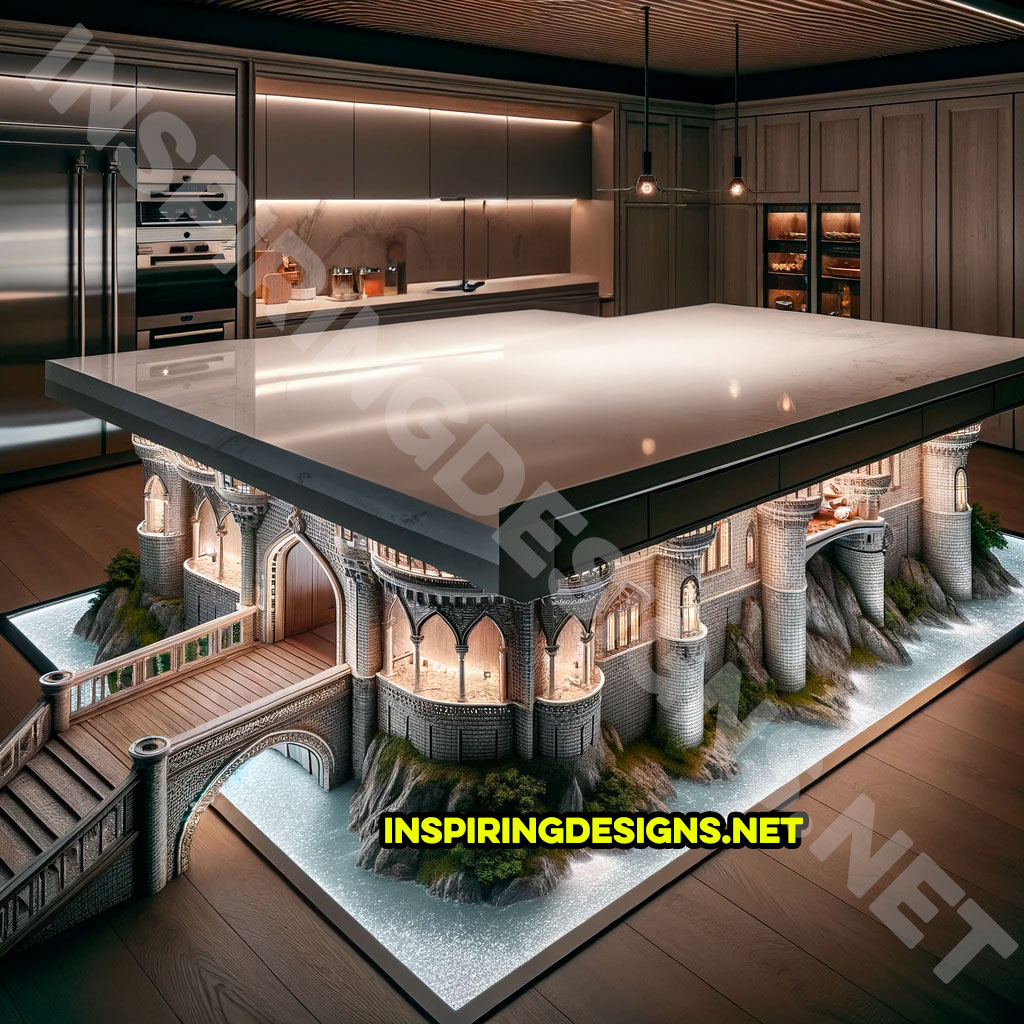 These majestic islands serve as the heart of the kitchen, sizes ranging from a cozy 6 feet to a grandiose 11 feet wide, with a depth of 4 to 7 feet to suit royal banquets or intimate midnight snacks.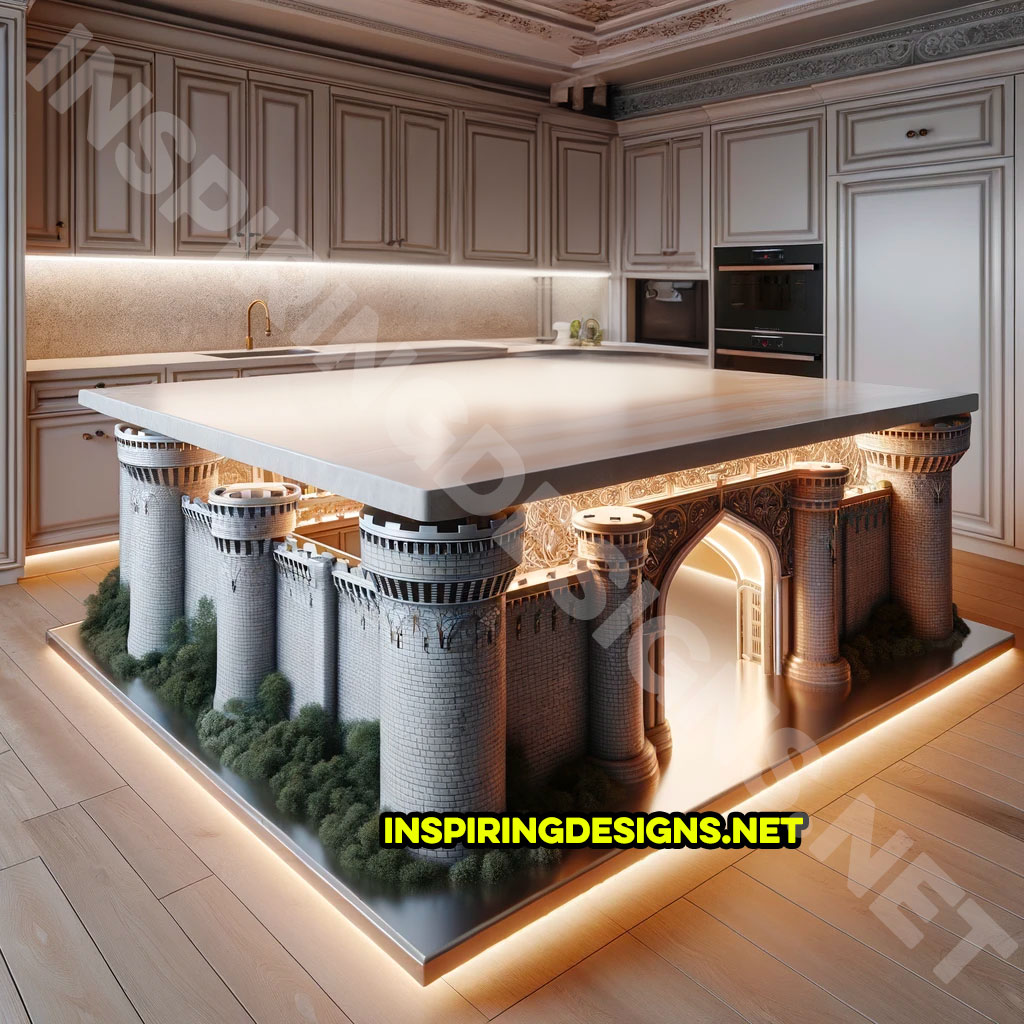 As for the treasure required to commission such a statement piece, one might expect to invest a king's ransom. Depending on the complexity and materials, a local craftsman might ask for a price that could range from a few thousand gold coins to a small dragon's hoard.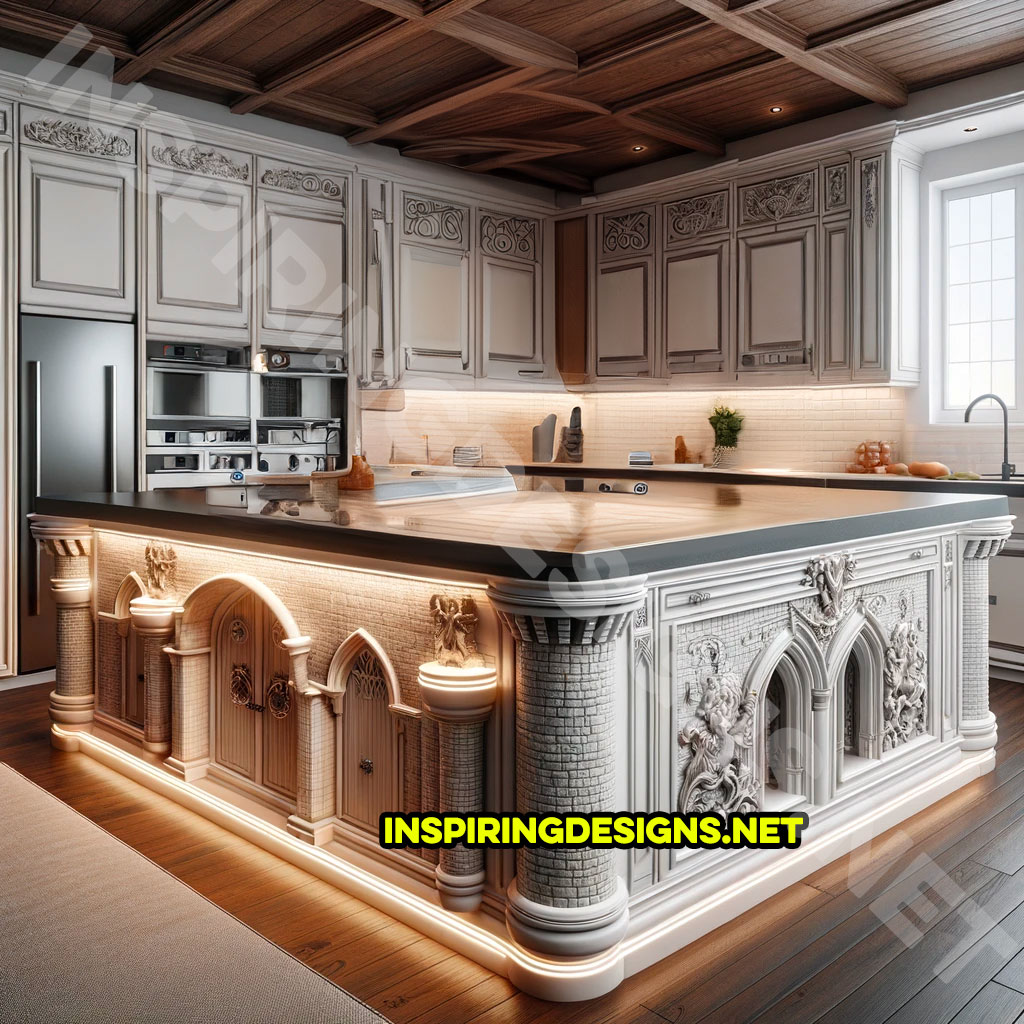 Such a fantastical addition is perfect for anyone whose heart beats faster at the sight of a flying carpet or the sound of a Hogwarts acceptance letter. It's for the dreamers, the believers, the young, and the young at heart.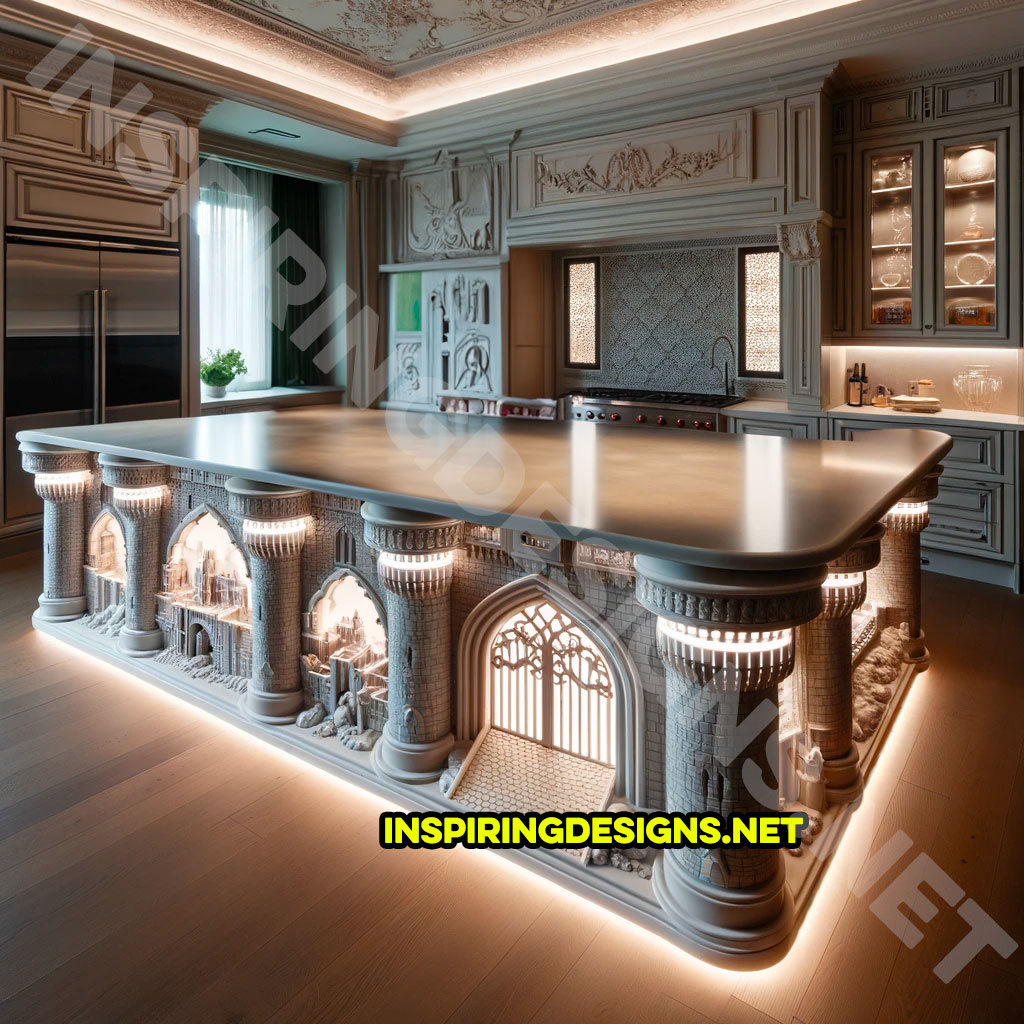 The creators of these kitchen islands know that every home has a soul, a narrative waiting to be told, and what better way to express it than through a castle that has watched over a thousand stories?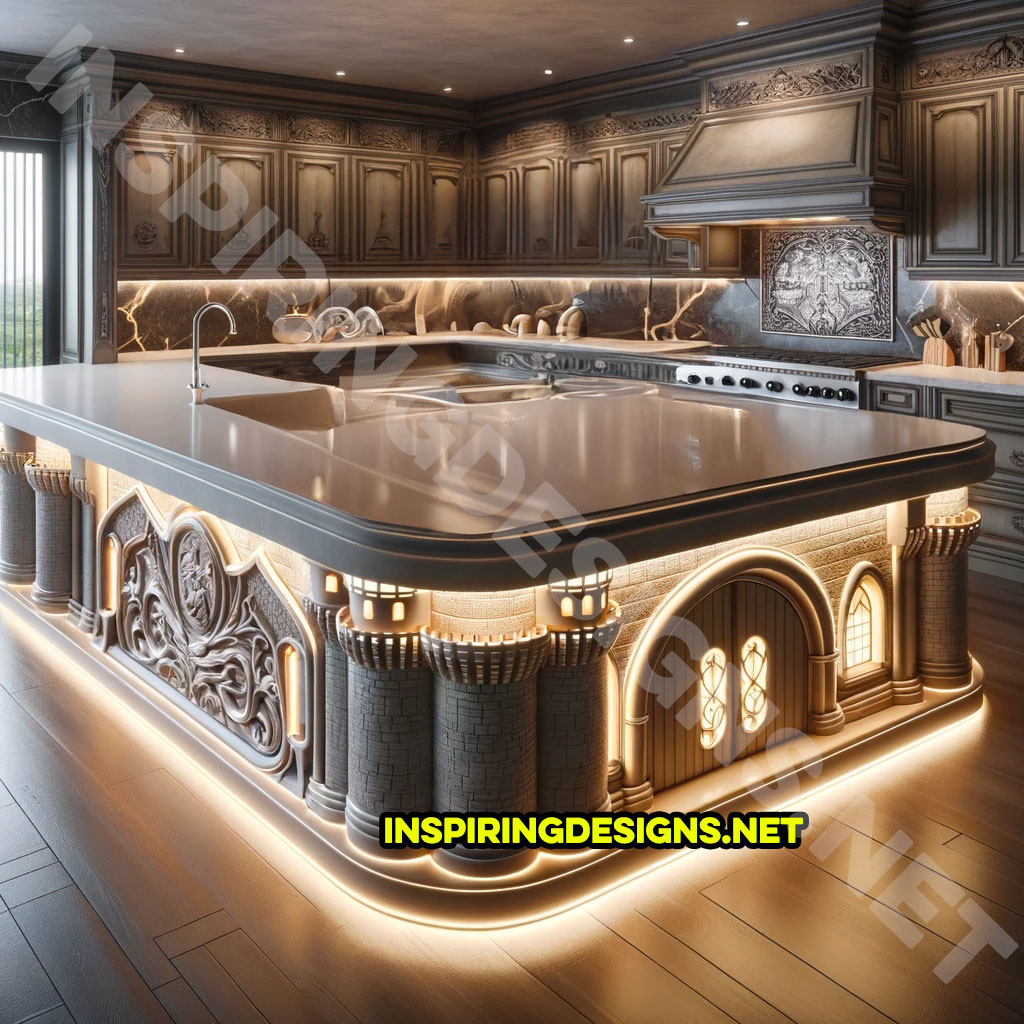 So, if your kitchen feels like it lacks a little magic, why settle for the mundane? Transform it into a place of wonder and whimsy with a kitchen island that pays homage to the castles of your favorite tales.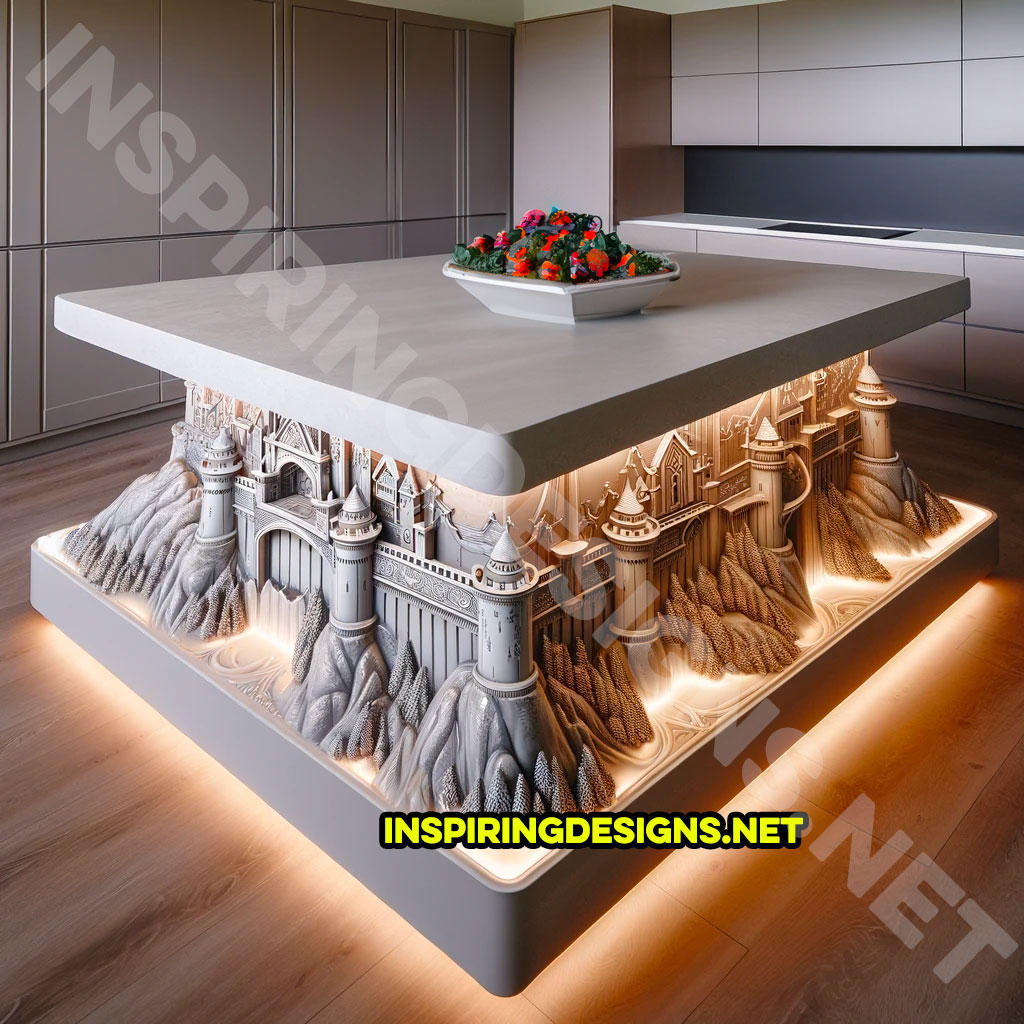 After all, every home should feel like a castle, and every meal should feel like a banquet in your own personal happily ever after.