Striding onto the backyard stage with the poise of a catwalk model, say hello to the wooden tree-shaped pergolas. No, these aren't your run-of-the-mill, garden-variety sun shelters. They are whimsical, fantastical, and utterly captivating masterpieces, blending the artistry of carpentry and the raw allure of nature into a seamless whole.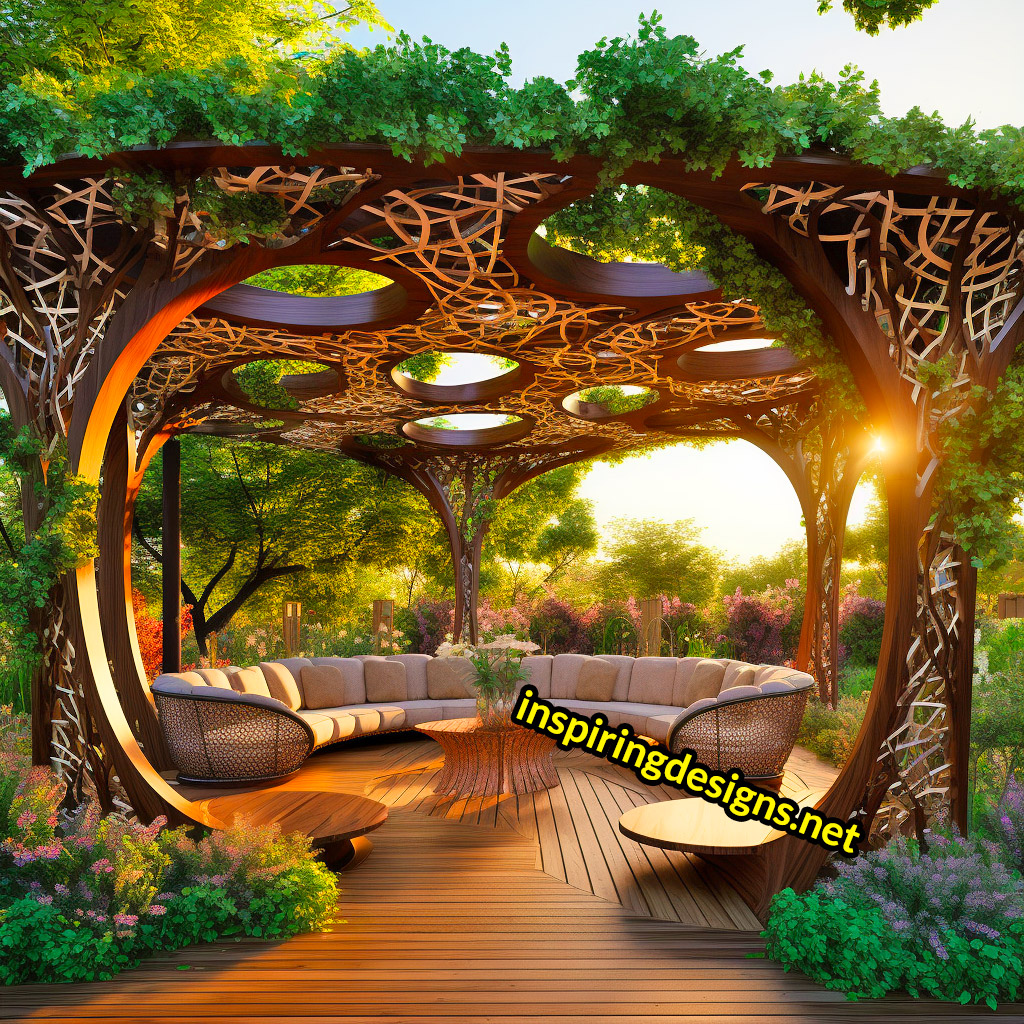 Crafted meticulously by hand from assorted cedar woods and robust redwood, these pergolas are a carpenter's dream realized.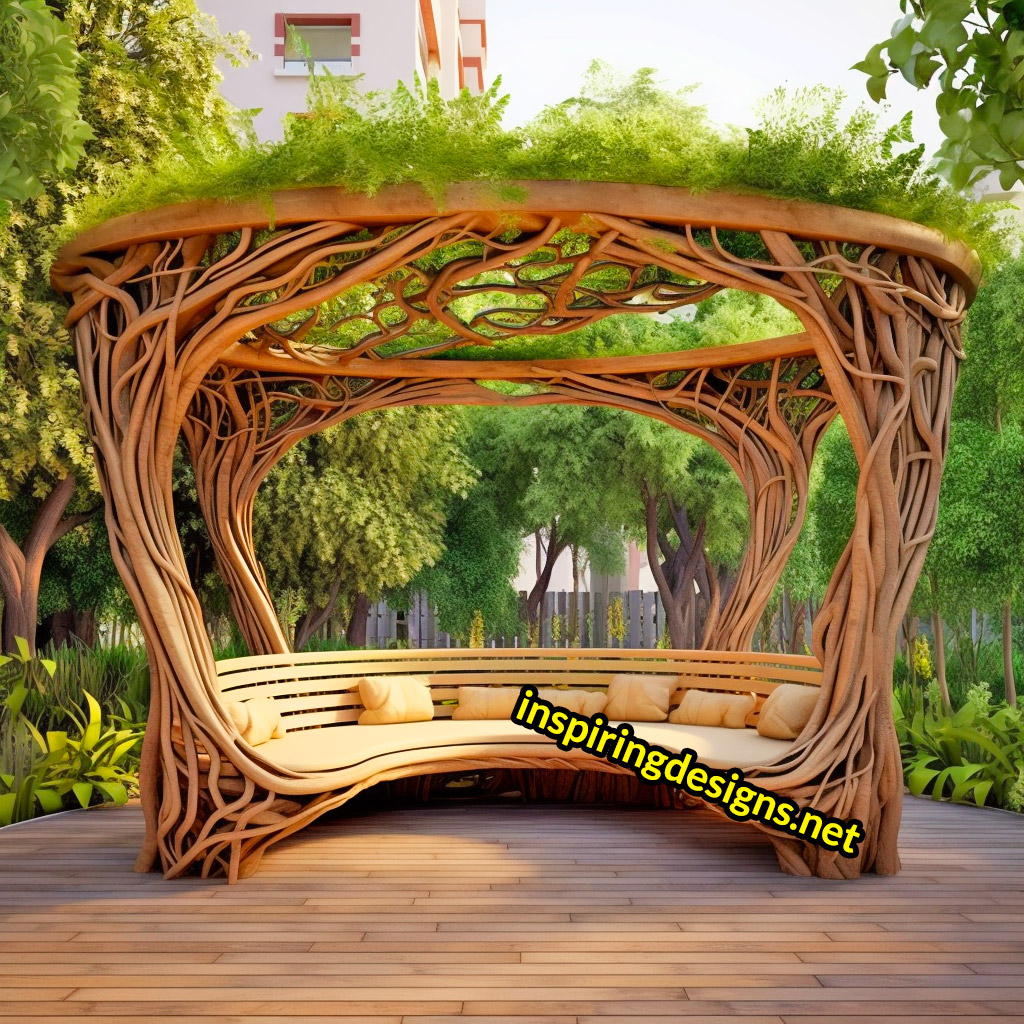 The choice of these woods isn't merely aesthetic. Both cedar and redwood are known for their enduring resistance to rot, pests, and weather—because hey, even works of art need to be practical.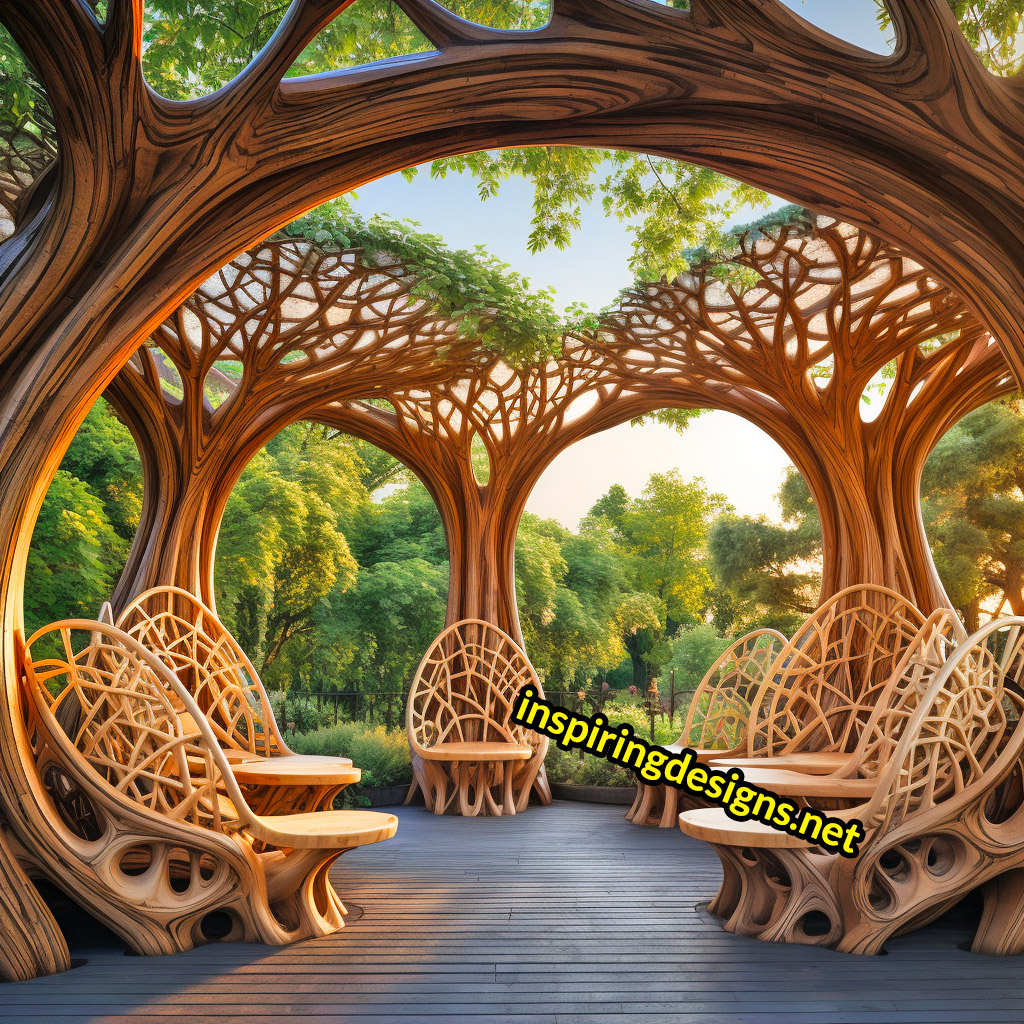 But what truly sets these creative pergolas apart is the fine detail. They boast intricate embellishments that would make even Michelangelo give a respectful nod. You might find an owl perched on a branch or a hummingbird frozen in mid-flight.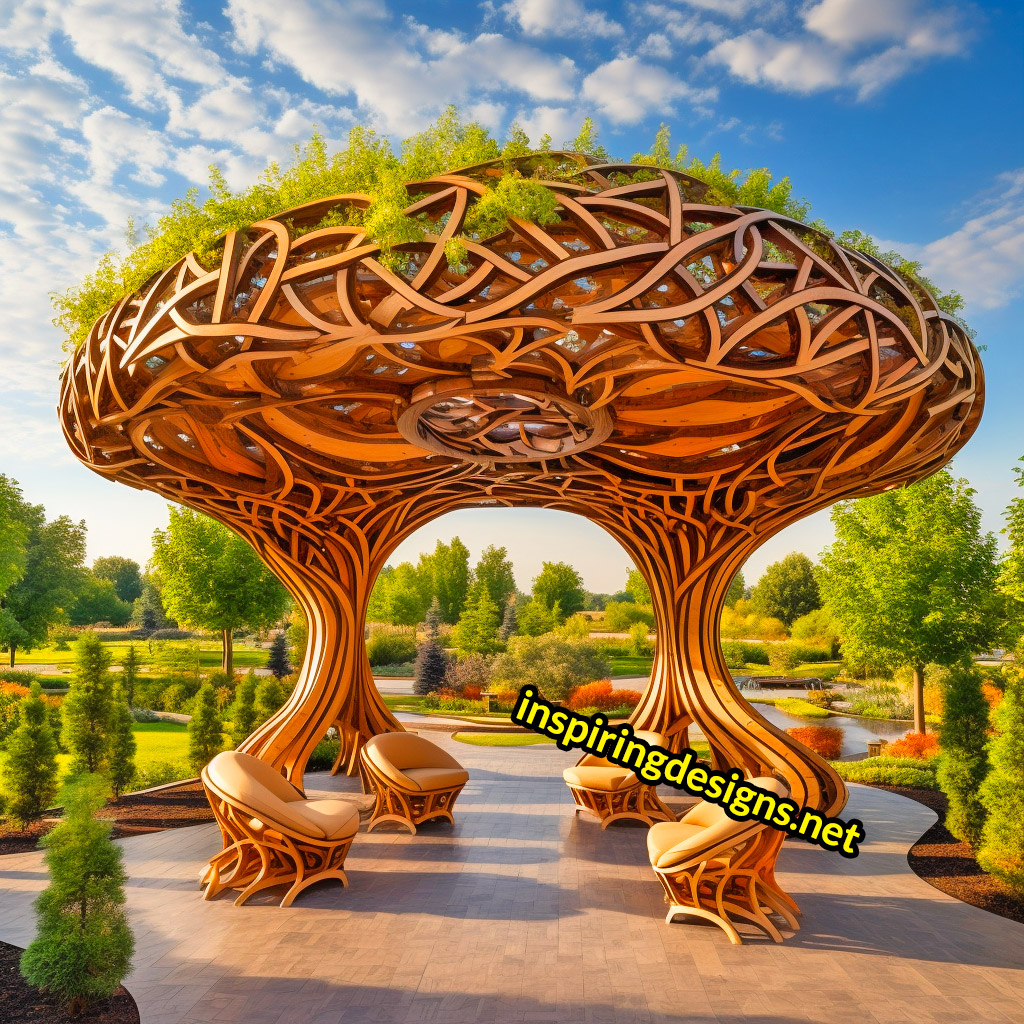 Every new gaze unveils another magical detail—it's like peering into a children's storybook. They're an instant eye-catcher and such a conversation starter that you'll never need a party trick again.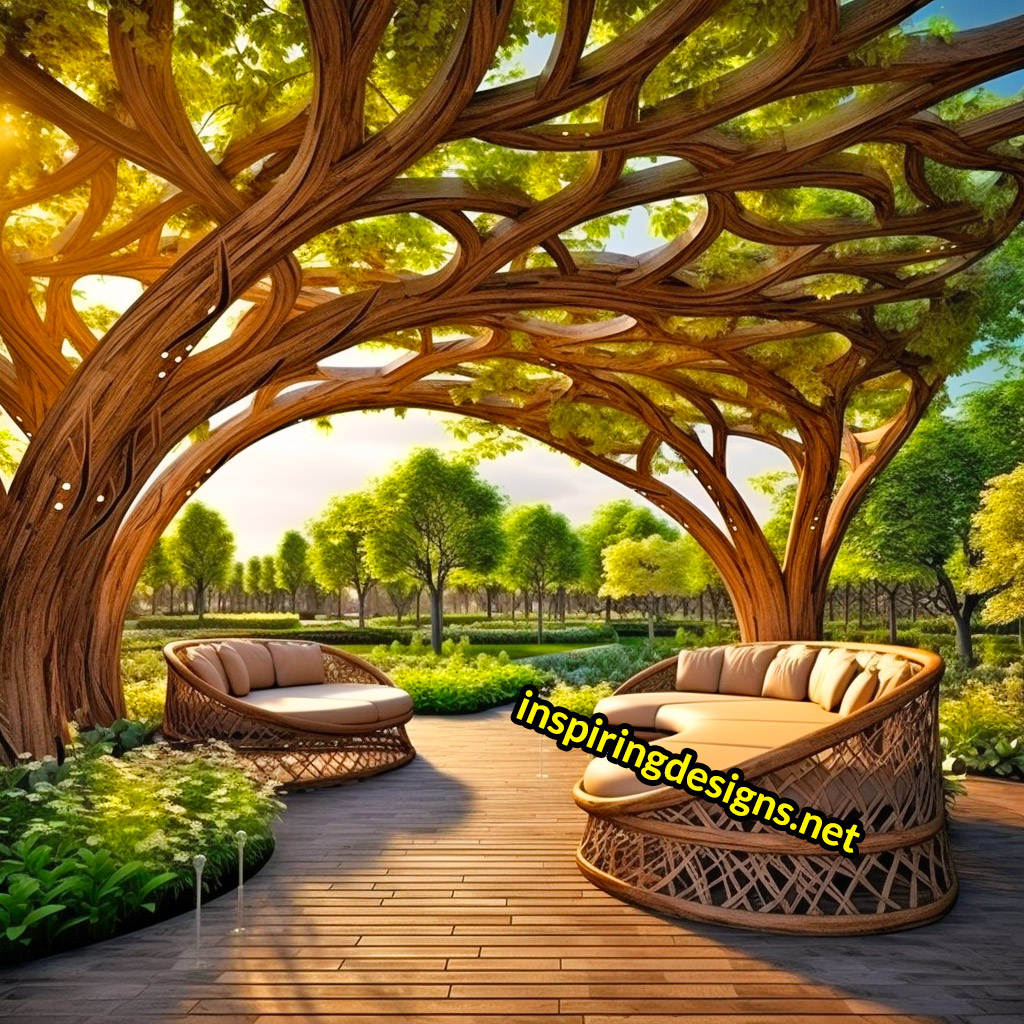 But let's not forget—these pergolas are not just ornamental showpieces. They are every bit as functional as they are beautiful.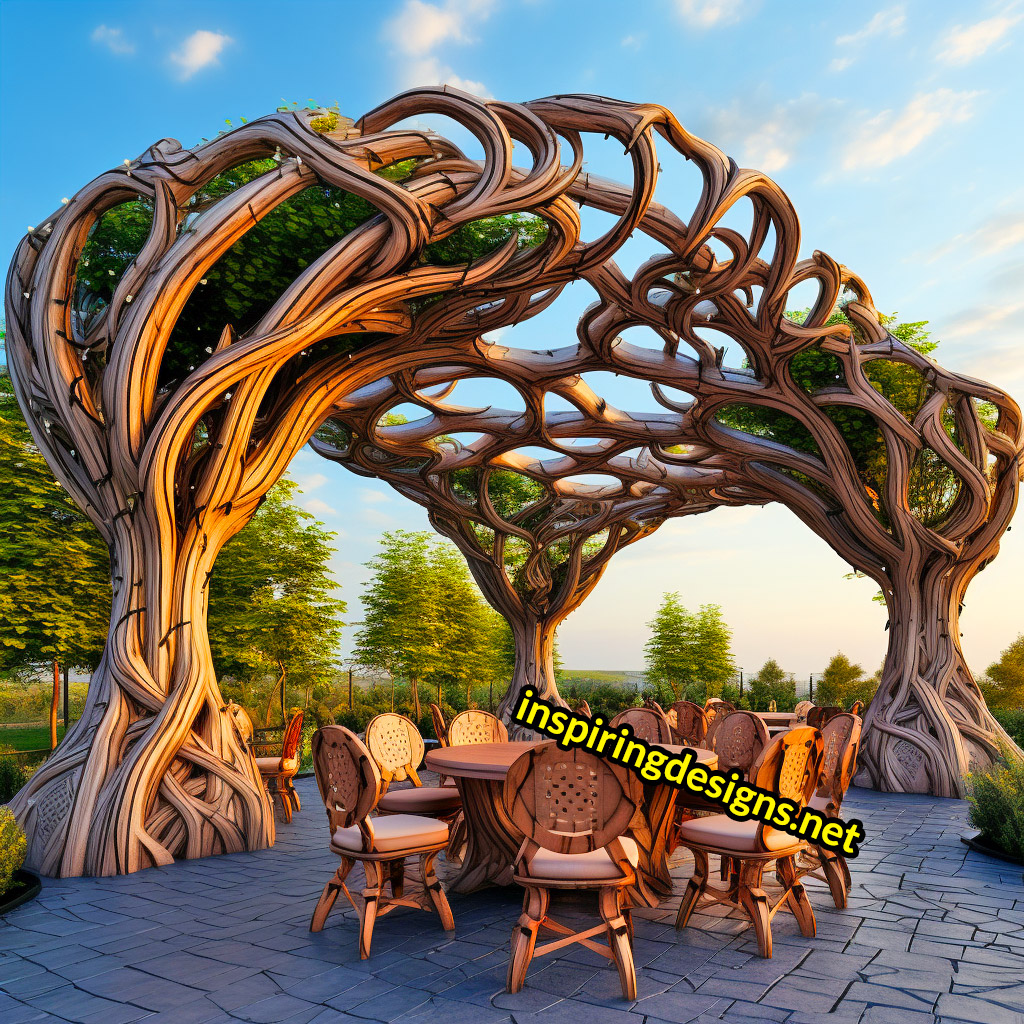 Acting as a magical gateway between your home and the great outdoors, they make it look like you're actually still in the woods. But without the bugs. Or the bears.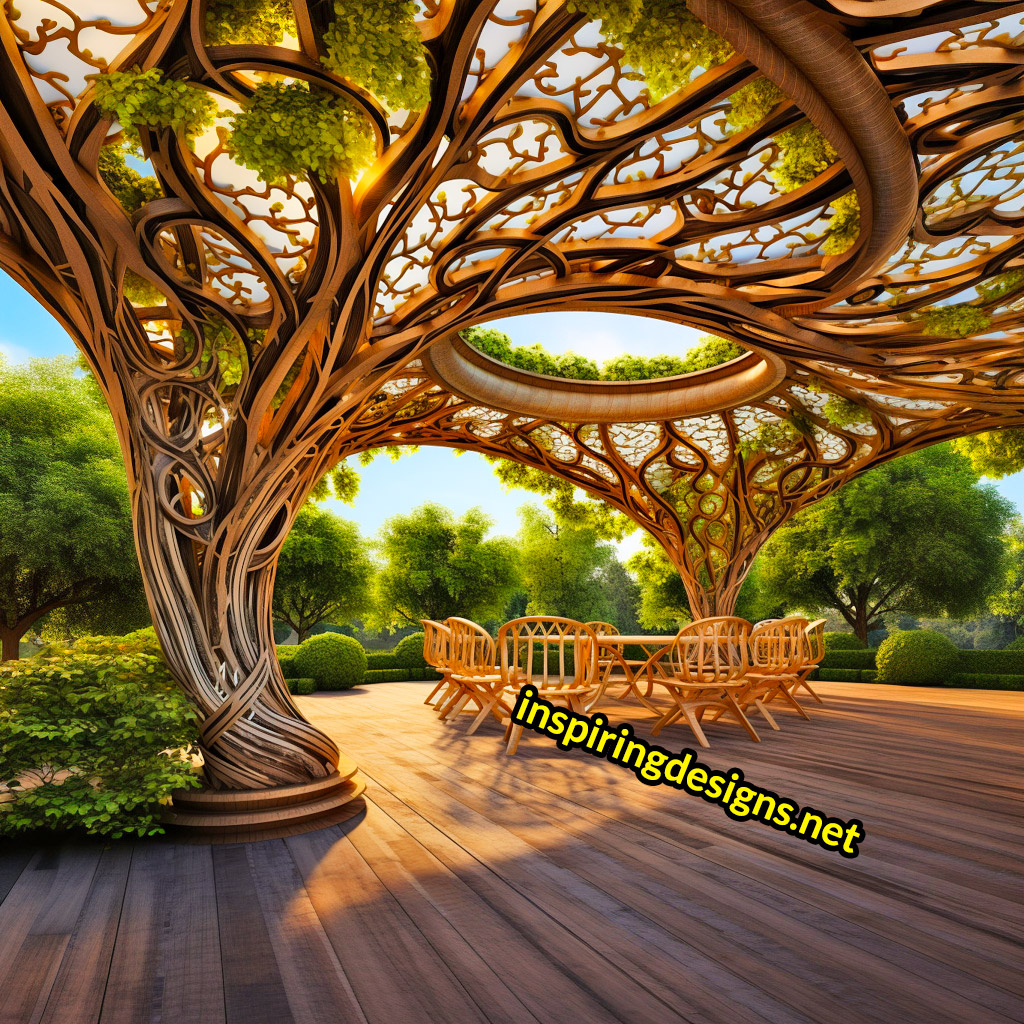 In a delightful, unexpected twist, these pergolas also flaunt a lush canopy of vegetation. Ivy, creeping flowers, maybe even a few grapevines—Mother Nature is the stylist here, and she never disappoints.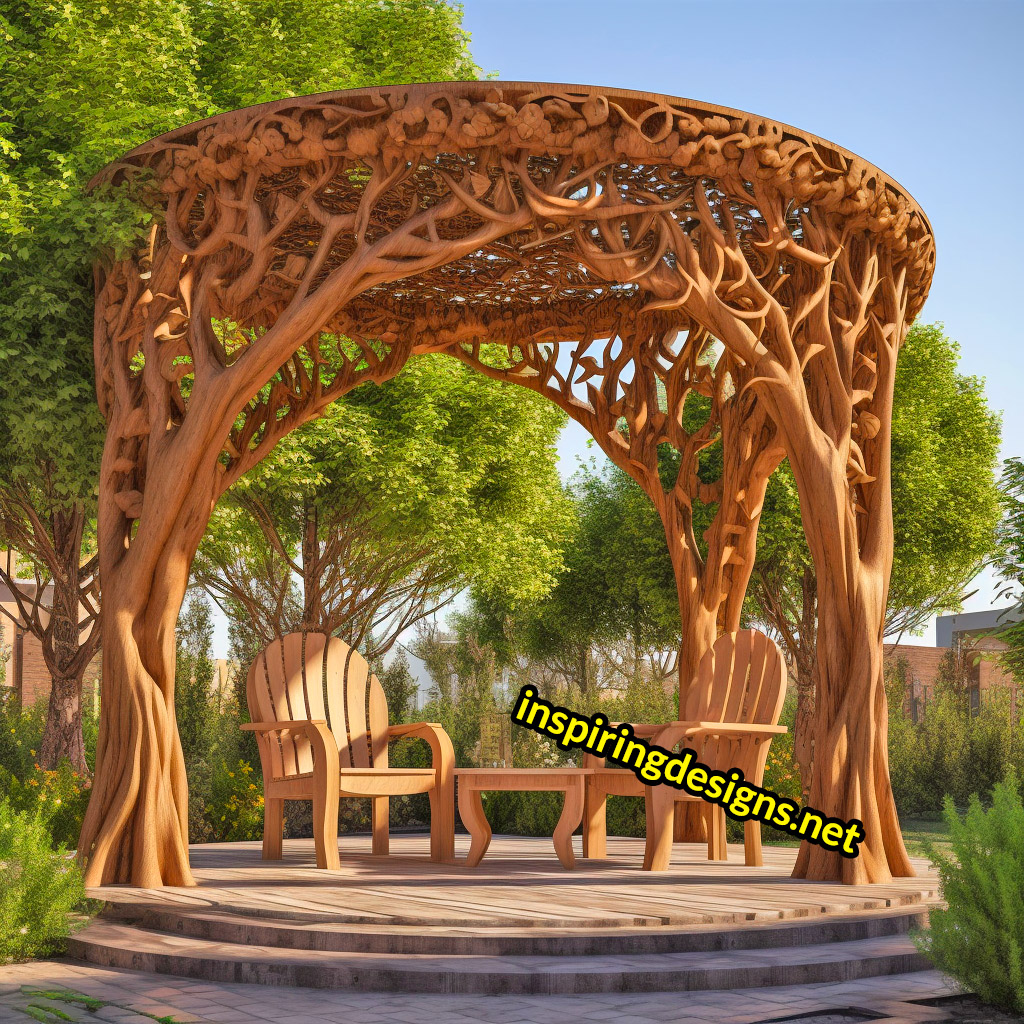 This additional greenery is more than just a pretty hat, providing extra shade to cool off those sizzling summer barbecues.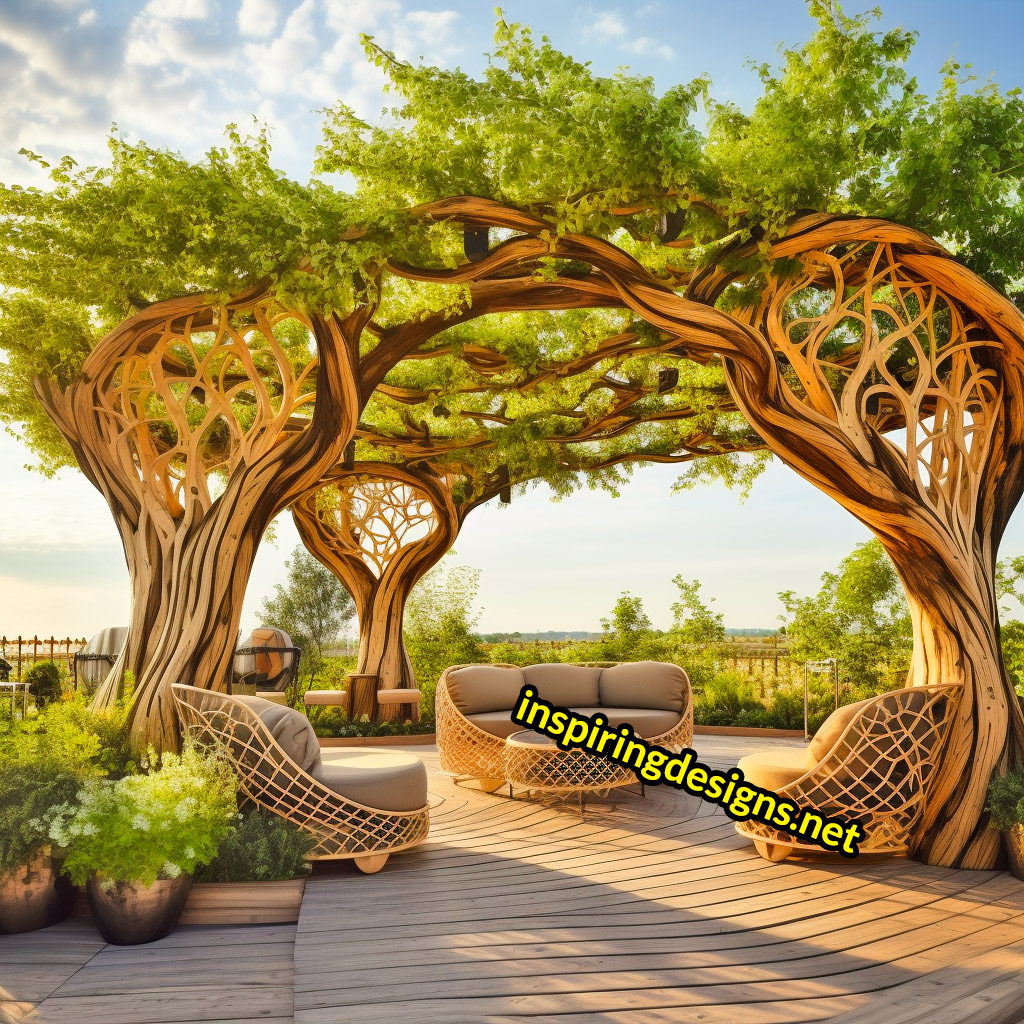 The pergolas are quite accommodating when it comes to size, ranging from cozy 10-footers to expansive 25-foot showstoppers.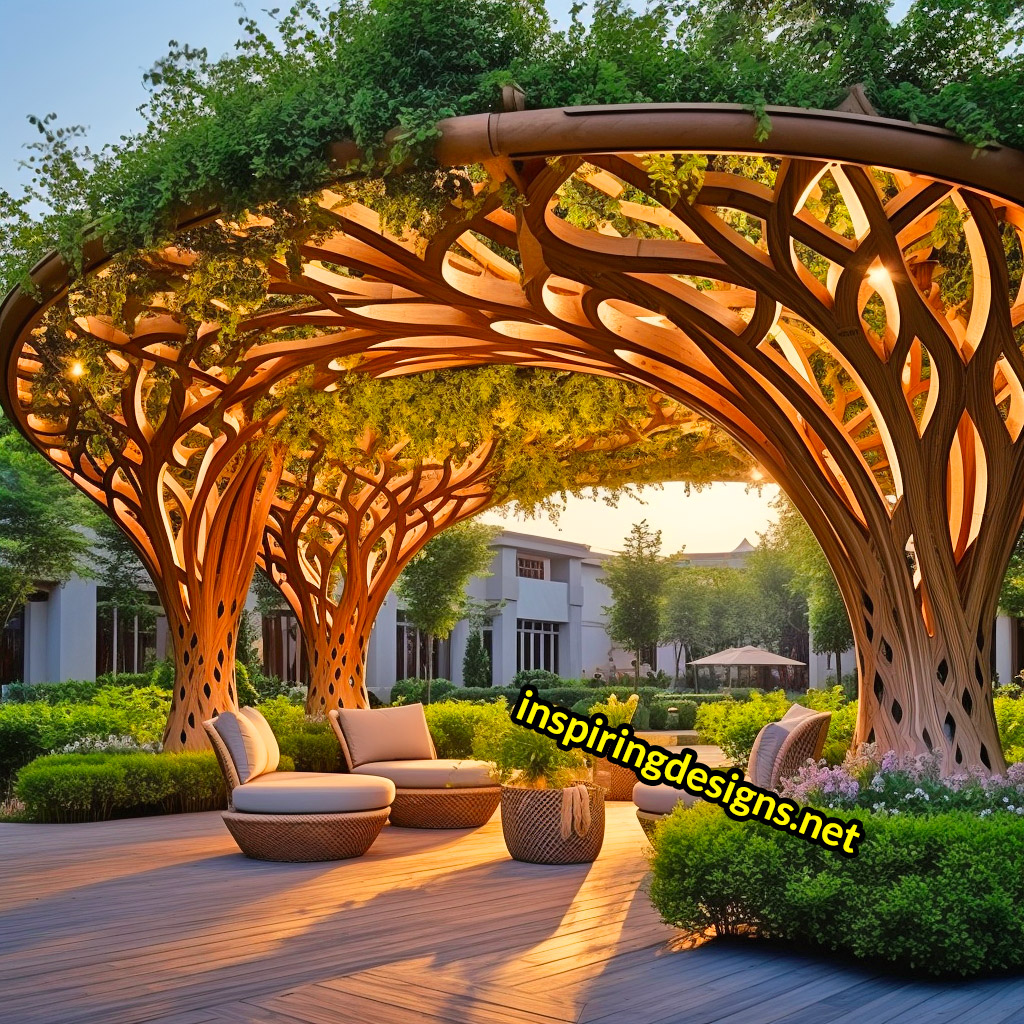 The bigger they are, the more impressive their architectural beauty, but don't discount the charm of their smaller siblings.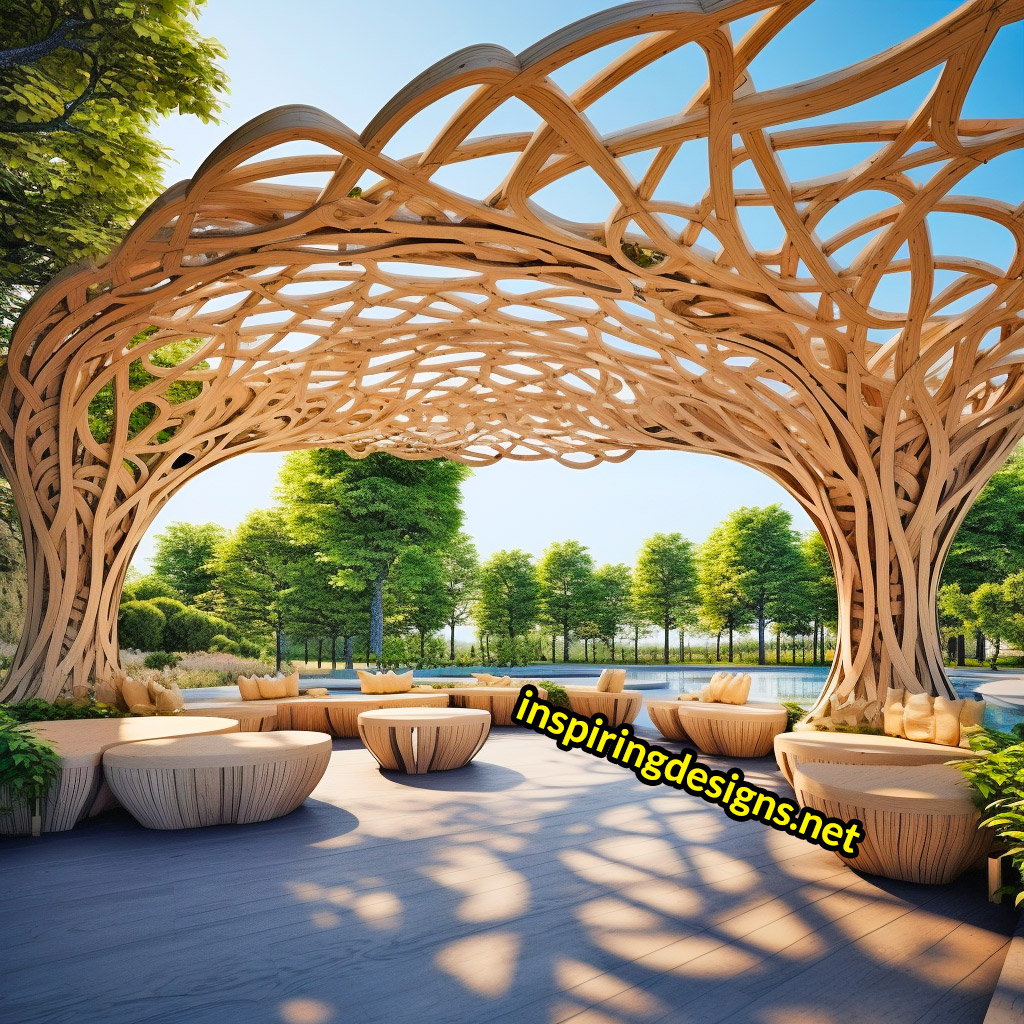 What's the perfect setting for one of these wooden wonders, you ask? Well, these pergolas thrive in spacious backyards.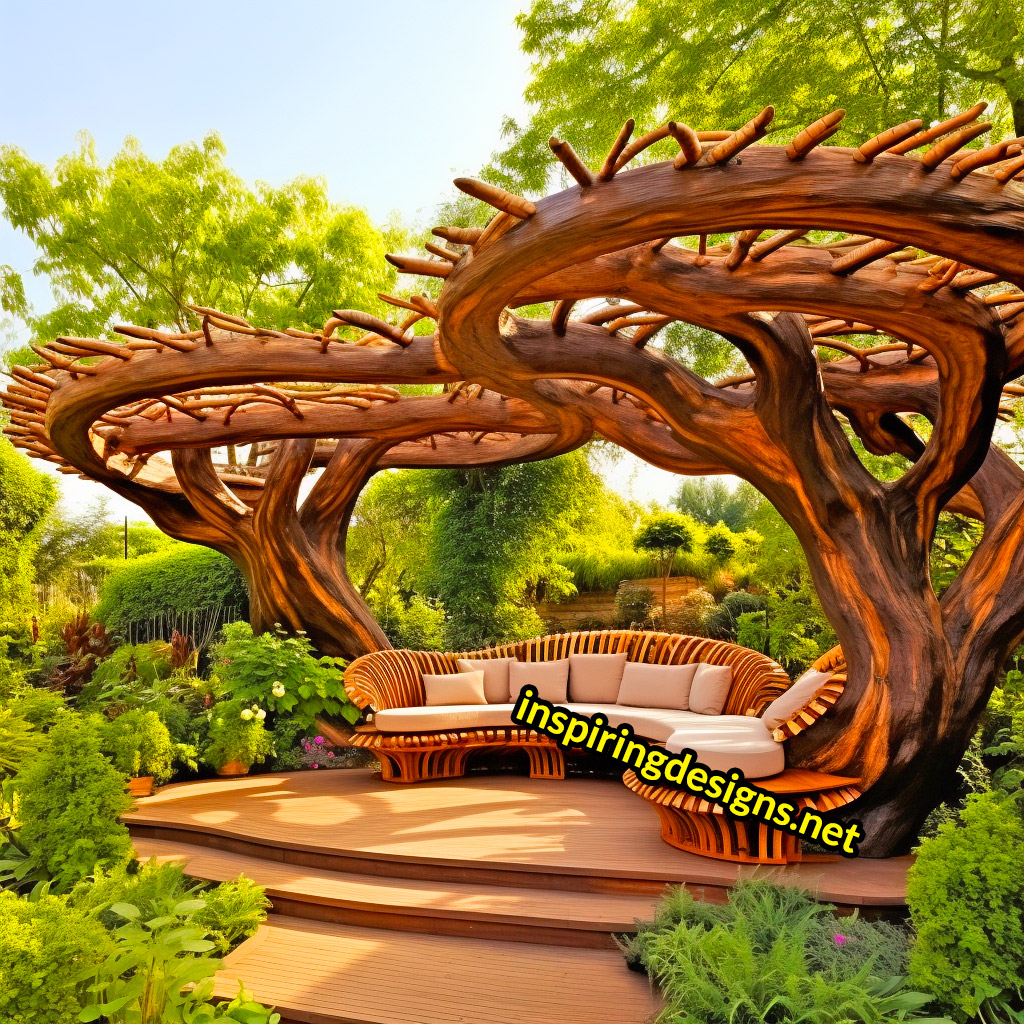 A generous lawn, a patio with a view, or a poolside haven, they claim their place with grace. They can be installed over grass, decking, tile, practically any solid surface that can support their wooden heft.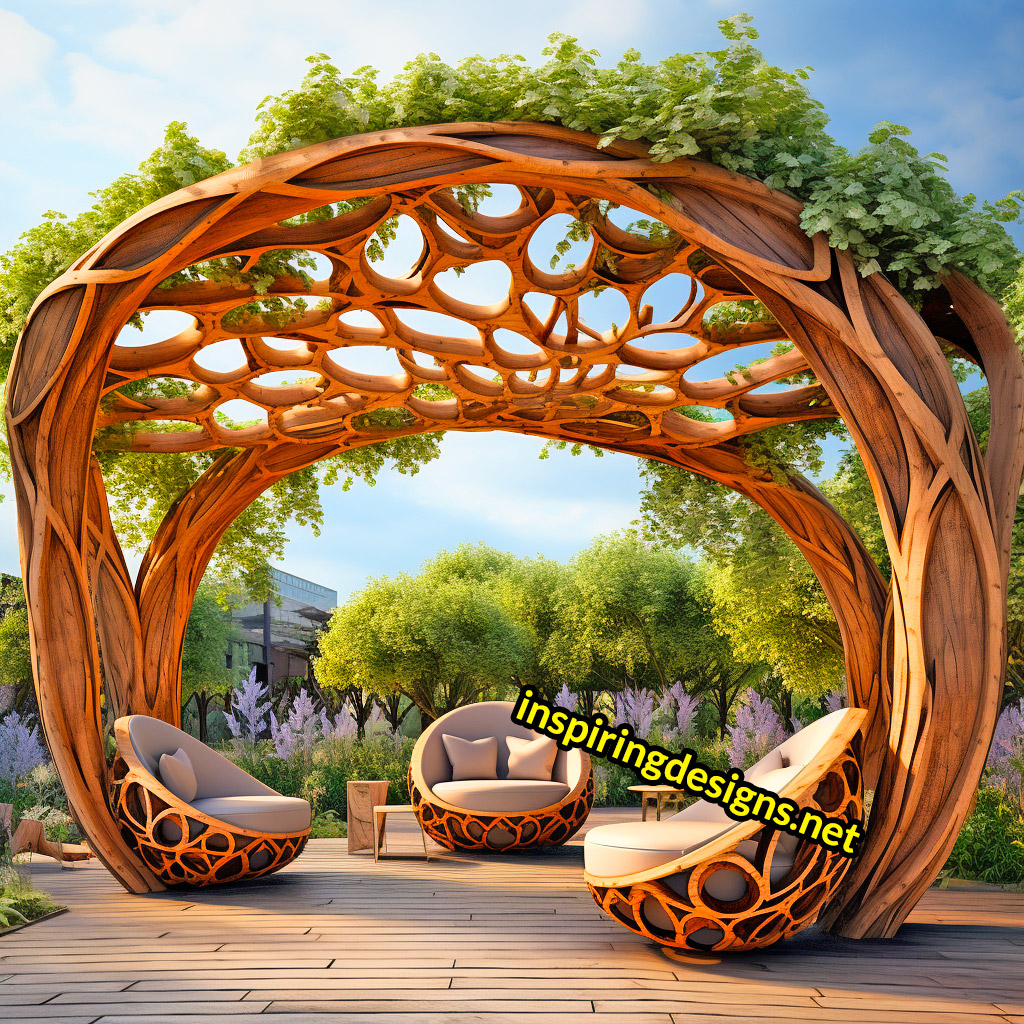 Now, who would want one? These pergolas beckon the aesthetically driven souls who appreciate a blend of art and nature. They are for the homeowners who want their outdoor space to be a sanctuary, a hideaway from the world's hustle and bustle.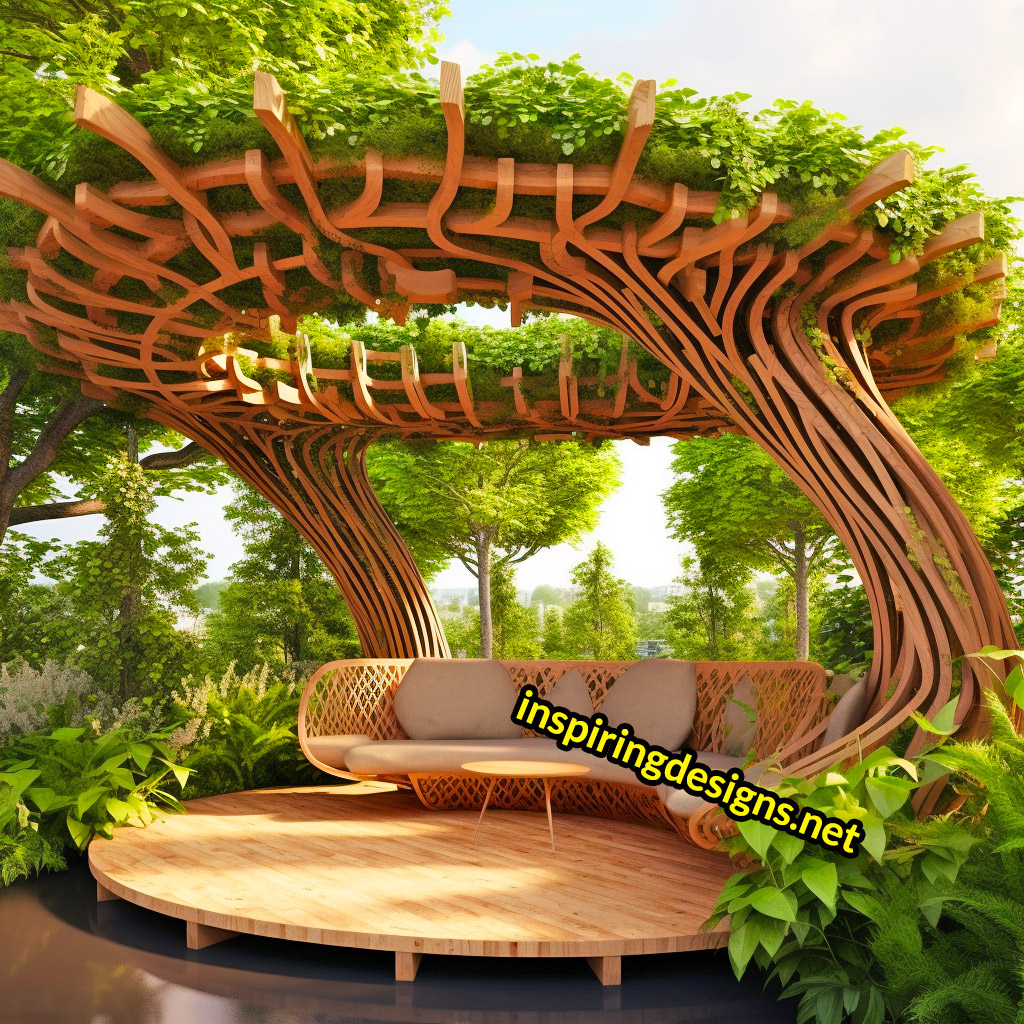 They're for those who understand that art doesn't just belong in galleries—it belongs in our everyday lives, enriching our experiences and conversations.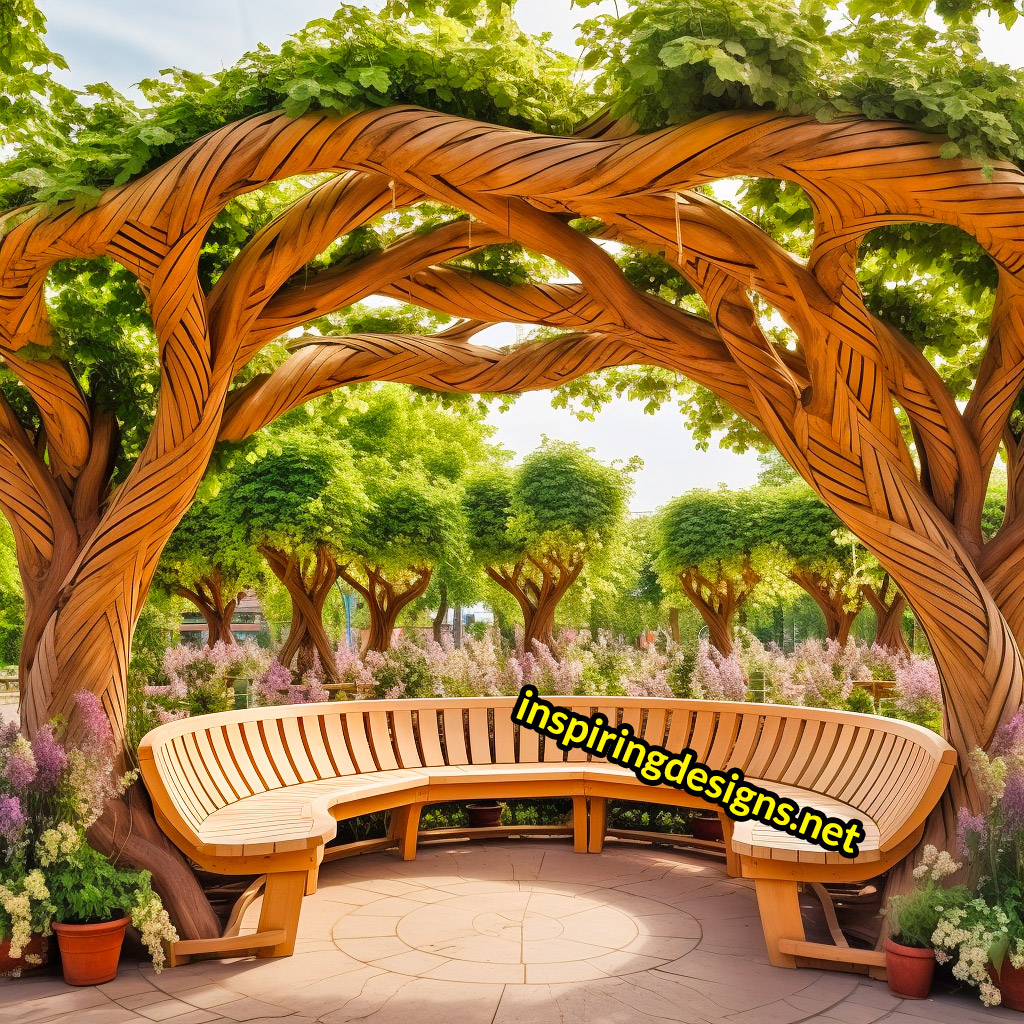 So, what's the ticket price for one of these giant tree shaped pergolas? For a modest 10-foot pergola, think in the ballpark of $50,000. At the upper end, a 25-foot spectacle might set you back $100k-300k$ or more.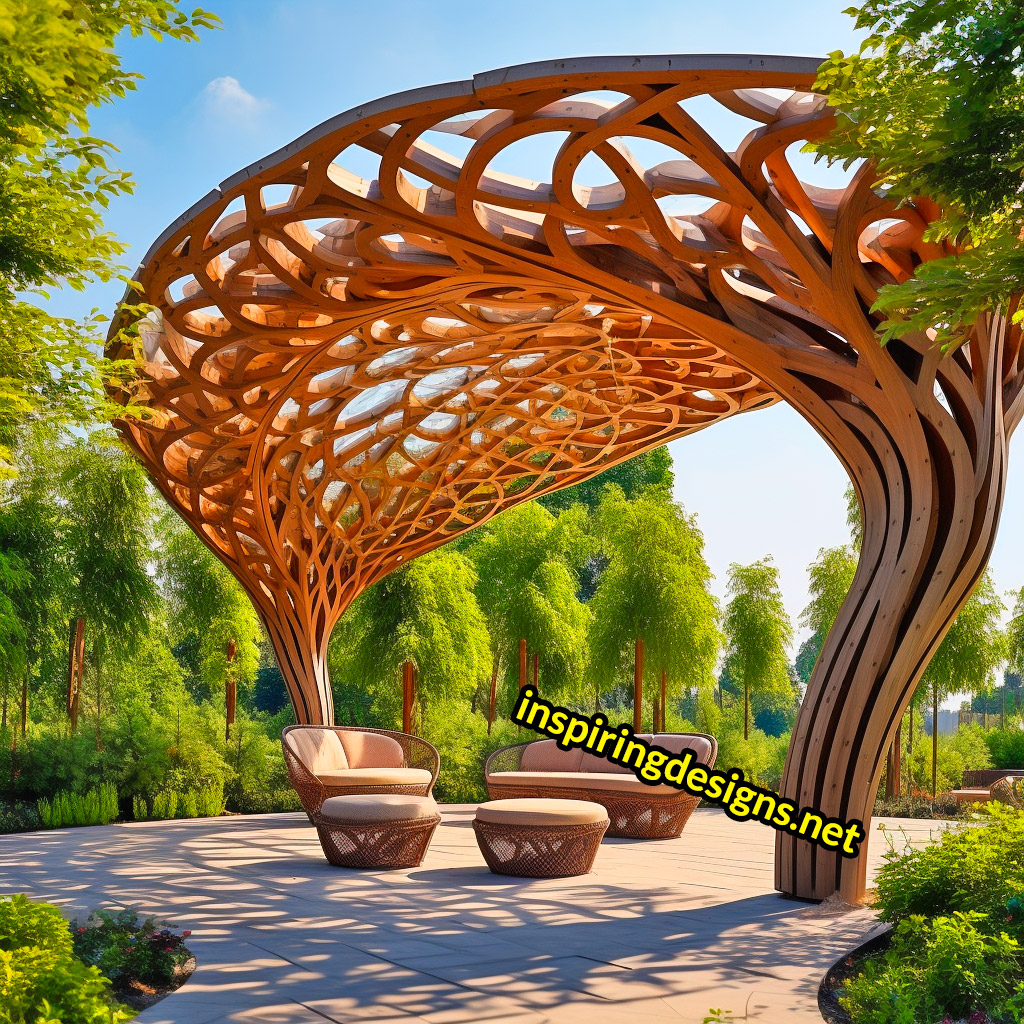 Yes, it's an investment, but think of it as acquiring a piece of living art, a dynamic structure that evolves with the seasons and grows more enchanting with time.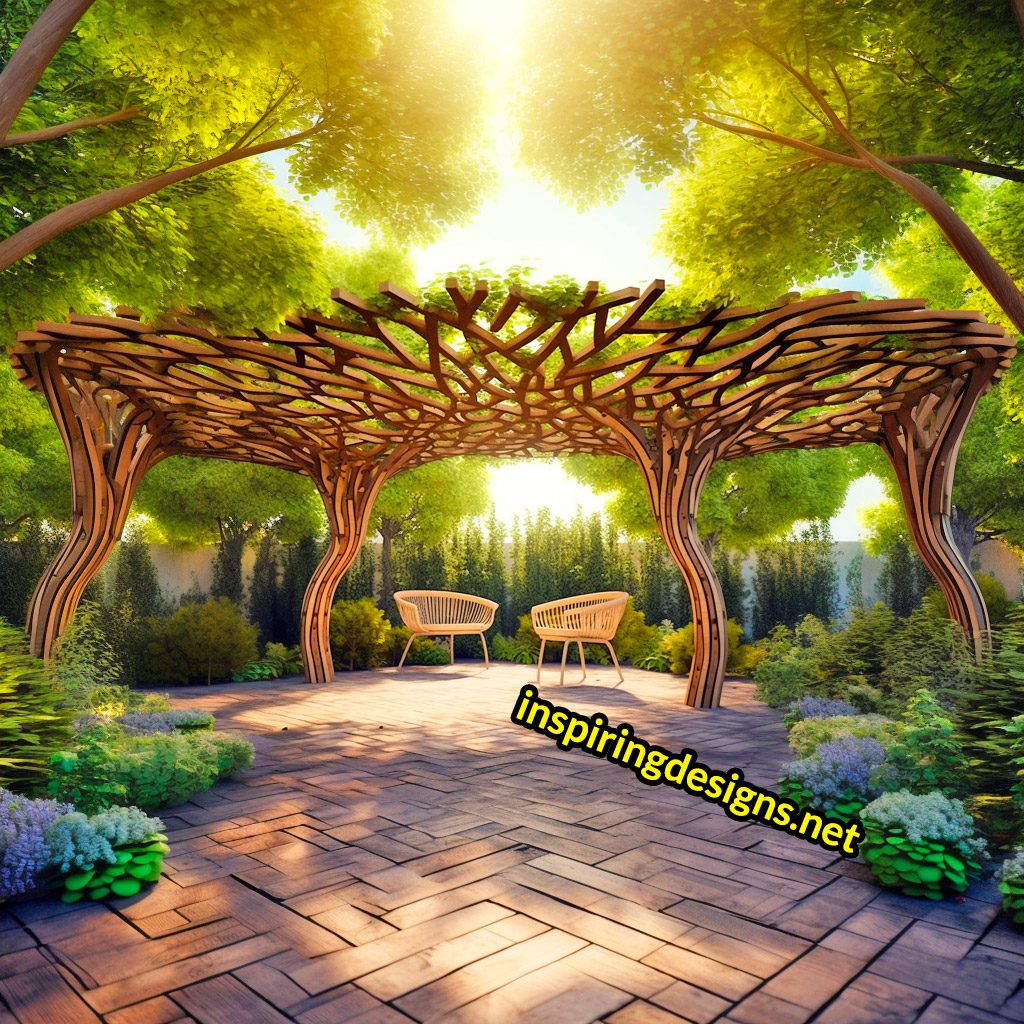 So, here's the gist: If you're looking to elevate your backyard from pleasant to awe-inspiring, these wooden tree-shaped pergolas might just be your answer.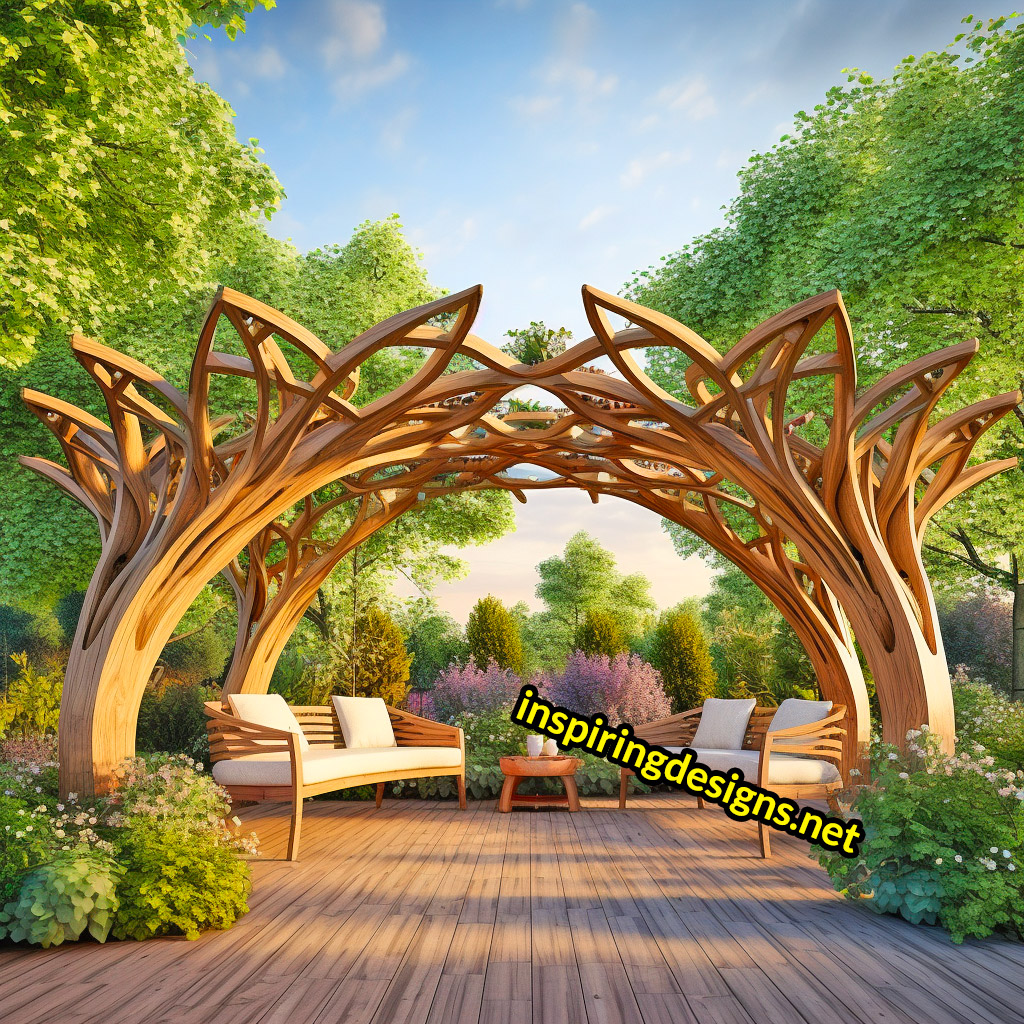 Each one is a lovingly crafted tribute to nature's beauty and a testament to human creativity. They're more than pergolas—they're a lifestyle statement. And let's be honest, who wouldn't want their garden party to be the talk of the town?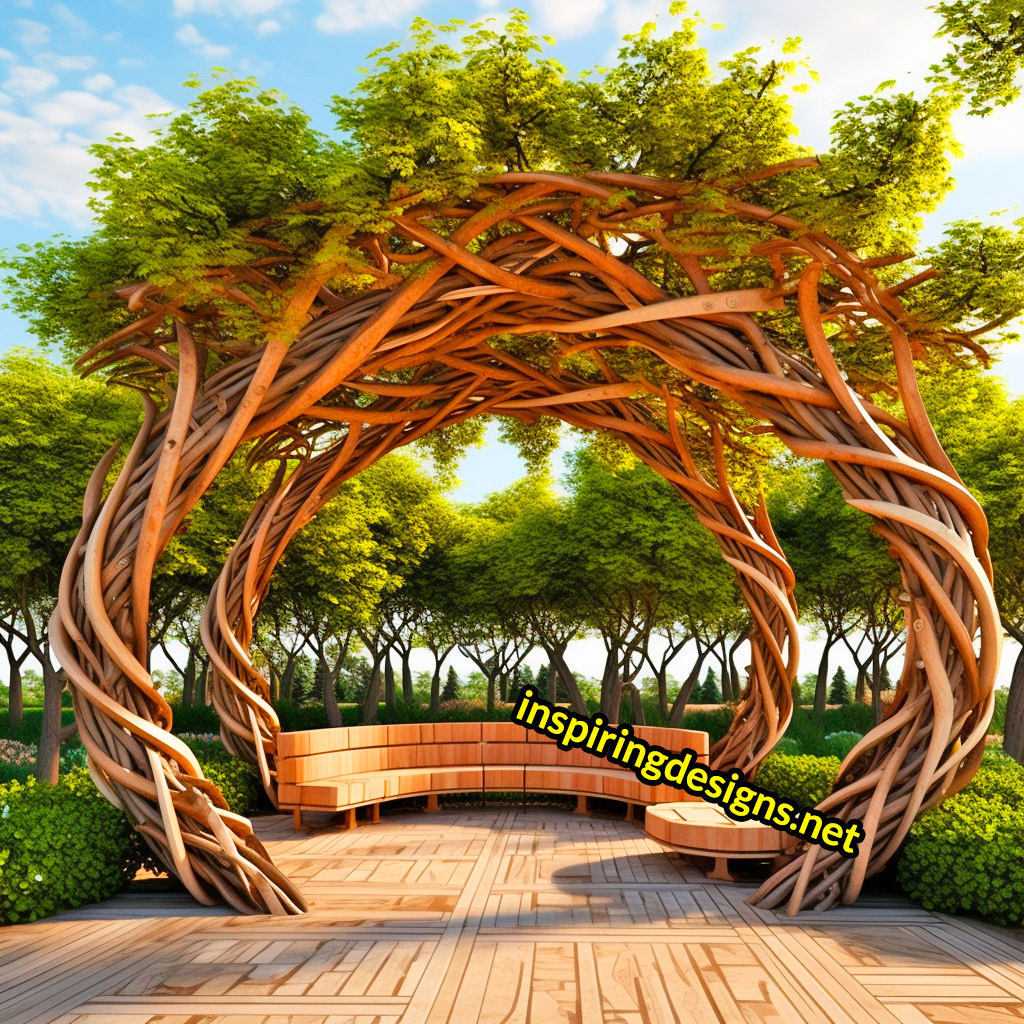 Step aside, traditional garden sheds; these incredible wooden tree-shaped pergola is here to steal the show!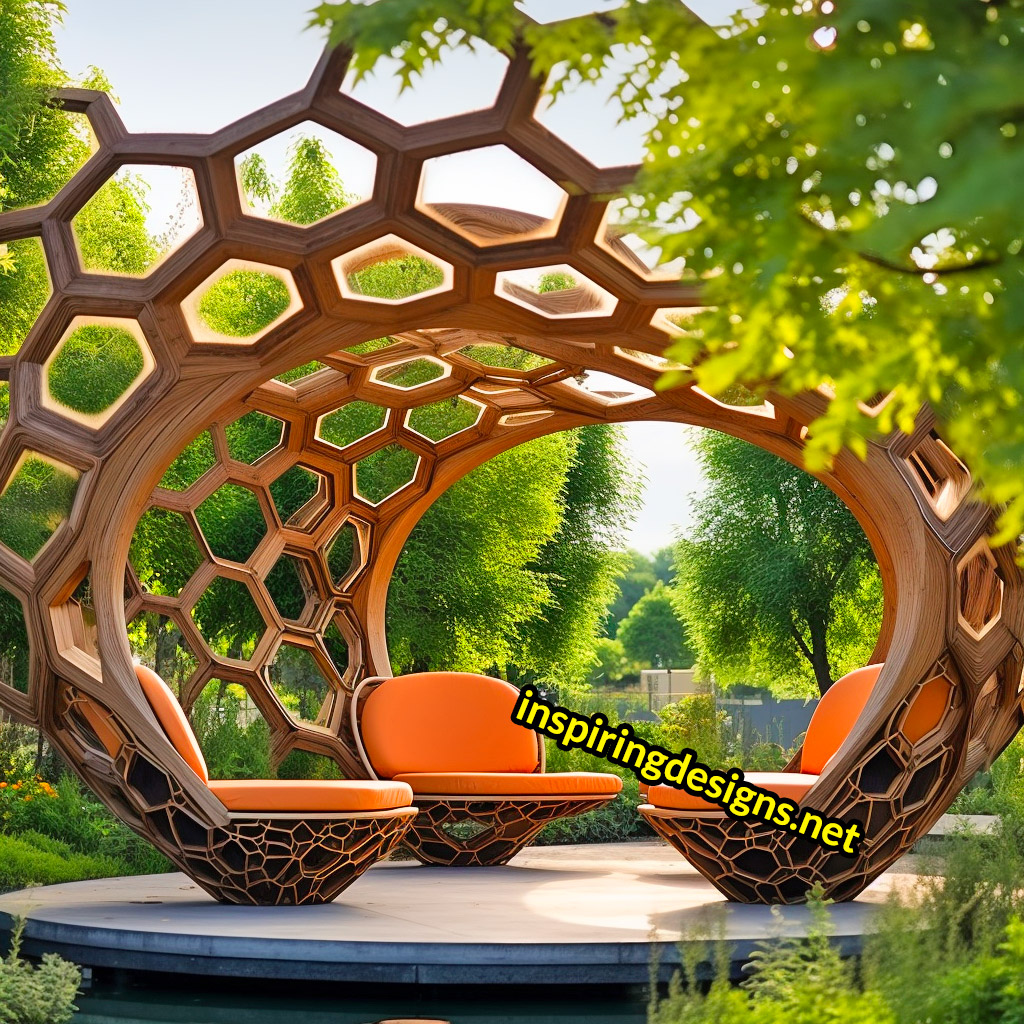 Let us know in the comments which giant tree shaped pergola design is your favorite!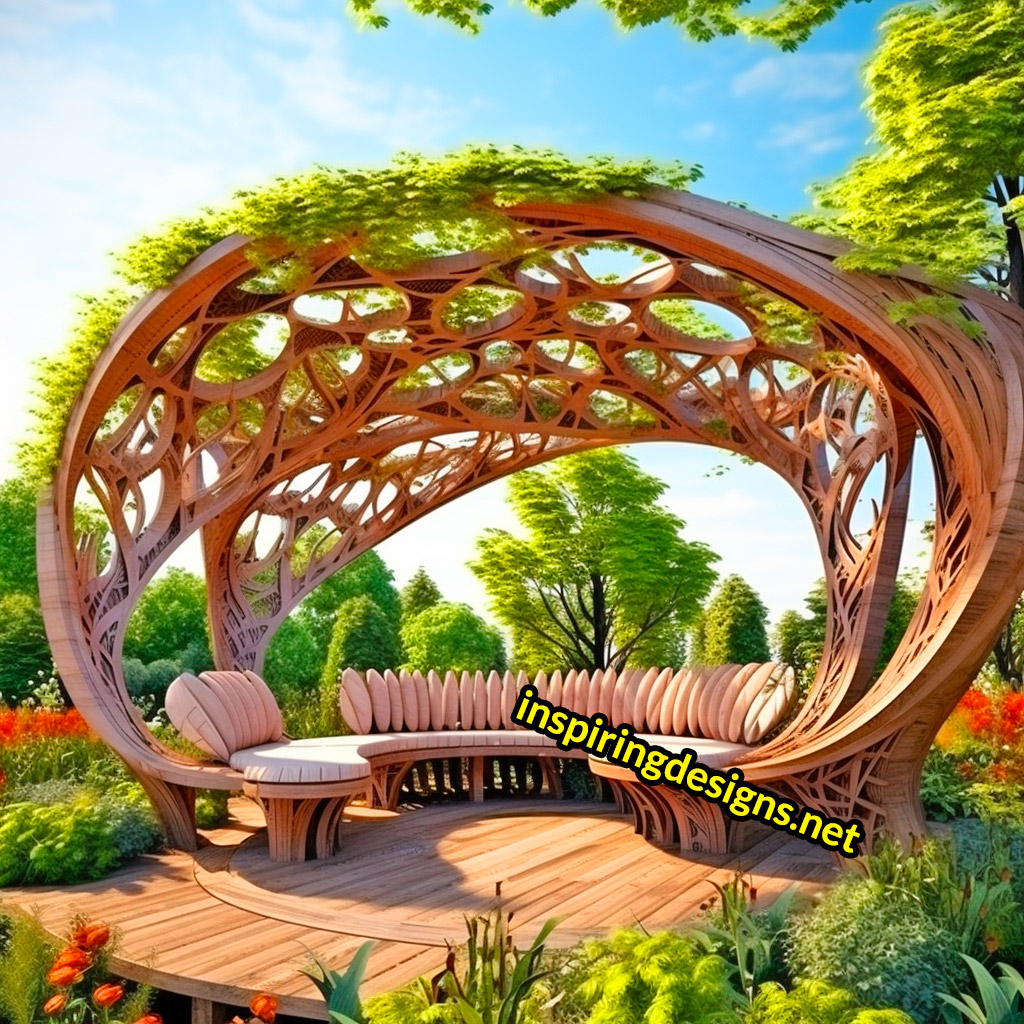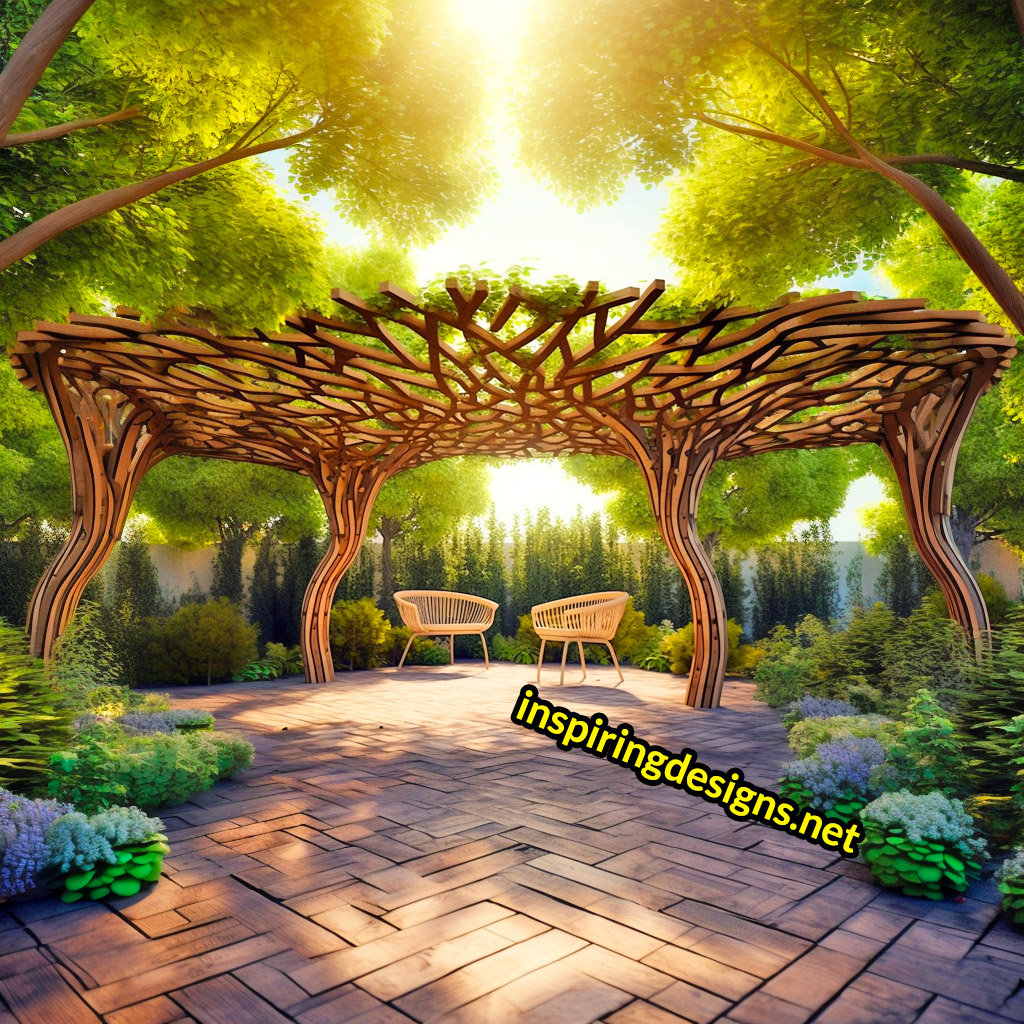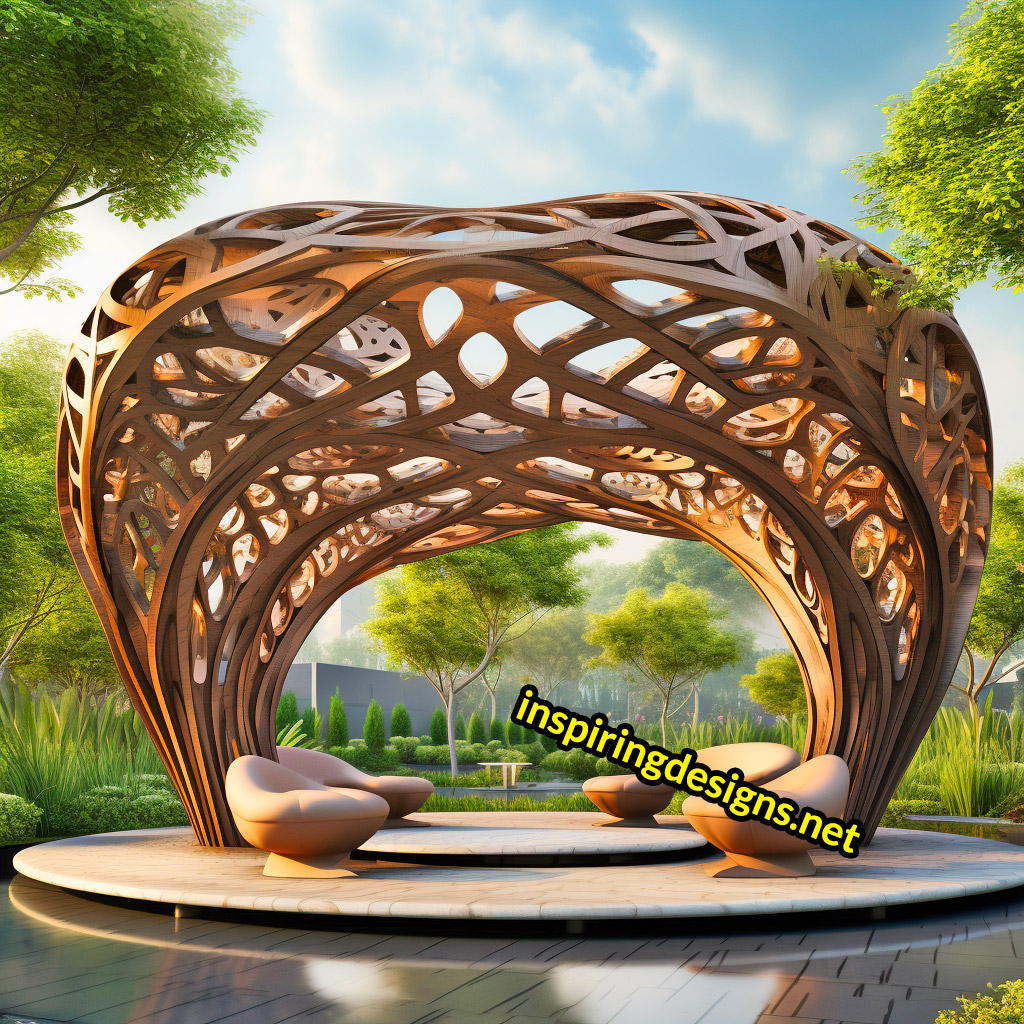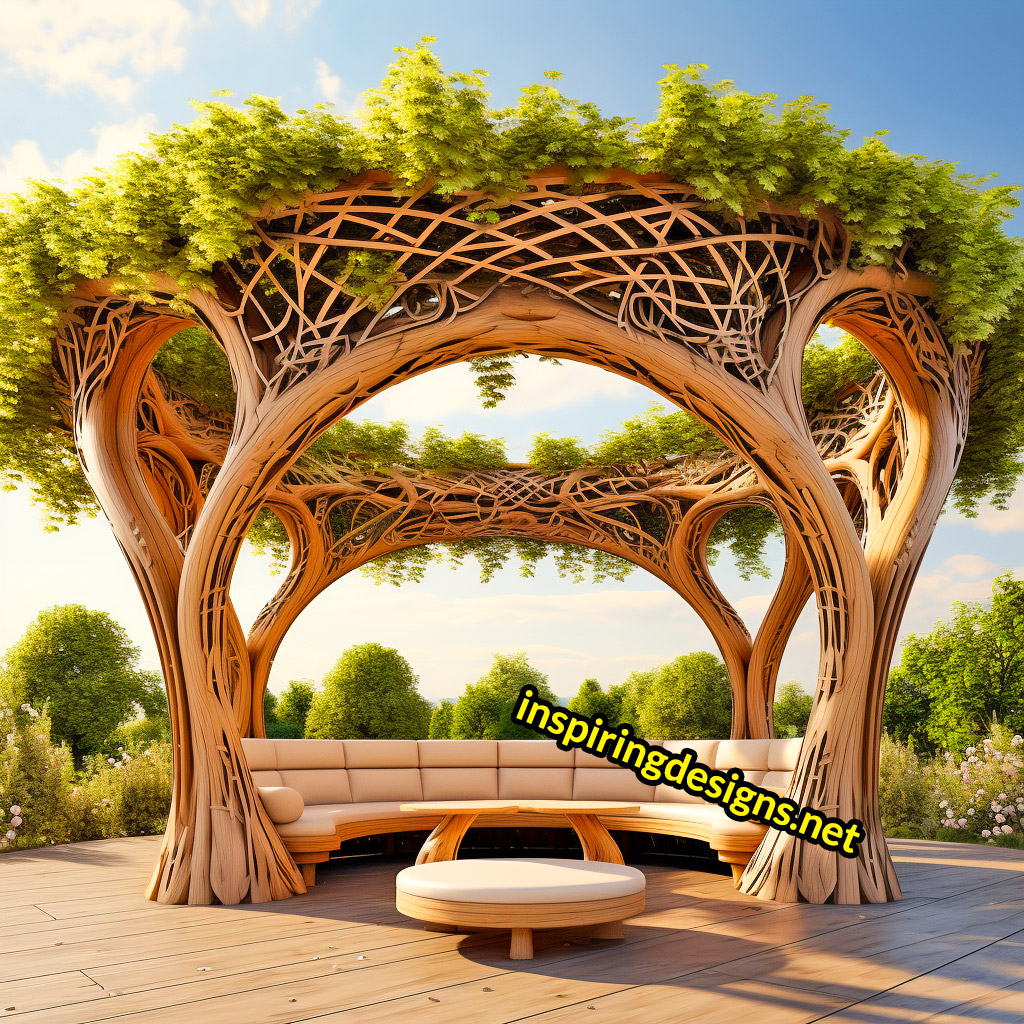 Be sure to also check out these creative animal shaped pergolas that we've featured in the past!