Buckle up, retro-lovers! The groovy era is back, and it's parked right next to your bed. Who would've thought that the iconic Volkswagen Type 2 buses would inspire such a brilliant nightstand innovation? Well, someone did, and aren't we all thankful!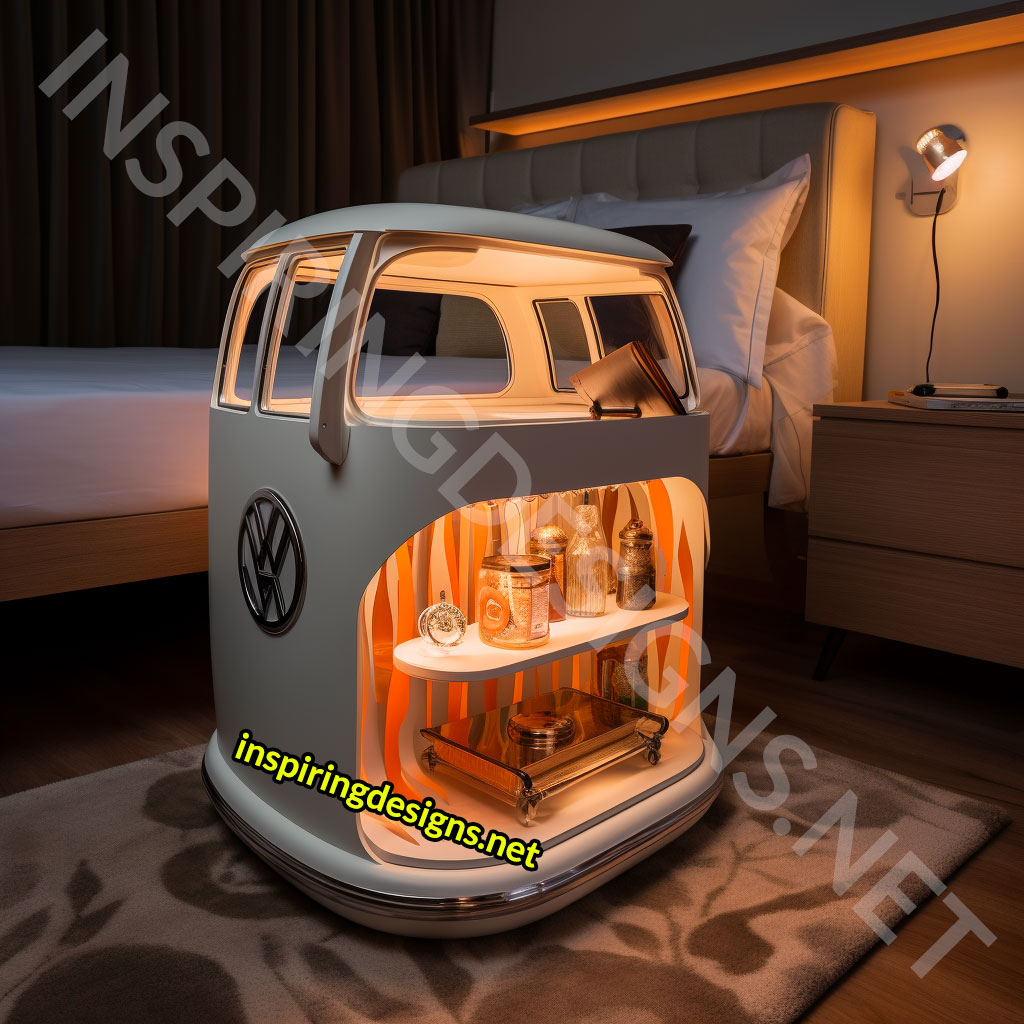 Picture this: you've just finished a relaxing bedtime read. As you reach out to place the book on your nightstand, a vibrant and mini Volkswagen Type 2 bus stands by, waiting to cradle your beloved story. Talk about the perfect parking spot!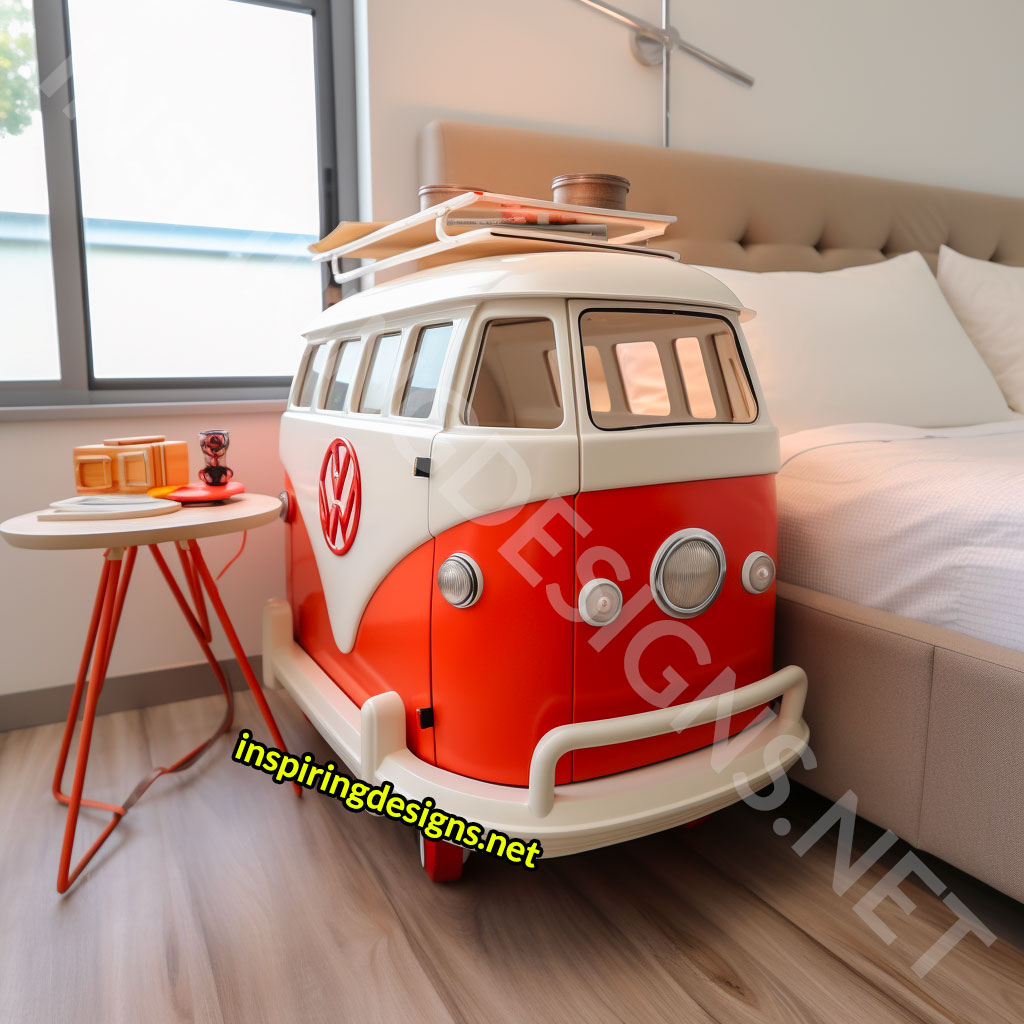 Remember the days when these VW buses dotted every highway, carrying hopes and dreams, crammed with a band of free-spirited nomads? Now, you can have a mini version (stationary of course) right in your bedroom.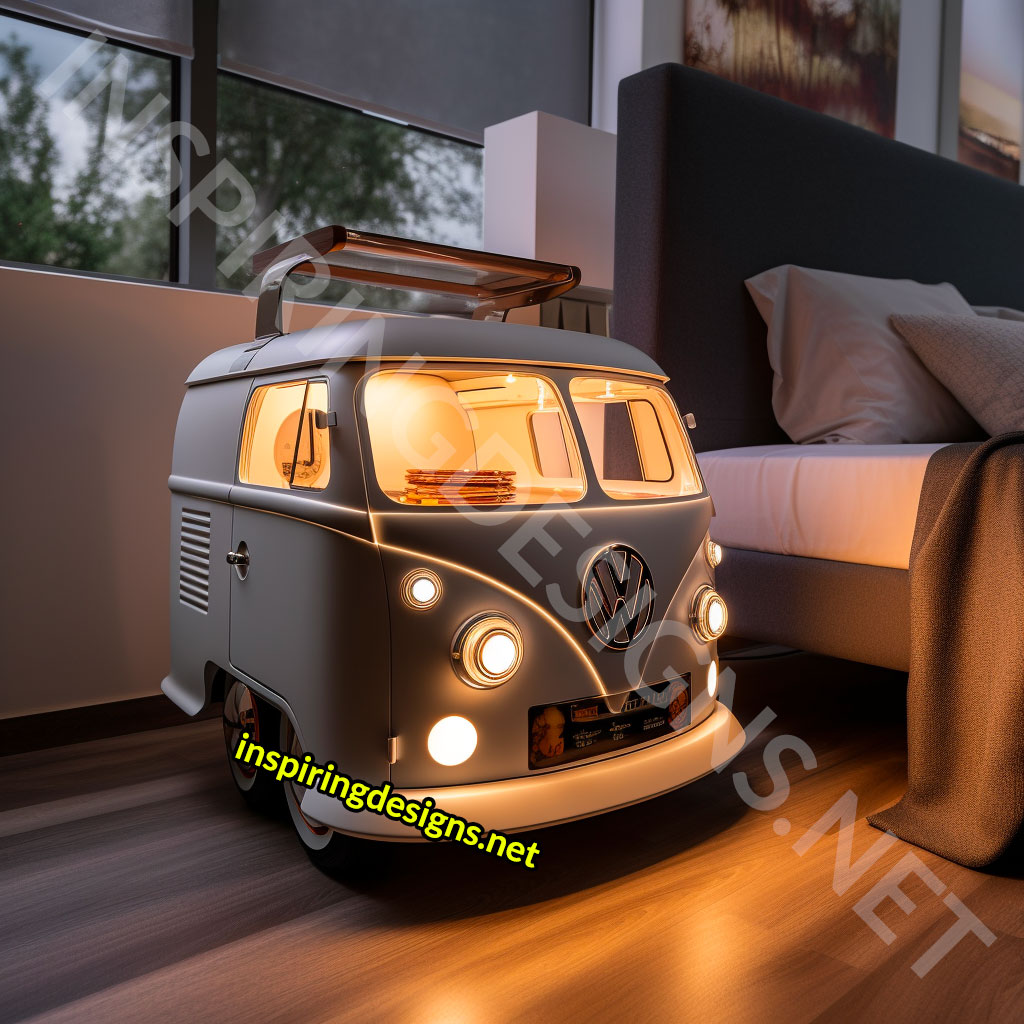 Got the blues? Or the reds? Or the psychedelic swirls? These tables come in a multitude of designs, capturing every hue that ever graced the Type 2's chassis.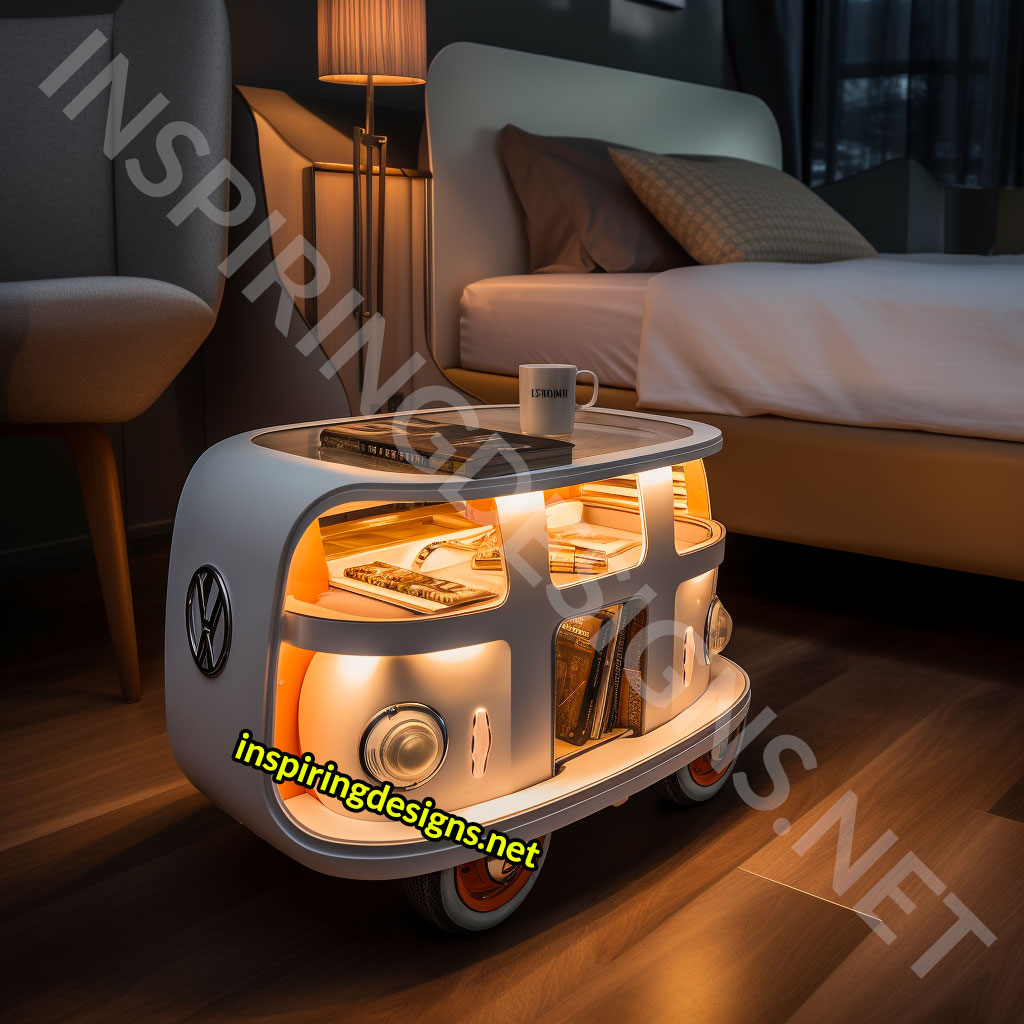 Whether you're a fan of the side profile or prefer a view head-on, these designs have got you covered.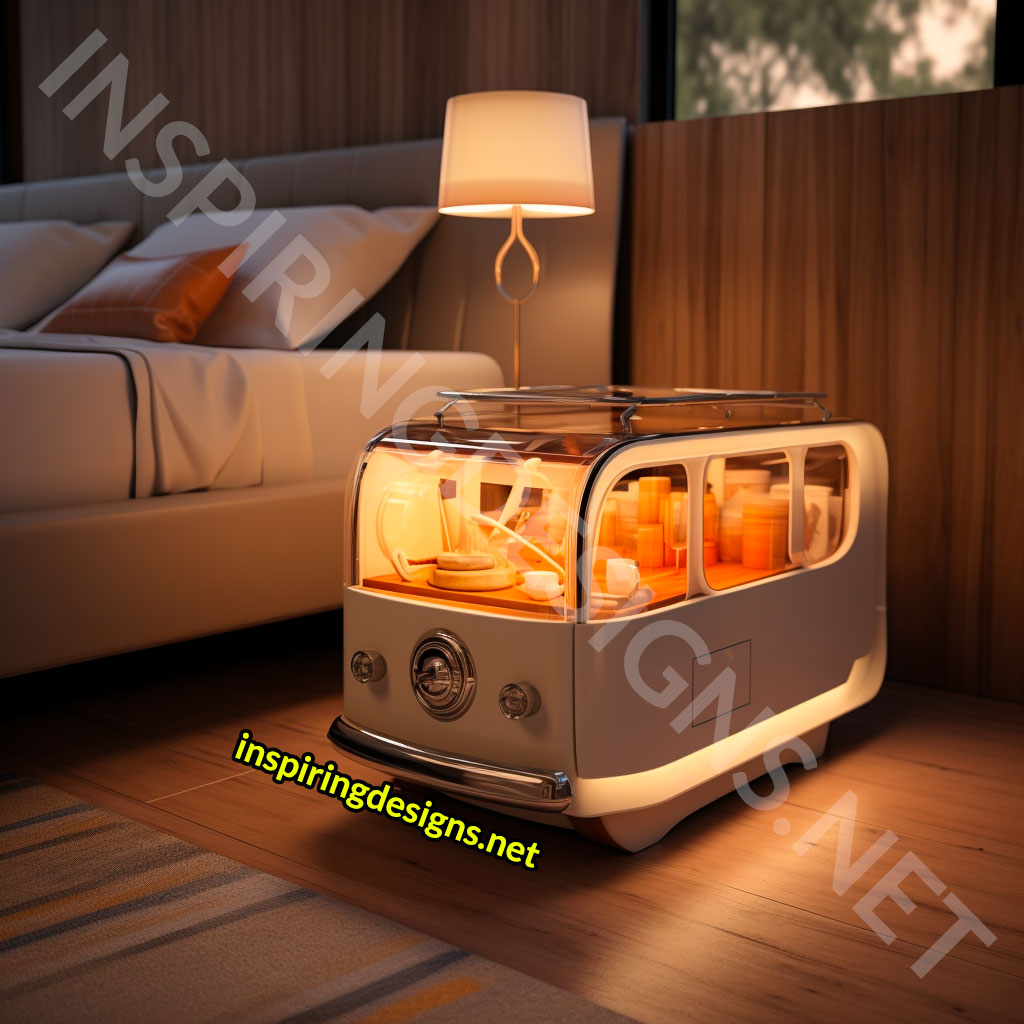 "Is that the front of a VW bus jutting out of your wall?!" your guests might exclaim. Yes, yes it is. And for those with a penchant for mobility? Some of these nightstands come with realistic wheels. Shuffle them around, and give them a new parking spot every now and then.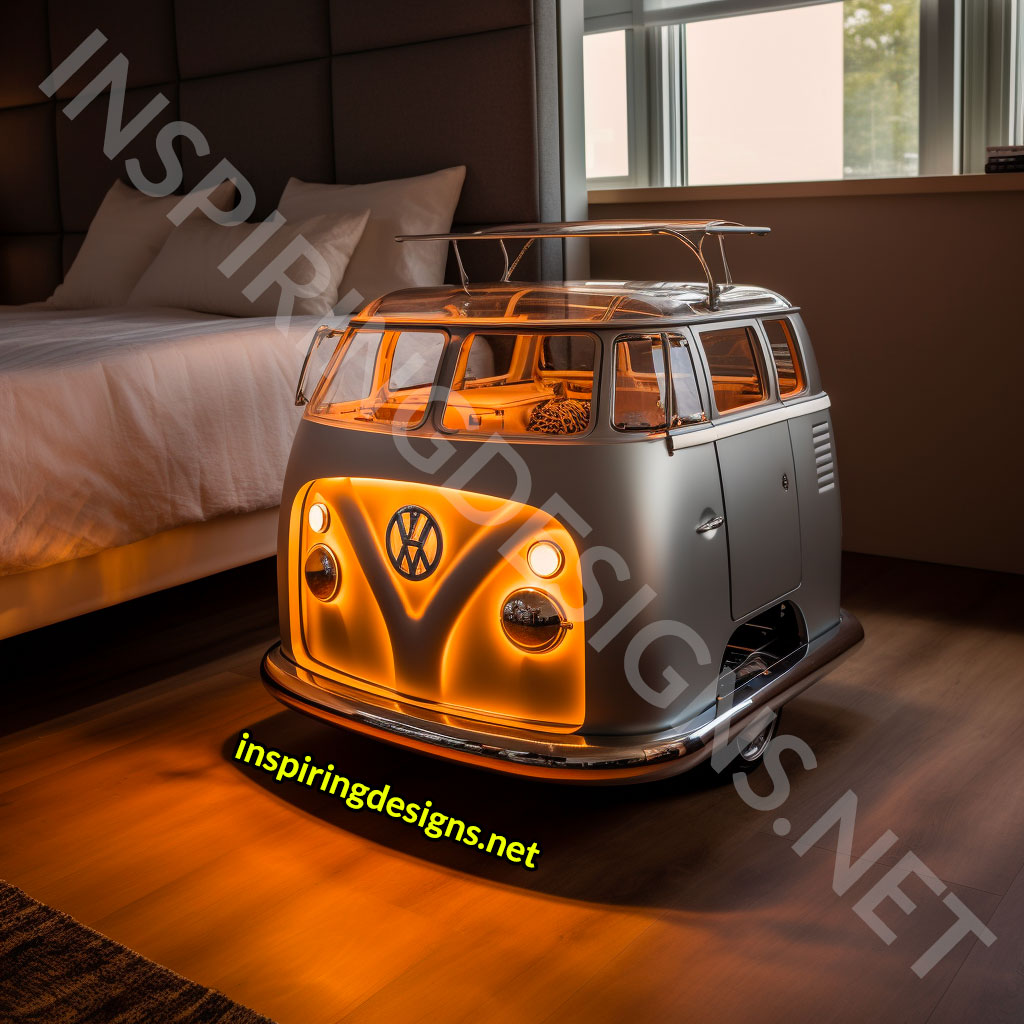 For the old hippies and retro design aficionados, this is a dream come true. You wanted wood? Oh, we have choices for you!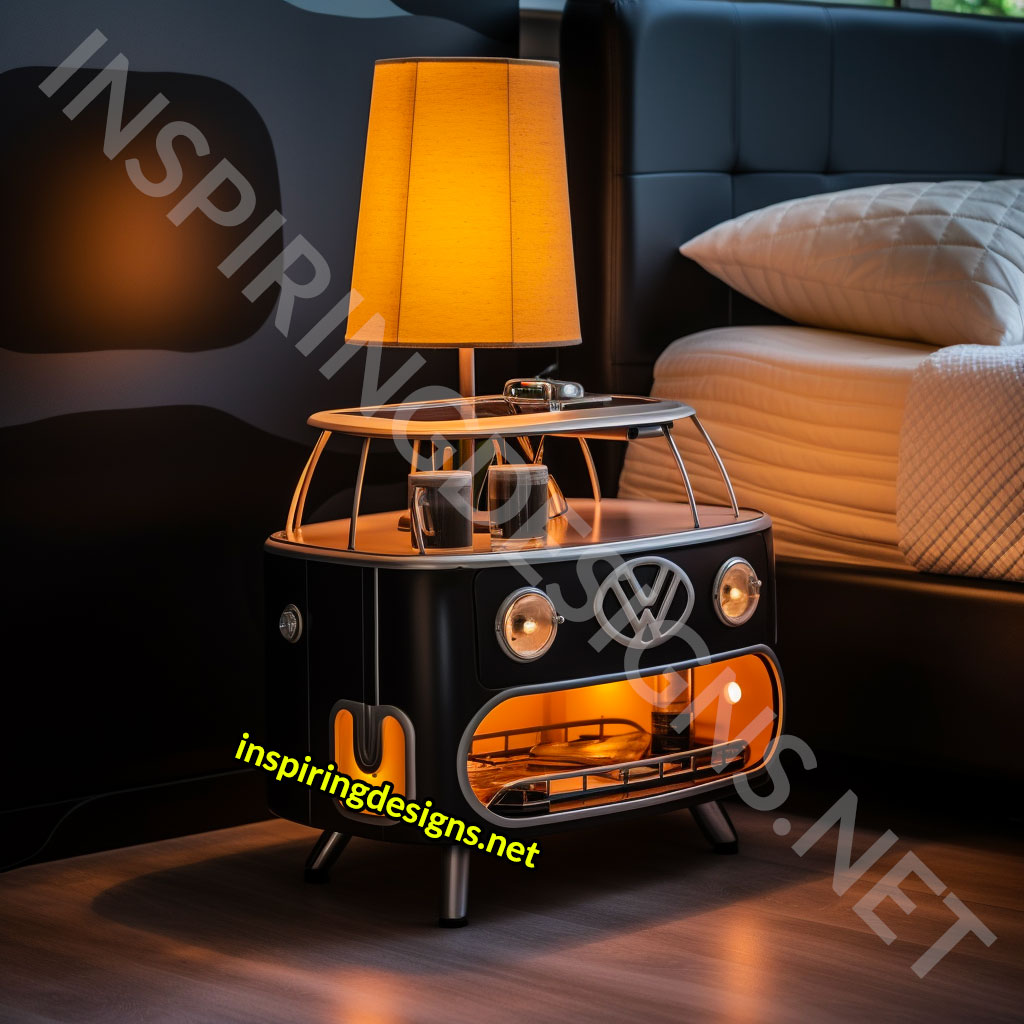 Whether it's oak, maple, cherry, mahogany, teak, or cedar, each table has its own woodsy charm, combined with the quirk of the Type 2.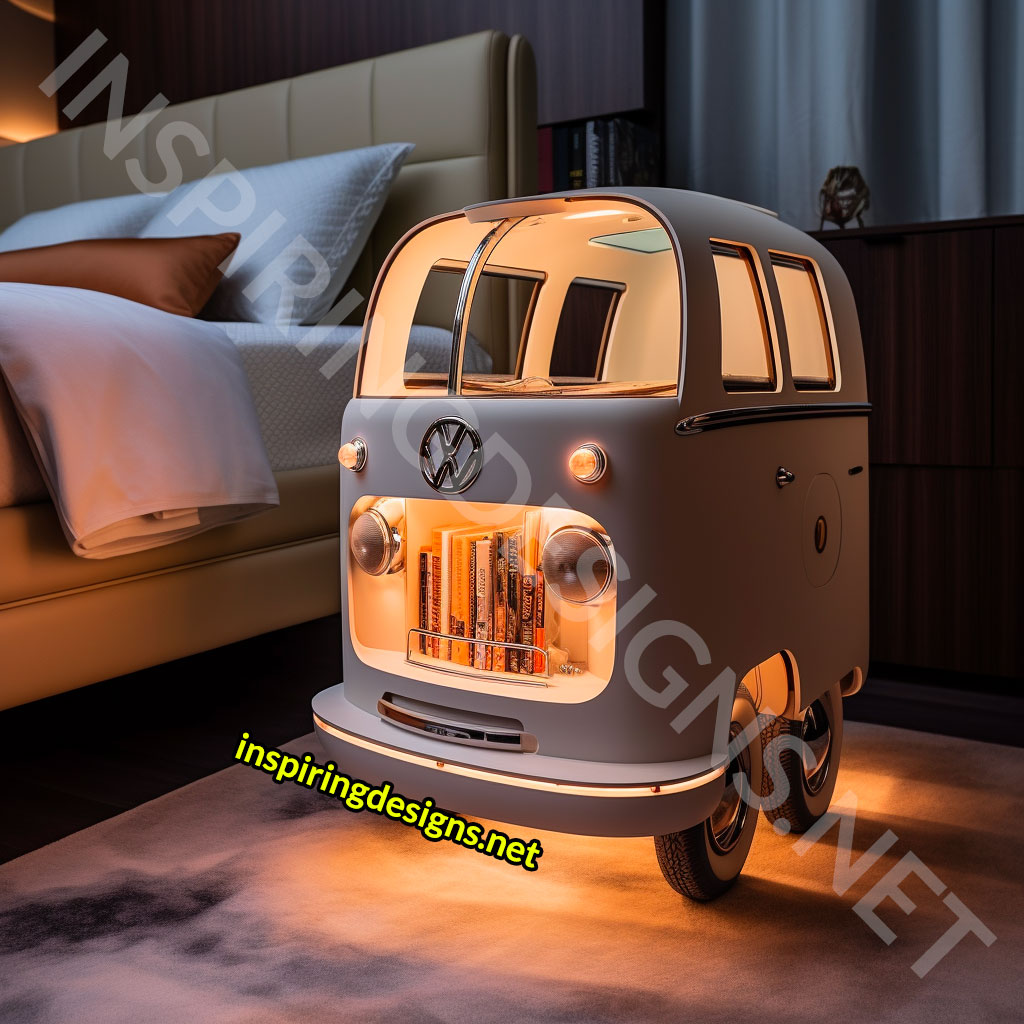 Utility? Check. Most designs incorporate savvy storage spaces at the bottom. So go ahead, stash away! Those window panels? Not just for show.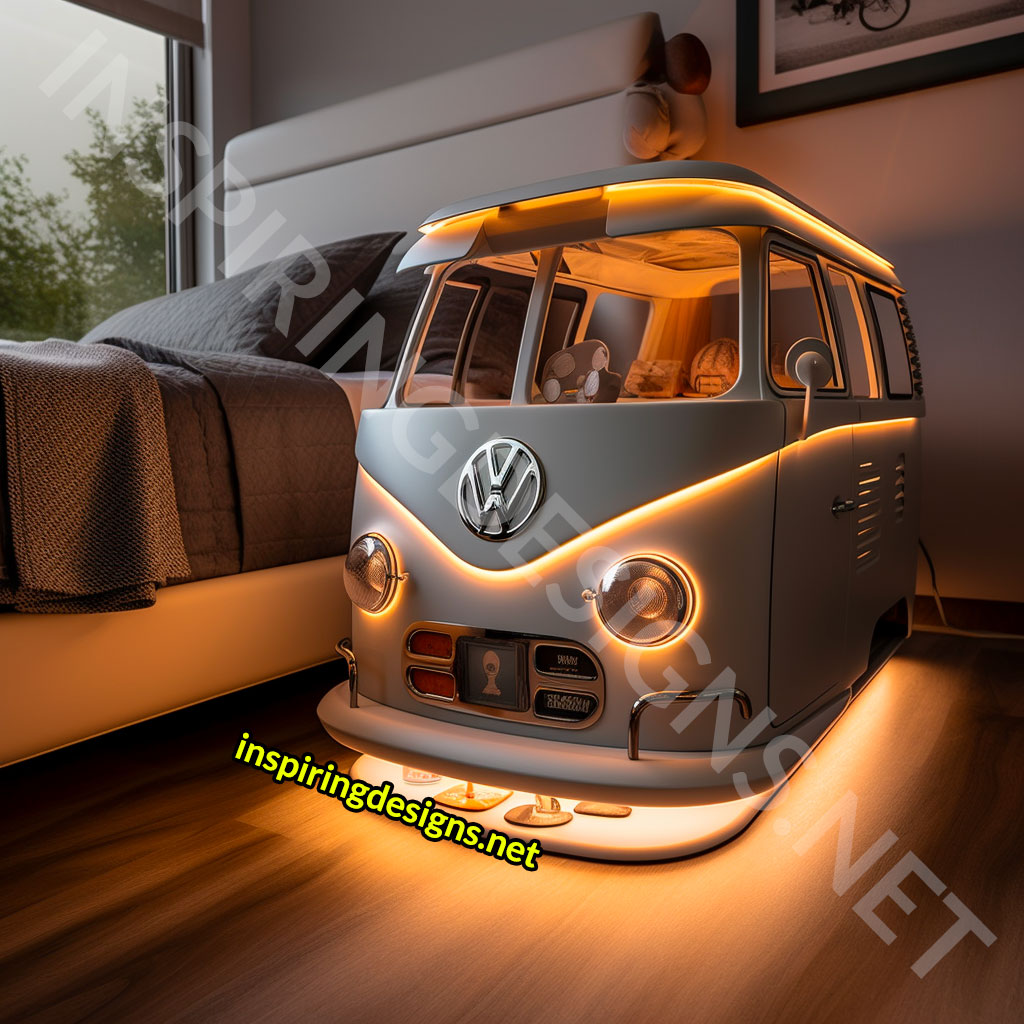 They double up as storage spaces for your nighttime essentials. Think books, magazines, or that TV remote you always seem to misplace.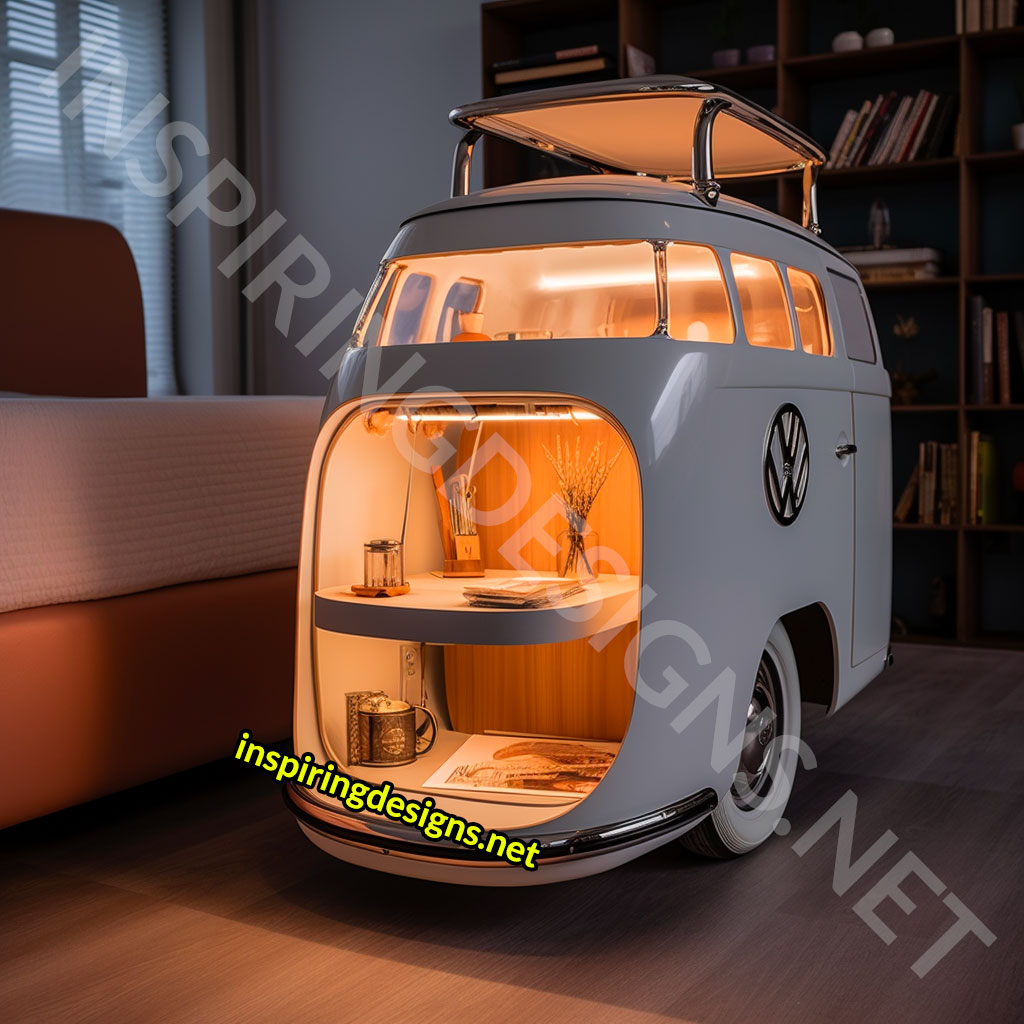 A peculiar feature that might pique your interest is the working headlights. Ever scrambled in the dark for your glasses? Not anymore! These headlights double as a nightlight, ensuring you never have to fumble in the dark again.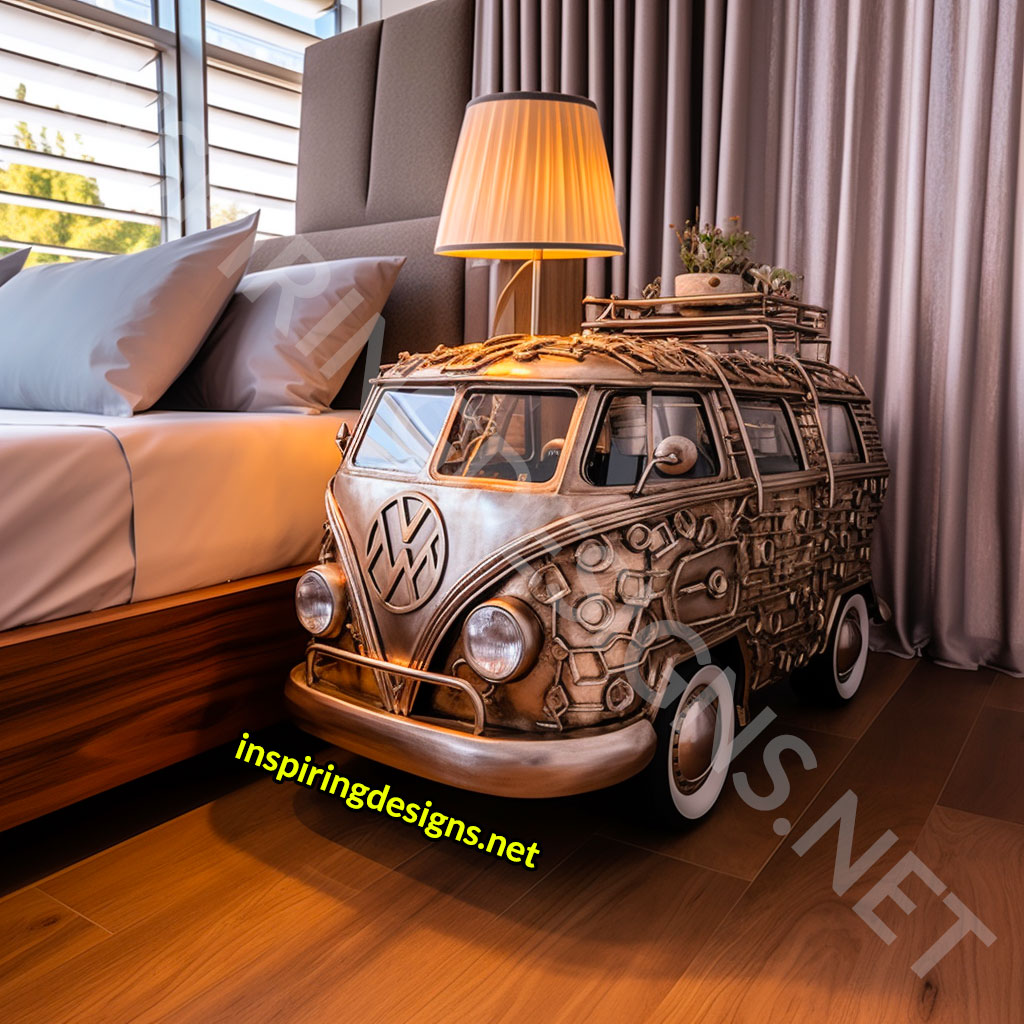 Plus, if you ever want to control the ambience, a switch at the back manages the headlights and storage area lighting. How nifty is that?
Worried about size? Don't be. Ranging from a compact 2 feet to a towering 4.5 feet, there's a bus size fit for every room.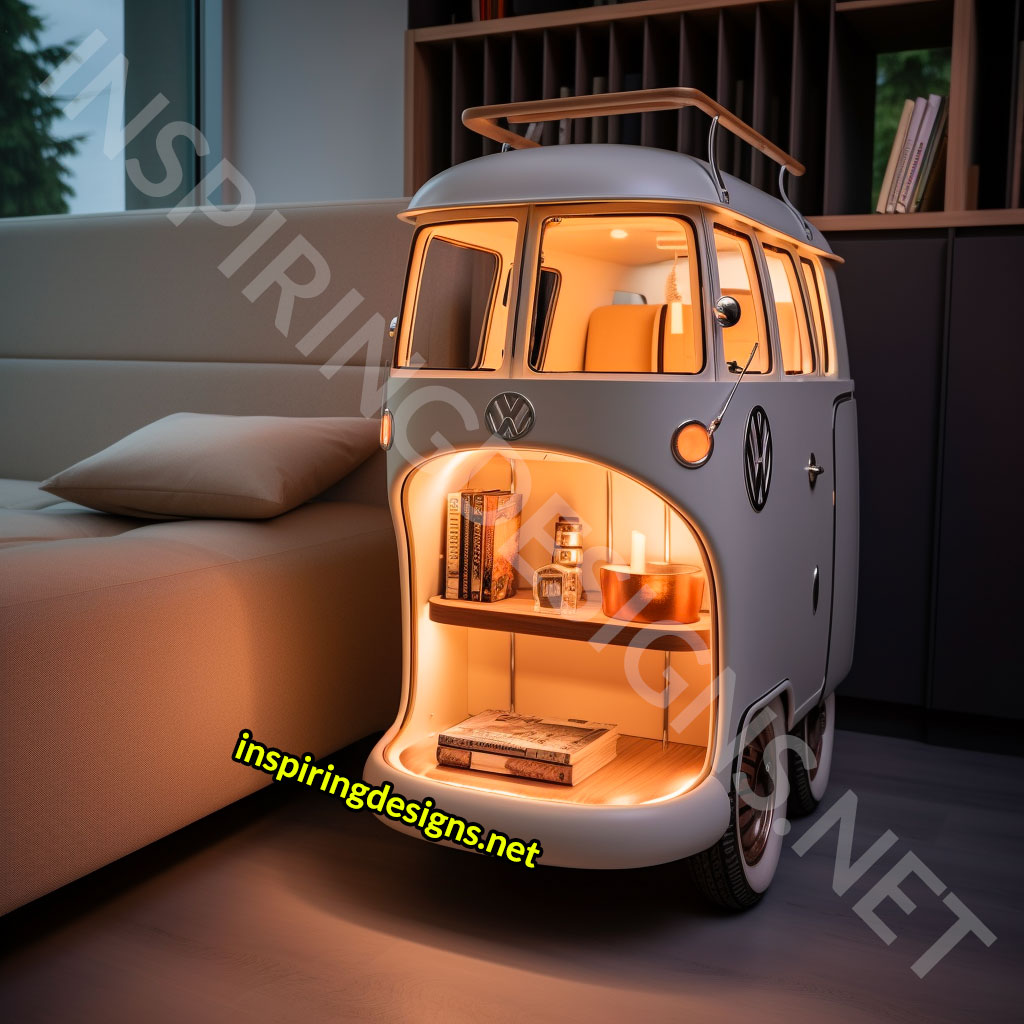 Every piece is an instant eye-catcher and an inevitable conversation starter. Imagine the stories you can share about your love for these classic buses, the adventures of the 60s and 70s, or just the sheer excitement of owning such an eccentric piece.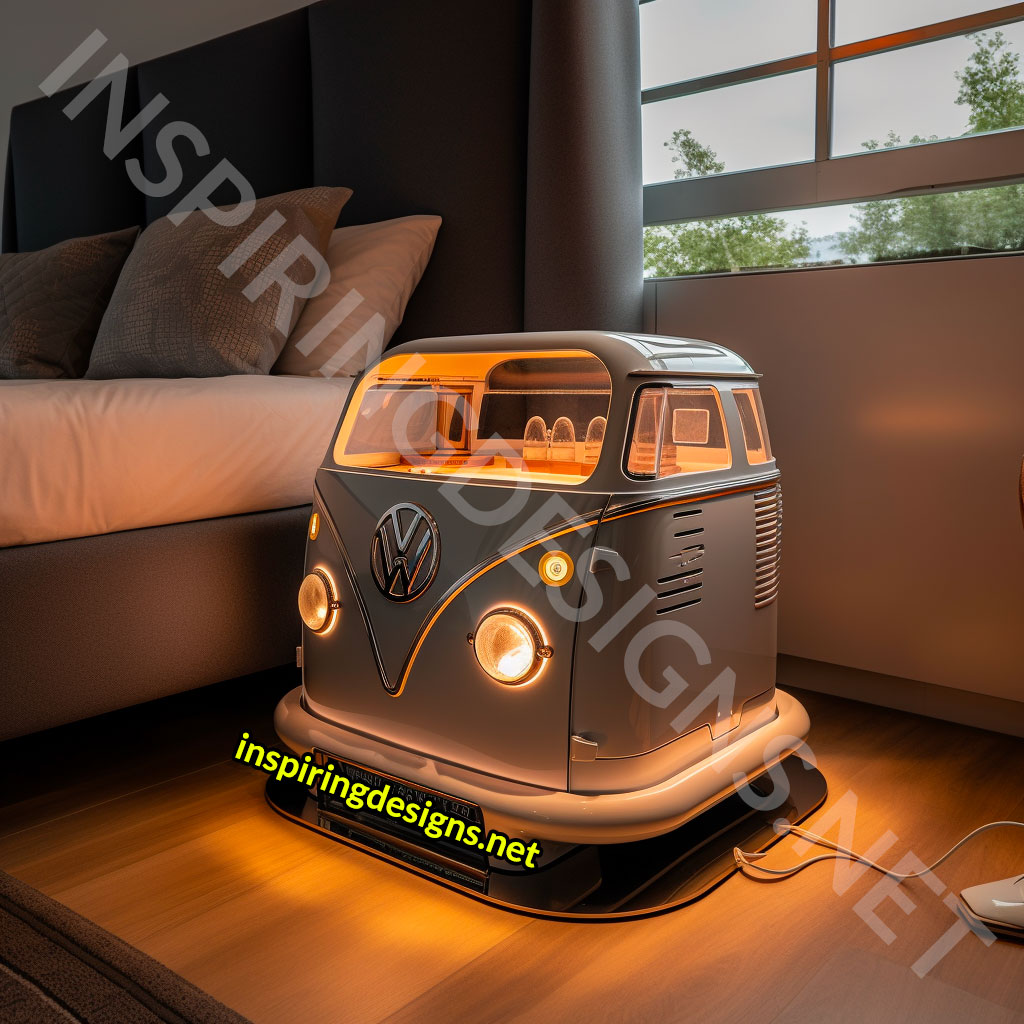 So, what are you waiting for? Dive into nostalgia. Embrace the funky. Invite the Volkswagen Type 2 bus nightstand into your home and let it steal the spotlight, one headlight at a time.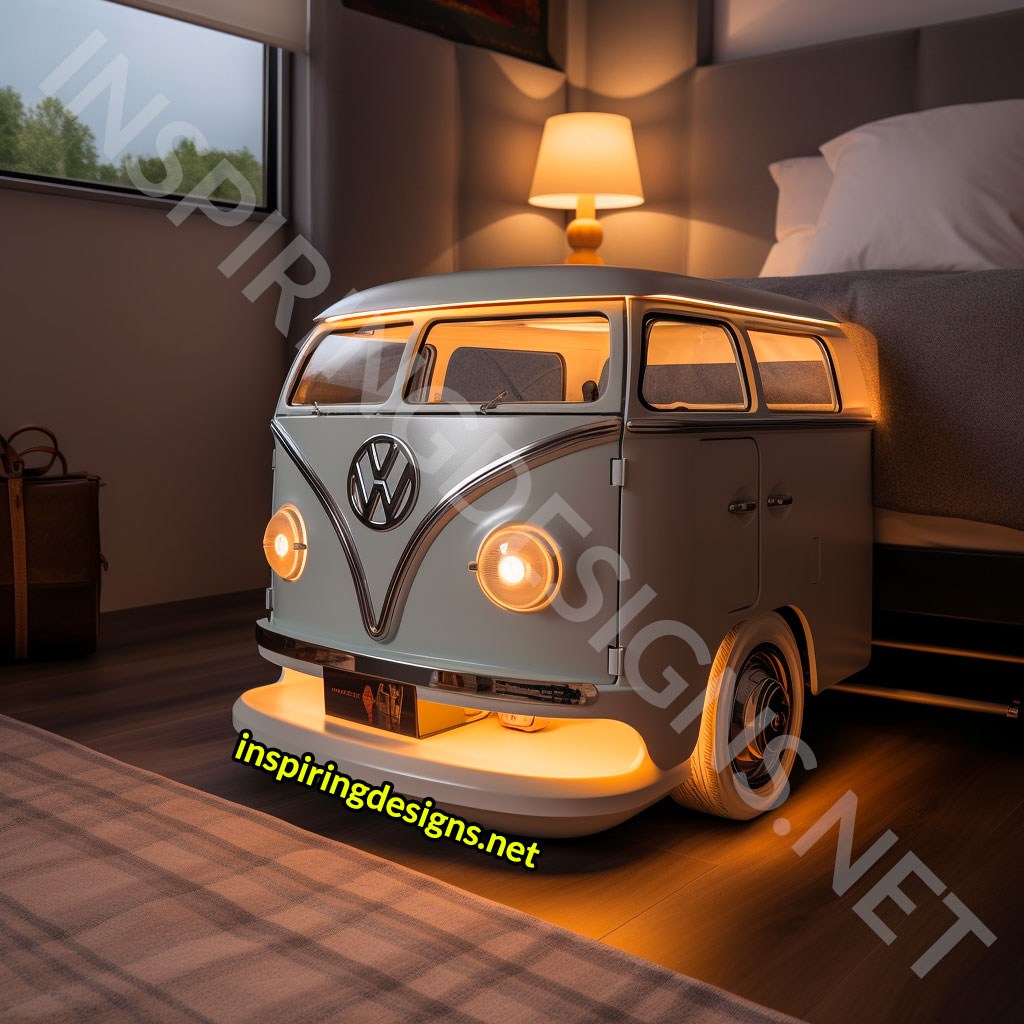 And remember, as you turn off the lights, close your eyes, and drift into dreamland, there's a little piece of history, a mini VW bus, standing guard, promising you a ride into a groovy tomorrow. Sweet dreams, retro lover!