you're about to climb up the stairs, but instead of hoisting yourself step by step or even using a conventional stairlift, you find yourself stepping into a quirky mini Volkswagen Type 2 bus. Yes, you read that right—a stairlift that's been designed to look exactly like the classic VW bus from the '60s and '70s.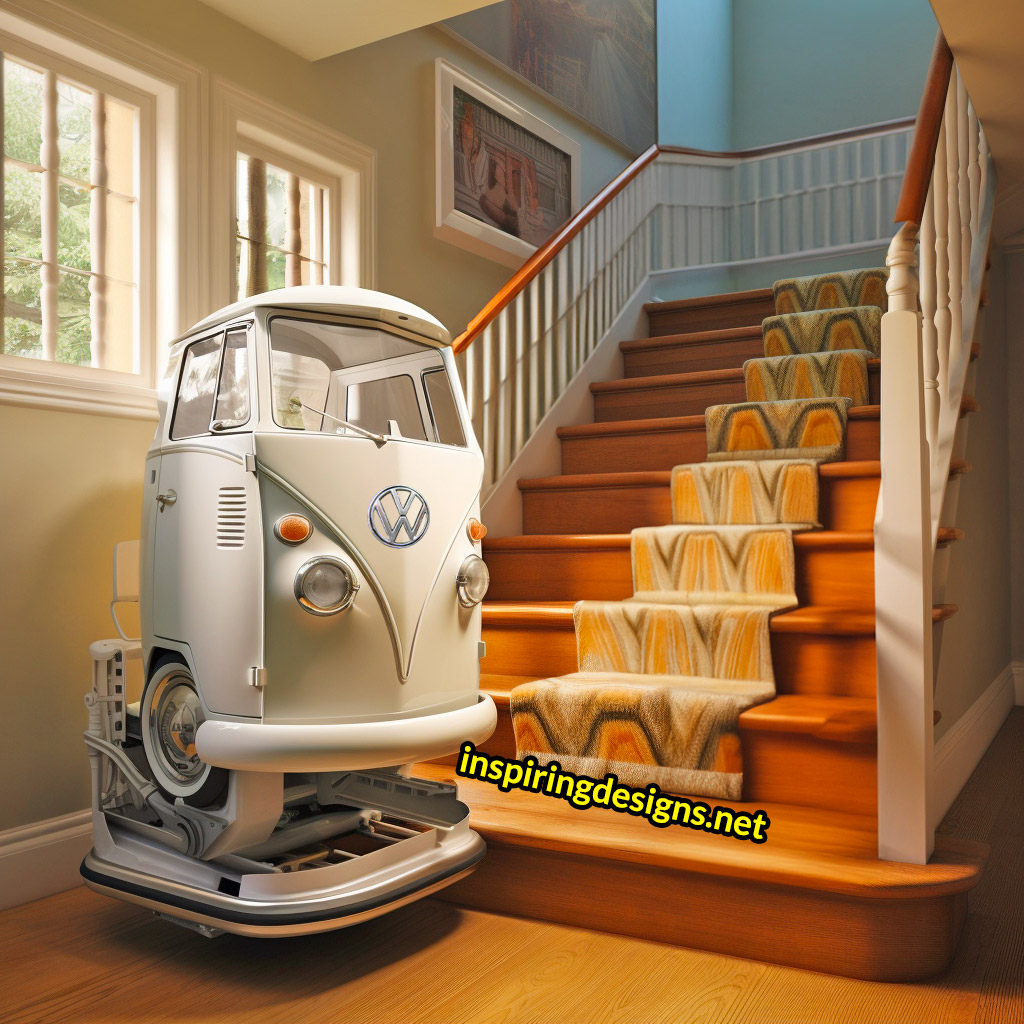 What an age to be alive, especially if you're a vintage aficionado! Whether you sported bell bottoms and flower crowns or simply have an undying love for all things retro, this stairlift's for you. As you might guess, it's the perfect choice for old hippies. But it's not just for those who lived through the free love era. Anyone who's a fan of the classic bus design or simply wants a quirky addition to their home will find this a delightful pick.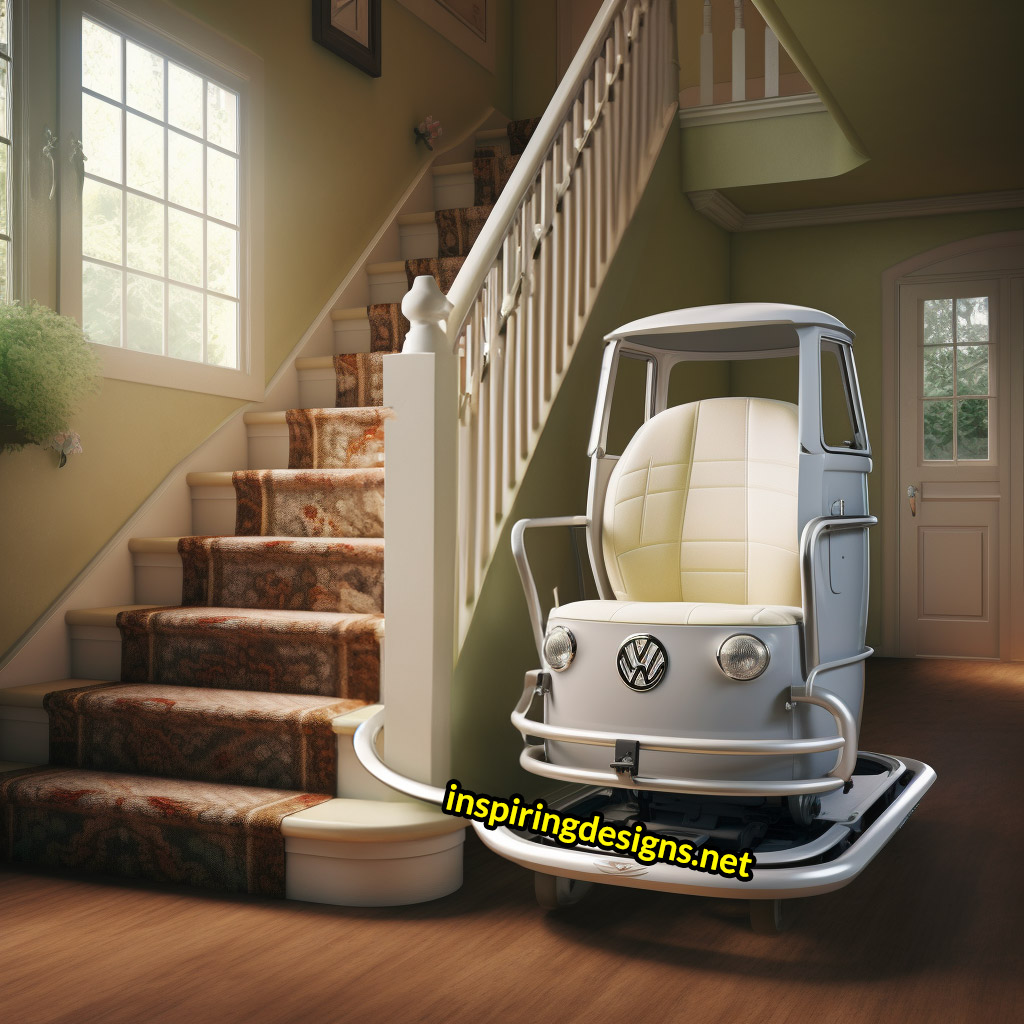 Now, let's talk colors. These mini VW bus stairlifts come in a kaleidoscope of designs. Want a blue bus with a splash of yellow? Or maybe a groovy green with hints of red? The possibilities are practically endless. Just like the original Type 2 buses that came in a myriad of paint jobs, these stairlifts let homeowners showcase their personal style.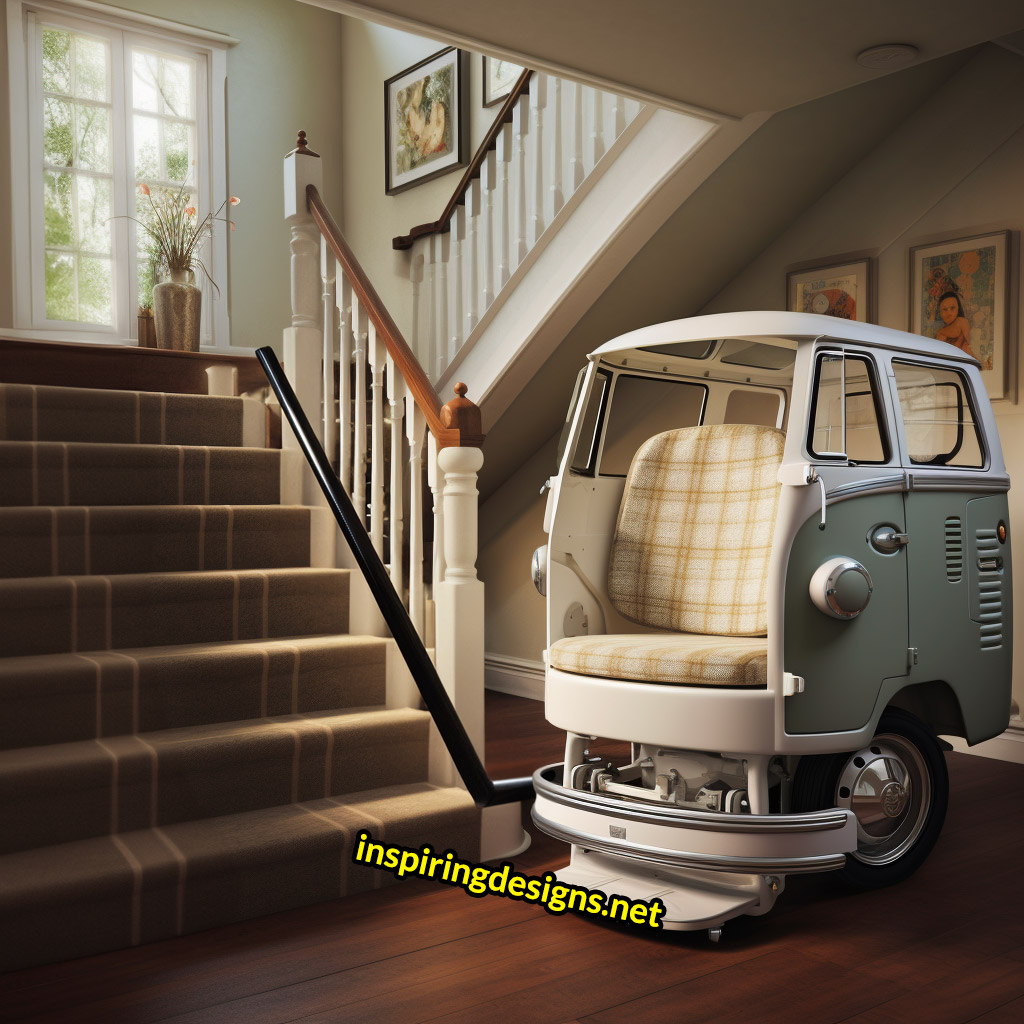 Stepping inside the mini bus, one will find the controls conveniently placed. Easy to access and user-friendly, it's like driving a tiny bus—but vertically! And while you're ascending or descending, take a moment to bask in the soft glow of LED lights strategically placed inside and beneath the mini bus. Not only do they set the mood, but they also ensure visibility even in low-light conditions.
The brilliance of this design lies in its ability to be both functional and an absolute joy to look at. Invite friends over and watch as their jaws drop at the sight of the iconic vehicle making its way up your stairs. It's a surefire conversation starter.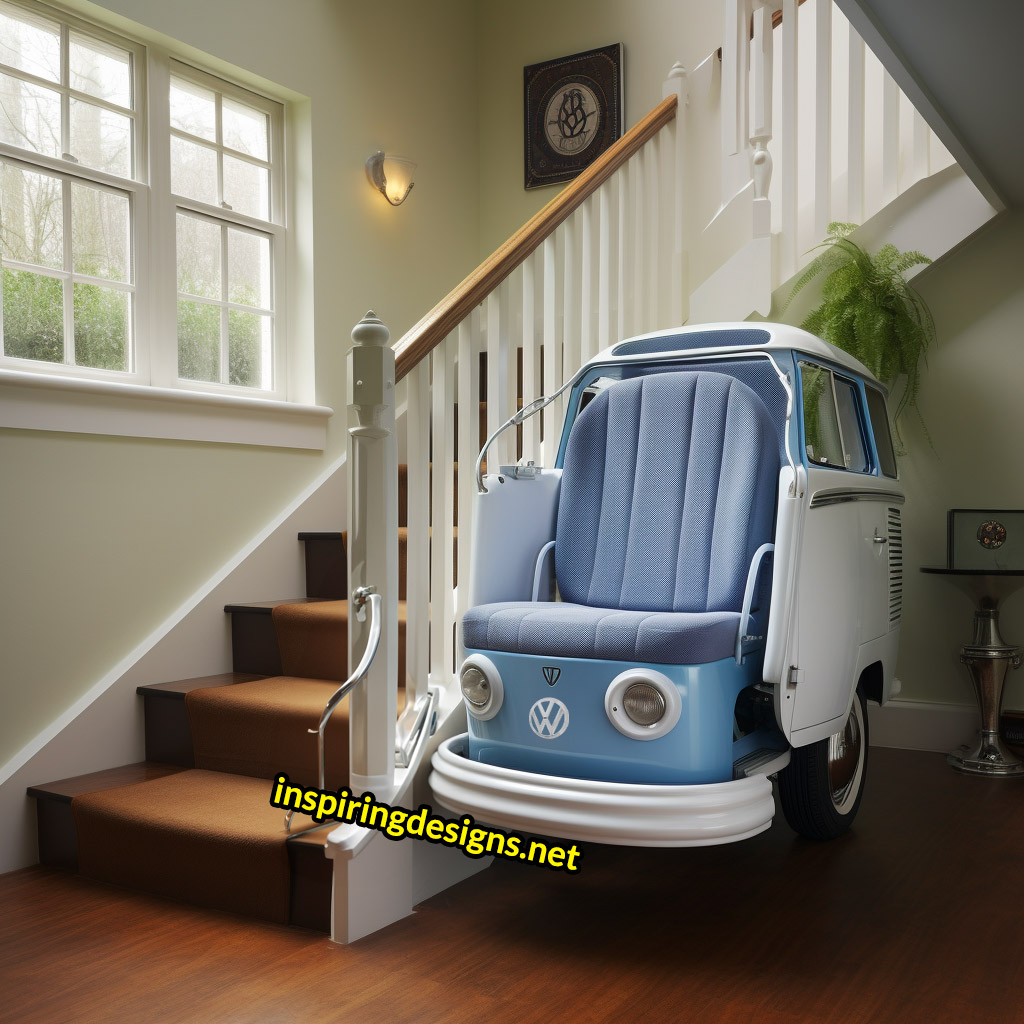 Moreover, these VW bus stairlifts aren't just a one-size-fits-all deal. Understanding that every home is unique, custom installations ensure that each staircase gets its perfectly sized bus. So whether you've got spirals or straightaways, there's a VW bus waiting to glide its way into your life.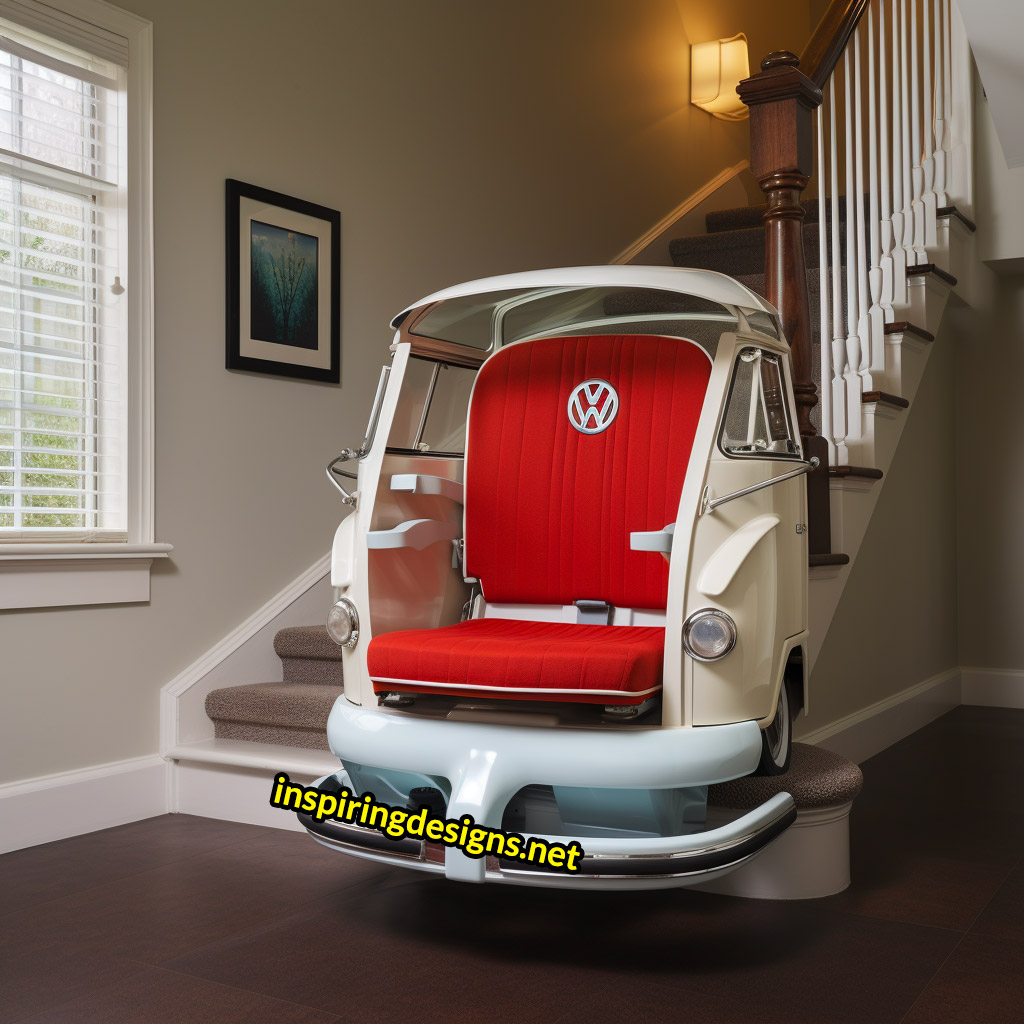 For those who might be thinking, "Well, I already have a stairlift installed," fear not! These Volkswagen beauties have been designed to potentially fit onto any existing home stairlift. It's almost like giving your old stairlift a facelift, Volkswagen style.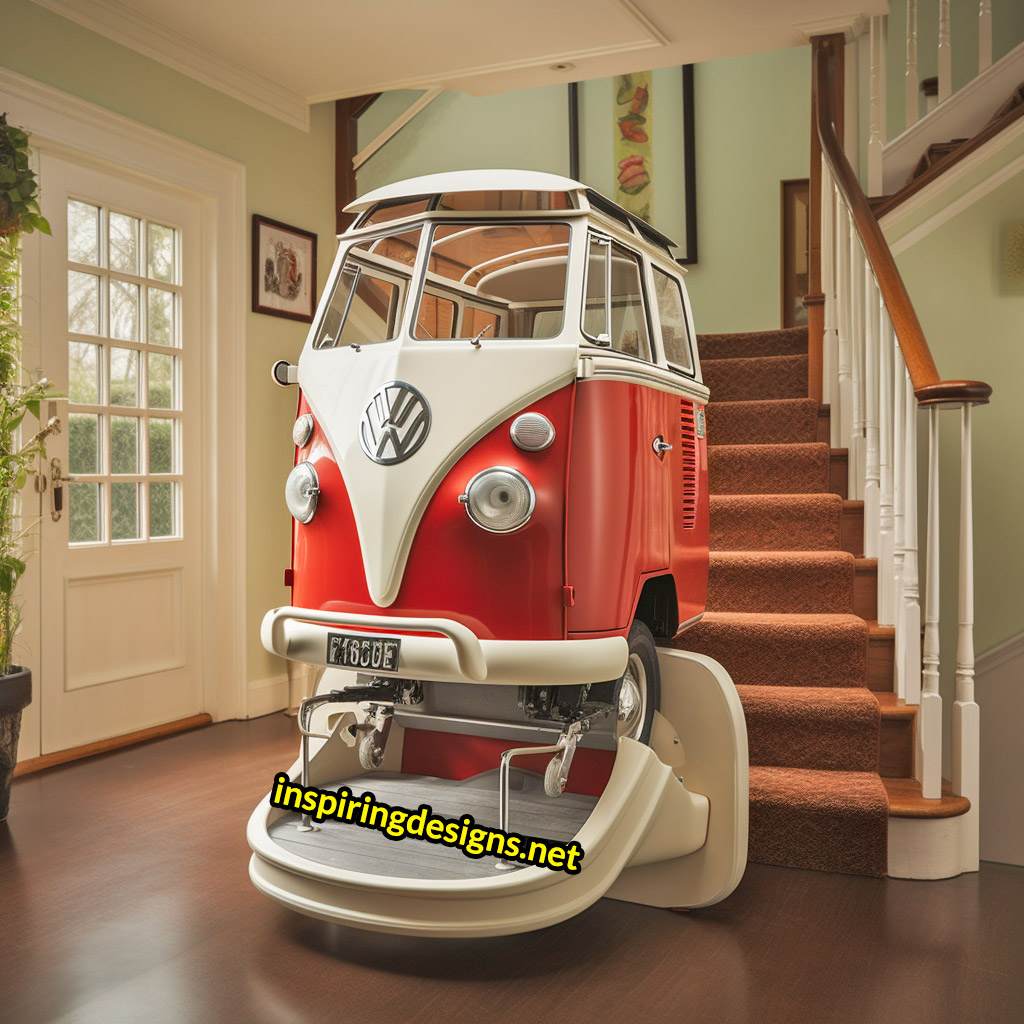 Now, imagine it's evening. The sun's set, and you're ready to ascend to your room. As you step into the mini bus, the working headlights flick on, paving the path upwards with a soft luminescence. This isn't just a stairlift; it's a full-on experience.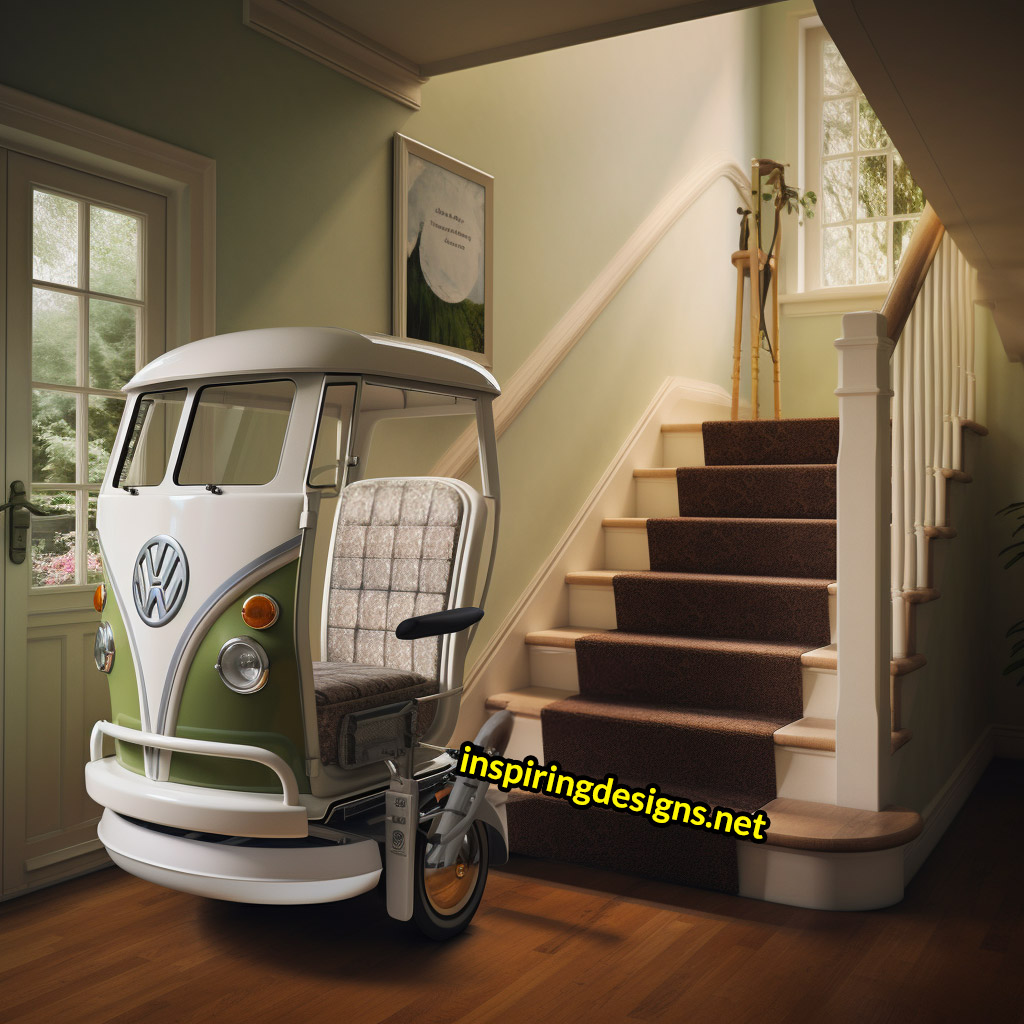 Pairing the stairlift with the Volkswagen Type 2 bus mobility scooter is like owning the ultimate retro mobility duo. Why just stop at the stairs? Let your love for the VW extend to your outdoor adventures too. Combining the two, you could potentially have a mini Volkswagen caravan moving you indoors and out!
So, are you ready to ride up your stairs in the most awesome and retro way possible? It's time to leave behind the monotonous lifts and embrace the world of vintage mobility. The Volkswagen Type 2 bus stairlift is not just a device; it's an ode to a bygone era, a piece of functional nostalgia. And it promises every trip upstairs (or downstairs) to be a delightful journey back in time. Safe travels!